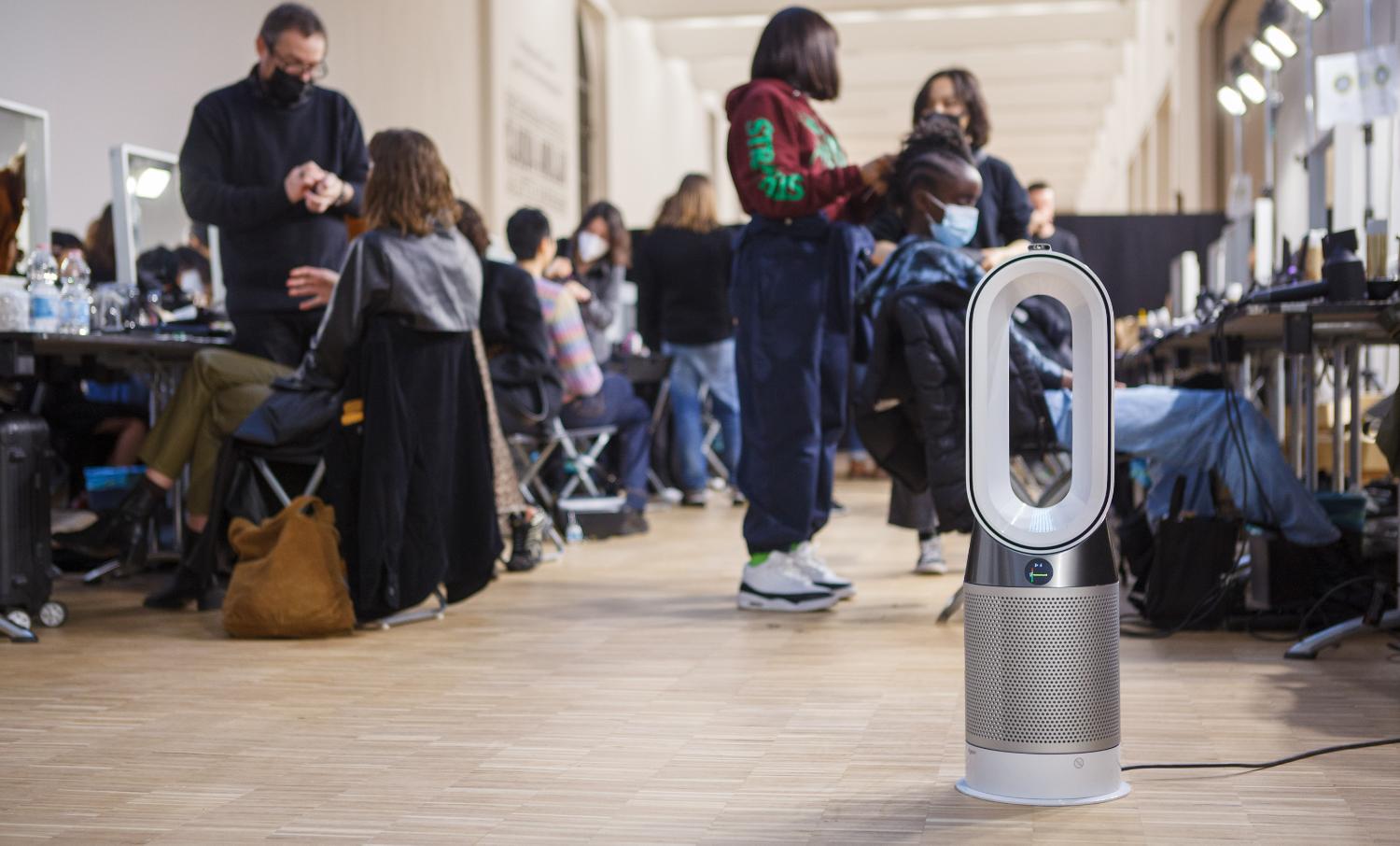 Return to the Runway: Backstage Air Quality
The COVID-19 pandemic has proved to be a catalyst for catwalk reinvention. As new Fashion Week formats emerge and models return to runways, Dyson ventures backstage to explore Air Quality at a time when filtration and ventilation are front of mind. This season, Dyson takes its technology backstage to delve deeper into both air and hair, highlighting how purification provides a solution for a safer return to runways.
Dyson's hair care machines have been championed backstage for the past seven seasons. Providing optimum performance for professionals without compromising model hair health, Dyson styling tools feature Intelligent Heat Control technology, engineered to facilitate superior styling without the need for extreme heat.
The theatre of Fashion Weeks often forces backstage environments to be housed in unusual locations – be it a marquee, basement, secluded sideroom or period building. Meeting the COVID-19 safe guidelines within these spaces is extremely challenging. Pair this with a concentration of stylists introducing product pollutants into the air and increasing its temperature with heat from styling tools; models, designers and stylists are often exposed to suboptimal air quality conditions while working backstage.
This season sees Dyson expand its exploration into solutions for stylists with the introduction of environmental care technology to backstage spaces. To support existing ventilation and circulation measures, purification is considered a form of air exchange. Dyson's Air MultiplierTM technology – integrated within Dyson's Environmental Care machines – delivers whole-room purification to capture 99.95 per cent of allergens and pollutants as small as 0.1 microns.
A combination of pollutants from hair products, small spaces and limited ventilation can compromise air quality backstage. High levels of Volatile Organic Compounds from airborne styling products and increasing temperatures from hot styling tools sees models, designers and stylists exposed to suboptimal air quality conditions while working backstage. 

This season, Dyson took along its air purification technology to expand its exploration into solutions for stylists. Dyson air purifiers deliver cleaner workspaces at a time when filtration and ventilation are front of mind. Dyson's Air Multiplierᵀᴹ technology – integrated within Dyson's Environmental Care machines – delivers whole-room purification to capture 99.95 per cent of allergens and pollutants as small as 0.1 microns. Here, models and stylists discuss both air and hair care from backstage at New York Fashion Week.

 

Protecting your hair's health


Relentless restyling can take its toll on hair during Fashion Weeks. A hectic schedule of back-to-back shows sees a model's hair transformed time after time to reflect the spectrum of styles showcased on the runway. But this occupational hazard can often result in hair damage. 

 

Dyson Professional hair tools are engineered with both styling performance and hair health in mind. As well as providing a canvas for stylists, healthy hair allows models to feel empowered both on and off the catwalk. Models and stylists alike share more from backstage at New York Fashion Week.

 

Backstage at New York Fashion Week, stylists create trendsetting styles at speed. It is in this fast-paced, high pressure environment that the Dyson SupersonicTM hair dryer Professional and Dyson CorraleTMstraightener excel. Engineered for all hair types, both machines arm stylists with the ability to create superior styles under pressure. The same styles can be achieved at lower temperatures, in turn reducing the risk of extreme heat damage caused to a model's hair – a stylist's canvas. This ensures that extraordinary looks can be achieved on time, without compromise to the integrity of the model's hair health. Here, Jon Reyman shares more from backstage.

 
Vivienne Westwood

Armed with Dyson hair technology, Anthony Turner drew inspiration from Vivienne Westwood's 1980's heyday when styling for the designer's London Fashion Week digital presentation. While styles harked back to the 1980s, Dyson's latest professional tools enabled Turner to deliver up-to-date looks and styling at speed, with technology engineered to protect hair from extreme heat damage. 

 

Models' hair is frequently subjected to intense restyling when presenting a variety of looks in back-to-back shows. In conversation with Dyson Hair backstage, Turner and model, Eliza Cummings discuss how to avoid damage during Fashion Week. 

 

Cummings reveals how Fashion Week has historically taken its toll on her hair, while Turner highlights how working with Dyson styling tools allows professionals to preserve their canvas by limiting extreme heat damage exposure. Maintaining hair health helps Turner to produce his best possible work, which he believes leaves models feeling empowered with hair they believe in.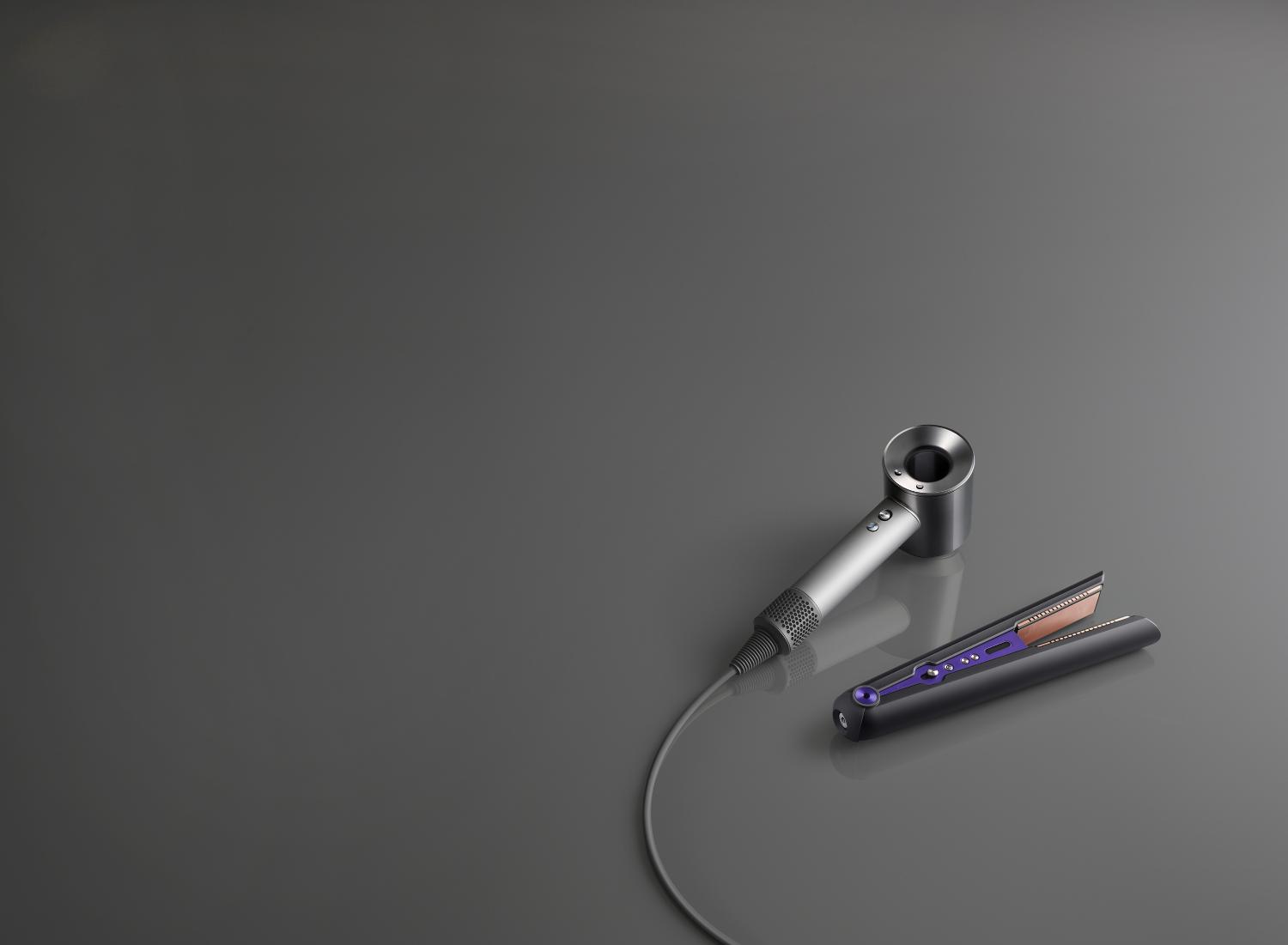 Hair care technology for salons and stylists 
Re-engineered for stylists.
For fast, effective styling.
Dyson x Max Mara

Lead Stylist, Holli Smith put Dyson technology – the Dyson CorraleTM straightener and Dyson SupersonicTM hair dryer Professional – to the test at MaxMara's Milan Fashion Week show. Marking the designer's 70th anniversary, the show presented a 'self-made queen', drawing inspiration from career women of the 1950's pioneering a path in the workplace. Hair brought insouciant glamour to the runway with casual, textured waves and slick braids as core looks for the show.

 

It wasn't just Dyson's hair tools that offered solutions for stylists backstage, as Dyson introduced environmental care technology to support existing ventilation and circulation measures. Ventilation, or air exchange, is increasingly crucial in public spaces in a post-COVID age. The air backstage can be full of hidden pollution, from larger particulate matter like hair and make-up to gases including VOCs from hairspray and airborne styling products. Dyson purifying fans capture 99.95 per cent of particles – as small as 0.1 microns – trapping them within a fully-sealed HEPA filter.

 

Air Multiplier technology projects airflow across the room, expertly mixing air for effective air exchange. Diffused mode delivers purification and air projection through the rear of the machine to deliver cooling airflow, without disrupting a single hair.
Palomo

The formats of fashion weeks are ever changing in response to COVID safety guidelines. Dyson's hair technology is engineered to pivot with professionals. Styling for the Palomo show of Paris Fashion Week, Lead stylist, Beatriz Matallana embraced the cord-free freedom offered by the Dyson CorraleTM straightener, refining models' hair right up to the runway. 

 

The Dyson Corrale offers more than a traditional straightener – it's a tool engineered to deliver a full spectrum of styles. Its cord-free functionality gives stylists the freedom to style anywhere, while the copper manganese flexing plates deliver enhanced styling with half the damage. Three precise heat settings give the Dyson CorraleTM adaptability, allowing stylists to adjust the tool temperature to suit the model's hair type, while preserving hair health – something often at risk as a result of relentless restyling.
Lanvin

A divert to digital shows was seen in Paris this season. Stylists continued working 'behind the scenes' to prepare models for digital broadcast, with audiences watching on from 'behind the screens'. Lead Stylist of the Lanvin show, Jawara presented a spectrum of styles created with Dyson professional hair tools.

 

Dyson's filtration technology continues within the Dyson SupersonicTM professional hair dryer. The tool's new two-part depth loading filter is attuned to respond to the air pollutant nuances within professional styling environments. The new filter extends the life cycle between each filter clean to once every 1-3 months, something particularly important during time limited periods such as the Fashion Week season. 

 

Fashion Weeks are fast paced and high pressure. So too are Dyson hair tools, engineered to ensure not a second of styling time is wasted. Patented Air MultiplierTM technology amplifies airflow, arming stylists with high velocity, high pressure, fast but focused airflow for styling at speed with optimum precision. The Dyson digital motor V9 – placed in the tool's handle for balance – spins at up to 110,000rpm, propelling 13 litres of air every second.
Koche

Dyson purification technology provided optimum airflow for professionals working backstage at Paris Fashion Week. 

 

A tool of the trade used to hold hair looks in place, airborne styling products are a key culprit for compromising air quality. Whilst the use of such products is recommended for well-ventilated areas only, this is a luxury not always possible when working backstage. Consistent or concentrated exposure to such contaminates – as is often unavoidable within the ventilation restricted backstage environment – may have negative impacts. 

 

The Dyson Pure Cool purifying fan captures 99.95 per cent of particles the size of bacteria and viruses – as small as 0.1 microns – trapping them within a fully-sealed HEPA filter. Intelligent sensing technology detects particle and gas pollution and automatically reacts to the changing environment.

 

"Today, the quality of the working environment is very important, especially the quality of the air," says Koché Designer Christelle Kocher. "In the backstage of a fashion show, there is a lot of activity! It is so cool and enjoyable for the team to have a clean atmosphere thanks to Dyson purifiers. They are beautiful and efficient. For me, this is Dyson's strength: designing objects that are both attractive and practical."
Balmain

This season saw models make a welcome return to the runway. COVID-19 proved a catalyst for catwalk reinvention with Balmain leading the charge of new fashion week formats, staging the 'Above&Beyond' Paris Fashion Week presentation from the warehouse of airport Roissy Charles-de-Gaulle.

 

Dyson purification technology was in place backstage to support COVID safe ventilation measures, which in busy backstage environments can prove challenging.

 

"The space backstage is important. [Dyson Purification technology] allows movement and creates a healthier environment for the teams," says Lead Stylist, Sam McKnight.  "With the Dyson Pure Hot+Cool, I know I'm getting better quality air within a confined space."

 

With Dyson pro hair tools also featuring in the show, McKnight used them to style new looks for the show looks for the show. "Balmain this season is a natural aerodynamic look, with small silhouettes and lighter than air texture," he says.  "Using the Dyson CorraleTM straightener backstage means I can style hair anywhere – at my station, in line-up – allowing me the freedom to style hair on the move."
USA

Emails us at USPR@Dyson.com

1330 West Fulton Street, 5th Floor, Chicago IL, 60607