Insights | Allergy | Pets
How to clean pet toys and bedding to reduce allergens
If you're a pet owner with allergies, you'll know that pet allergens can be a major trigger. Proteins found in pet dander (dead skin cells) can cause reactions, leading to symptoms such as sneezing, itching, and watery eyes. While it's impossible to eliminate allergens from your home completely, proper cleaning of your pet's toys and bedding can help ease pet allergy symptoms.
We cover practical tips and techniques for cleaning these items and maintaining a cleaner living environment.
Understanding pet dander
Before delving into the cleaning process, it's essential to understand what pet dander is and why it causes allergies. Pet dander refers to tiny flecks of skin, hair, and saliva that pets shed naturally. Protein allergens (Fel d 1 in cats and Can f 1 in dogs) found in pet dander can trigger allergic reactions in some individuals.
Flecks of dander can become airborne and easily stick to furniture, bedding, fabrics, and items carried in and out of the home.
Three steps to cleaning pet toys
Having suitable objects for your pet to play with helps keep them entertained, happy and healthy.¹ But if pet toys are not cleaned regularly, they can harbor large amounts of pet dander, other allergens, and bacteria.
By following these steps, you'll help create a cleaner home for both you and your furry friend:
1. Sort
Separate pet toys into different categories, such as plush, rubber, and interactive toys, to determine the appropriate cleaning methods for each type.
2. Prep
Check the manufacturer's instructions for any specific cleaning recommendations. Remove batteries or electronic components from interactive pet toys before cleaning.
3. Wash
For plush toys, machine wash them using a gentle cycle with detergent. Use a mesh laundry bag to prevent damage. Rubber toys can be cleaned by hand with warm water plus mild soap or water-diluted bleach.¹ Rinse thoroughly and allow them to air dry.
Four steps to cleaning pet bedding
Pet bedding, such as blankets, beds, and cushions, can accumulate a significant amount of pet dander. Follow these steps to help keep them clean:
1. Shake
Start by shaking the bedding to remove loose hair and dander. Consider wearing a dust mask during this step to minimize allergen exposure.
2. Wash
Refer to the manufacturer's instructions for specific washing guidelines. Most pet bedding can be machine washed using detergent. Opt for a hot water cycle to help remove bacteria and allergens effectively.
3. Dry
Thoroughly dry the bedding in a dryer, if possible, using high heat. This might help remove remaining allergens. If air-drying, choose a sunny and well-ventilated area.
4. Maintenance
Vacuum your pet's bedding regularly to remove any accumulated dander between washes. Consider using a vacuum cleaner with a HEPA filter to trap fine particles effectively. Specialized brushes such as motorized brush bars can also help tackle stubborn pet hair.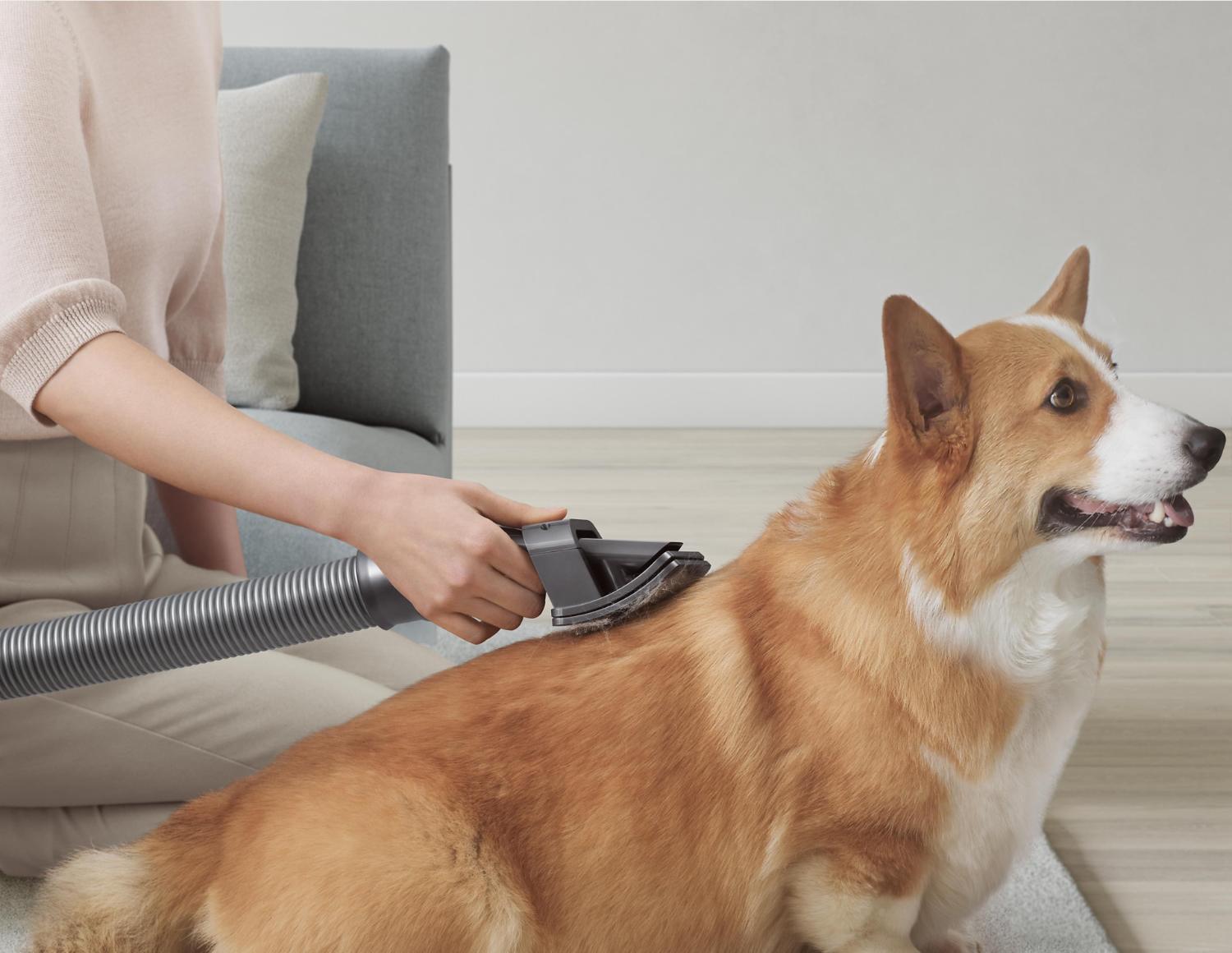 Additional tips for reducing pet dander
Here are a few extra tips to further minimize pet dander in your home:
Grooming
Regularly brush and bathe your pet to reduce shedding and dander. The Dyson Pet grooming tool can be used directly on your pet to capture loose hair and dander as you brush them.
Cleaning surfaces
Wipe down surfaces with a microfiber cloth to capture loose dander.
Air filtration
Use high-quality air purifiers with HEPA filters to trap airborne particles.
Limit access
Keep pets out of bedrooms and other areas where you spend a significant amount of time to reduce dander exposure.
Reducing pet dander and allergens is essential for maintaining a comfortable living environment for both pet owners and their furry companions. By following the cleaning tips in this guide, you can help remove allergens from your pet's toys and bedding. Remember to maintain a regular cleaning routine and use additional measures like grooming and air filtration to help keep dander at bay.
1. RSPCA(2023) Dog Toys. Available at: https://www.rspca.org.uk/adviceandwelfare/pets/dogs/environment/toys#:~:text=To%20keep%20them%20clean%2C%20first,machine%20using%20a%20hot%20cycle.
USA

Emails us at USPR@Dyson.com

1330 West Fulton Street, 5th Floor, Chicago IL, 60607