Insights | Allergy | Pets
Dog grooming tips for owners with a pet allergy
Pet grooming can help improve the health and mood of the pet, it can also lead to improved bonding from spending social time together.¹
Yet grooming your pet not only helps to keep them healthy and looking good, it's also a crucial element of any pet allergy management plan.
We explore how you can use dog grooming to help reduce allergens and keep your pet clean and healthy.
The importance of dog grooming
Grooming is an essential part of dog ownership. It removes dead skin, otherwise known as pet dander, as well as loose fur, dried saliva, and other mess. Dog allergies are caused by proteins (Can f 1-7) in dander², which can collect on your dog's fur. It's these proteins that trigger an allergic reaction in some individuals. By removing pet allergens through grooming, you help prevent them spreading around your home.
Aside from removing allergens and dirt, home grooming also provides an opportunity for you to spend quality time with your pet and check for lumps, ticks, and fleas. It helps with tangling and matting, as well as improving circulation.³
Depending on the severity of your allergy, it may not be appropriate for you to groom your dog yourself. Ask a non-allergic member of your household to groom your dog where possible or use a professional dog groomer.
How to groom your dog
There are two primary methods of dog grooming you can easily do from your home:
Brushing
All dogs benefit from brushing, even shorter-haired breeds. As well as removing dead skin, loose hair, and dander, brushing your dog can help stimulate the production of natural oils in their skin, which in turn improves skin and coat health.⁴
Make sure to be gentle yet firm with your brushing. If you're too harsh, you could hurt your dog, loosen fur, or irritate the skin.
How often you brush will depend on your dog's breed and coat type. If they have short hair, brushing weekly should suffice. But if your pet has medium to long hair, then you may have to brush daily to reduce shedding.⁵ It's important to check guidelines for your specific breed.
Washing
Washing your dog is part of ongoing grooming and good hygiene. With the correct equipment and the right technique, a deep clean will help rid your pet of any unwanted grime, dander, and loose fur.
You don't need to bathe your four-legged friend very often, which is a relief if they resist it. Dogs should only be washed when they have an unpleasant odor, or they've accumulated dirt or mud on their coat.⁵ When you bathe your pet you wash away some of their natural oils that protect their skin and coat. This is fine every so often, as it quickly replenishes, but if you do this too often you can irritate and damage your pet's skin and fur.
Using a professional groomer
There are certain elements of dog grooming, such as brushing and bathing, that are easy enough to do yourself. But other tasks like trimming fur and cutting nails can be deceptively difficult and are best left to professionals. If you trim a dog's fur too close to their skin, you could cause irritation, especially as their fur acts as a natural shield against the elements.
Professional groomers are experts on managing pet health and cleanliness. So if you're nervous or unsure about any grooming task, it's a good idea to speak to them.
Using an air purifier can help effectively trap fine particulate matter, including pet dander, from your indoor environment. This can remove any potential airborne pet dander that wasn't captured in the grooming process and prevent other airborne allergens, such as pollen, lingering in the air and sticking to your pet's coat.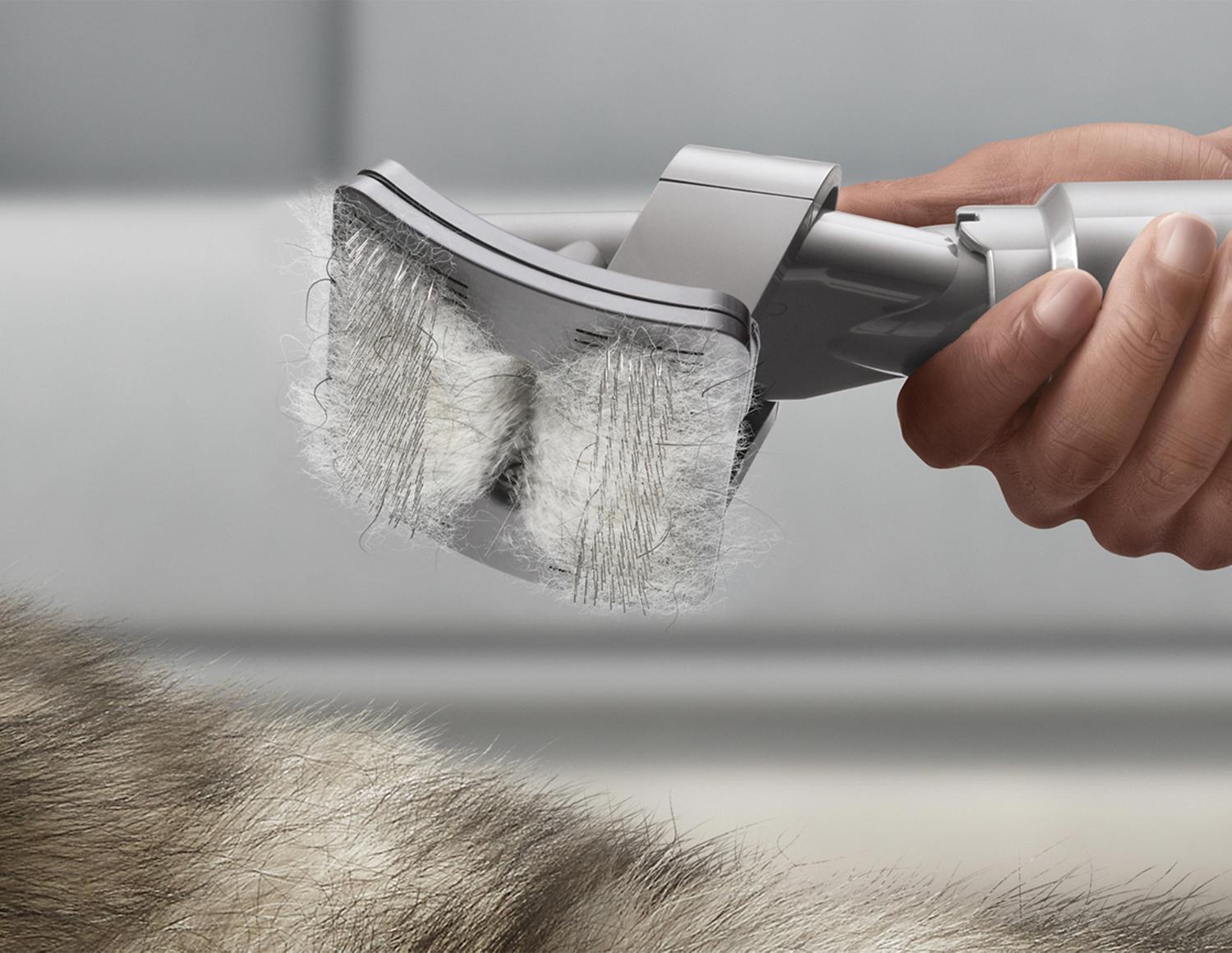 Dyson pet grooming tool
A vacuum-assisted tool, such as the Dyson Pet grooming tool attachment, allows you to safely brush medium to long-haired pets and capture their loose hair and dander straight into the vacuum. The tool features 364 flexible bristles that reach through your pet's coat, and a single thumb control that allows you to quickly switch between groom and self-clean modes. This tool could streamline your grooming process and efficiently dispose of any captured dander, loose hair or microscopic skin flakes. You can read more about how to tackle allergens through vacuuming in our article, How to choose the best vacuum cleaner for pet hair.
Grooming your dog, and using a powerful vacuum and air purifier, helps reduce the spread of pet allergens in your home. Not only does it help maintain a clean and hygienic living environment for you and your family, but it's also an important part of caring for your pet's overall health and wellbeing.
1. RSPCA Pet Insurance (2023) 7 ways nature can keep us happy and healthy. Available at: https://www.rspca.org.uk/-/-head-how-nature-can-help-us-through-hard-times (Accessed August 2023).
2. Chan, S.K. and Leung D.Y.M (2018a) Dog and cat allergies: Current state of diagnostic approaches and challenges, Allergy, asthma & immunology research. Available at: https://www.ncbi.nlm.nih.gov/pmc/articles/PMC5809771/ (Accessed: August 2023)
3. Pets at Home (2023) The benefits of brushing your dog. Available at: https://www.petsathome.com/pet-talk/pet-care-the-benefits-of-brushing-your-dog (Accessed August 2023)
4. Guide Dogs (2023). How to groom your dog. Available at: https://www.guidedogs.org.uk/getting-support/information-and-advice/dog-care-and-welfare/how-to-groom-your-dog/ (Accessed August 2023).
5. RSPCA Pet Insurance (2022) How often should you groom your dog?. Available at: https://www.rspcapetinsurance.org.au/pet-care/dog-care/when-to-groom-your-dog (Accessed August 2023).
USA

Emails us at USPR@Dyson.com

1330 West Fulton Street, 5th Floor, Chicago IL, 60607