Insights | Allergy | Pets
The benefits of air purifiers for pet allergies
Pet allergies can cause uncomfortable symptoms, from sneezing and sniffing to breathing difficulties. Thankfully, air purifiers can help relieve pet allergy symptoms at home by removing fine particulate matter such as pet dander from your indoor environment.
We explore the benefits of air purifiers for homes with pets, highlighting how they can help improve your indoor air quality and overall wellbeing.
Understanding pet allergies
Contrary to popular belief, it's not your pet's fur that causes pet allergy symptoms – it's actually protein allergens (Fel d 1 in cats and Can f 1 in dogs) found in their saliva, dander and urine. When pets groom themselves, they deposit these protein particles onto their hair and skin. Microscopic skin cells then dry and flake off on a regular basis to form pet dander.¹
When your pet sheds dander, it can become airborne and circulate in your home, triggering unwelcome allergic reactions in some individuals. Symptoms may range from mild to severe, depending on the individual's sensitivity and exposure to the allergens.
How air purifiers work
Air purifiers are designed to remove airborne contaminants such as pet dander from your home. They use various filtration technologies to capture allergens and other particles from the air. To help tackle pet allergens, look for a purifier with High-Efficiency Particulate Air (HEPA) and activated carbon filters.
HEPA filters are especially important as they capture 99.95% of particles as small as 0.1 microns. This means that pet dander, pollen, and other allergens are effectively trapped and prevented from recirculating.
Take control of pet allergens with air purifiers
Pet allergens can build up within your home. But an air purifier can offer the following benefits:
Reduced allergen exposure
Air purifiers can capture allergens before they have a chance to accumulate on surfaces. They remove pet dander and other allergens from the air, reducing your exposure to these triggers and preventing the spread of allergens throughout your home.
Cleaner indoor air
Air purifiers not only address pet allergens but also remove other pollutants such as dust, mold spores, and odors. This leads to a cleaner indoor environment, improving overall air quality and reducing the level of pollutants you breathe in.
Improved sleep quality
Indoor air pollution can decrease the quality of your sleep and reduce the benefits that come with it. Using an air purifier helps you to take control of your bedroom environment by reducing your exposure to airborne pollutants such as pet allergens.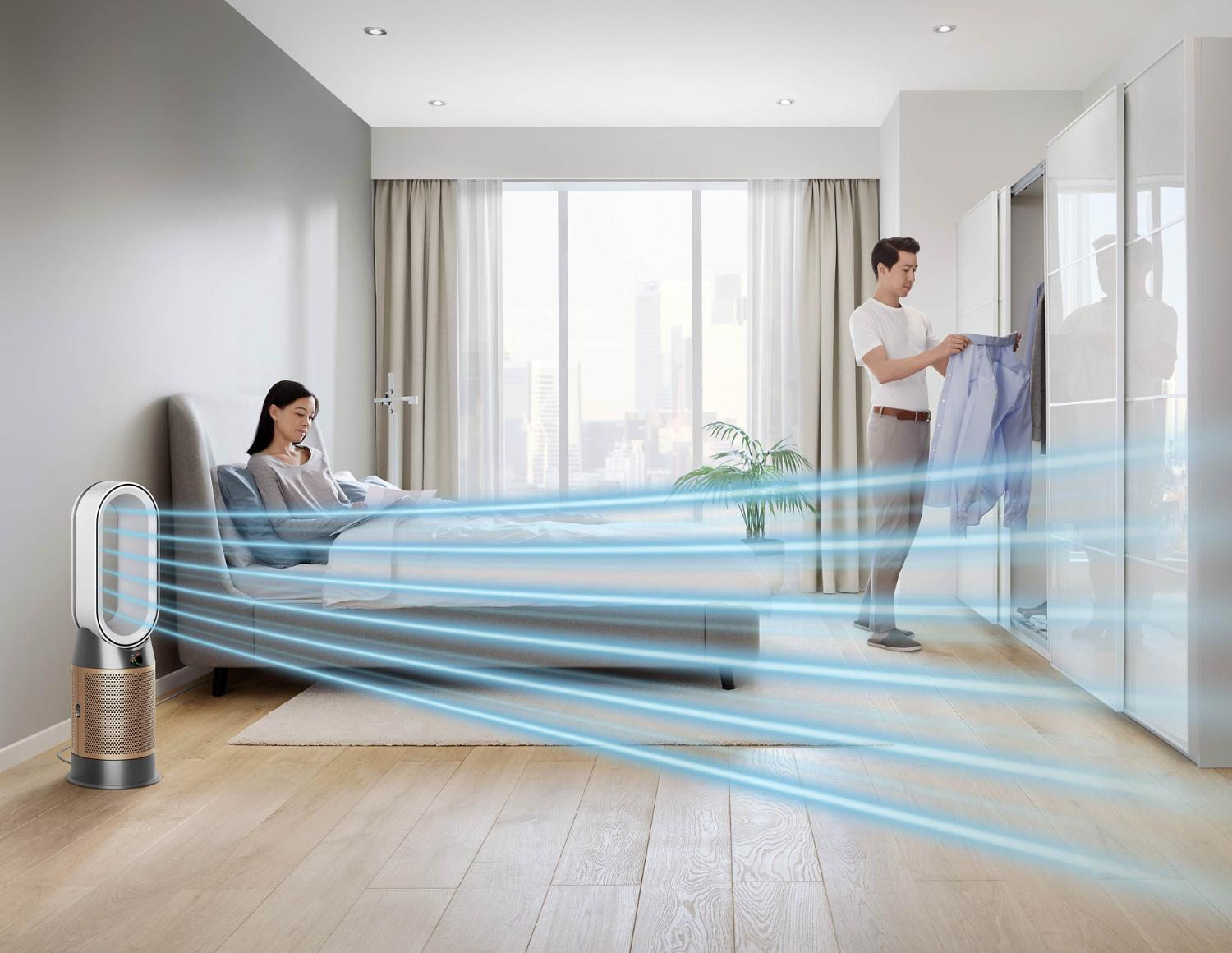 Pet hair and odour control
Air purifiers equipped with activated carbon filters can effectively capture pet odors from the air, reducing unpleasant smells associated with pet ownership. Additionally, HEPA filters can trap pet hair and dander, preventing them from settling on surfaces and making cleaning tasks more manageable.
Choosing the right air purifier
When selecting an air purifier for pet allergens, consider the following factors:
Coverage area
Choose an air purifier suitable for the size of the room or rooms where you spend the most time.
Filtration technology
Ensure the purifier features HEPA and activated carbon filters to effectively capture pet allergens.
Noise level
Look for purifiers with adjustable fan speeds or noise-reduction features, particularly if you plan to use them in bedrooms or baby nurseries.
Maintenance and filter replacement
Check the manufacturer's recommendations for filter replacement intervals and maintenance.
Find the right purifier for you
Try our indoor air pollution guide and find out which purifier is right for you and your home.
Air purifiers are a valuable option for allergen reduction, offering several benefits that improve indoor air quality. By reducing exposure to pet dander and other allergens, these machines create a cleaner and more comfortable environment for both humans and their four-legged friends.
Remember, if you or a loved one suffer from pet allergies, consult with an allergist or healthcare professional for a comprehensive management plan.
¹Anaphylaxis UK (2023). Allergy to animals. Available at: https://www.anaphylaxis.org.uk/fact-sheet/allergy-to-animals/. Last accessed July 2023.
²Mayo Clinic (2023). Pet Allergy. Available at: https://www.mayoclinic.org/diseases-conditions/pet-allergy/symptoms-causes/syc-20352192#:~:text=Pet%20allergy%20is%20an%20allergic,as%20wheezing%20and%20difficulty%20breathing . Last accessed July 2023.
USA

Emails us at USPR@Dyson.com

1330 West Fulton Street, 5th Floor, Chicago IL, 60607