Insights | Allergy | Pets
How to choose the right vacuum cleaner for pets
Owning pets can be a source of joy, but it can also lead to allergies caused by the proteins in your pet's saliva, urine, and dander (shed skin particles). These proteins are sticky and cling to your pet's fur. Pet dander can also stick to furniture, bedding, fabrics, and items carried in and out of the home.
Fortunately, powerful vacuum cleaners can capture pet hair and allergens to help maintain a clean and hygienic living environment. We discuss the five key things pet owners should look for when purchasing a vacuum cleaner.
Five things to consider when buying a vacuum cleaner for your pet
When allergens are left to accumulate, they can trigger allergy symptoms such as sneezing, coughing, and itching. Keeping your house completely hair-free is almost impossible, but vacuuming your carpets, hard floors, soft furnishings and mattress can go a long way to reducing it.
Here are five key factors to look for when buying a vacuum cleaner for homes with pets:
1. Powerful suction
One of the primary challenges for pet owners is the persistent presence of pet hair in their homes. To effectively tackle stubborn pet hair, look for a vacuum cleaner with powerful suction. This feature will enable the machine to suck up embedded pet hair from carpets, upholstery, and other surfaces. The stronger the suction power, the more efficient the vacuum cleaner will be in capturing allergens.
2. HEPA filtration
Proteins in pet dander can trigger allergic reactions in sensitive individuals. A high-efficiency particulate air (HEPA) filtration system is crucial for capturing and trapping microscopic allergens such as pet dander effectively. When choosing a vacuum cleaner, ensure it's equipped with a HEPA filter to prevent allergens from being released back into the air during vacuuming.
3. A sealed system
A vacuum cleaner with a sealed system ensures that the air drawn into the machine passes through the filtration system before being emitted, preventing any particles from escaping back into the environment. Trapping allergens in a sealed system provides an extra layer of protection – keeping your home cleaner and reducing allergen exposure.
4. A machine that meets your needs
Consider the type of vacuum cleaner that best suits your needs. Cordless vacuums are versatile and convenient for quick clean-ups, while robotic vacuum cleaners offer autonomous cleaning. Assess your home's layout, the surfaces you need to clean, and your personal preferences to determine the most suitable type of machine for your needs.
5. Specialised attachments
Consider specialized vacuum cleaner attachments designed specifically for handling pet hair. All Dyson vacuums come with de-tangling technology as standard, meaning hair removal vanes automatically de-tangle hair from the brush bar. But certain attachments go a step further in effectively tackling stubborn hair. For example, the Hair screw tool removes dust and hair from pet beds, mattresses and stairs, while the Pet grooming tool can be used directly on your furry friend to capture loose hair, pet dander and microscopic skin flakes. These attachments are particularly useful if you have multiple pets or medium to long-haired breeds.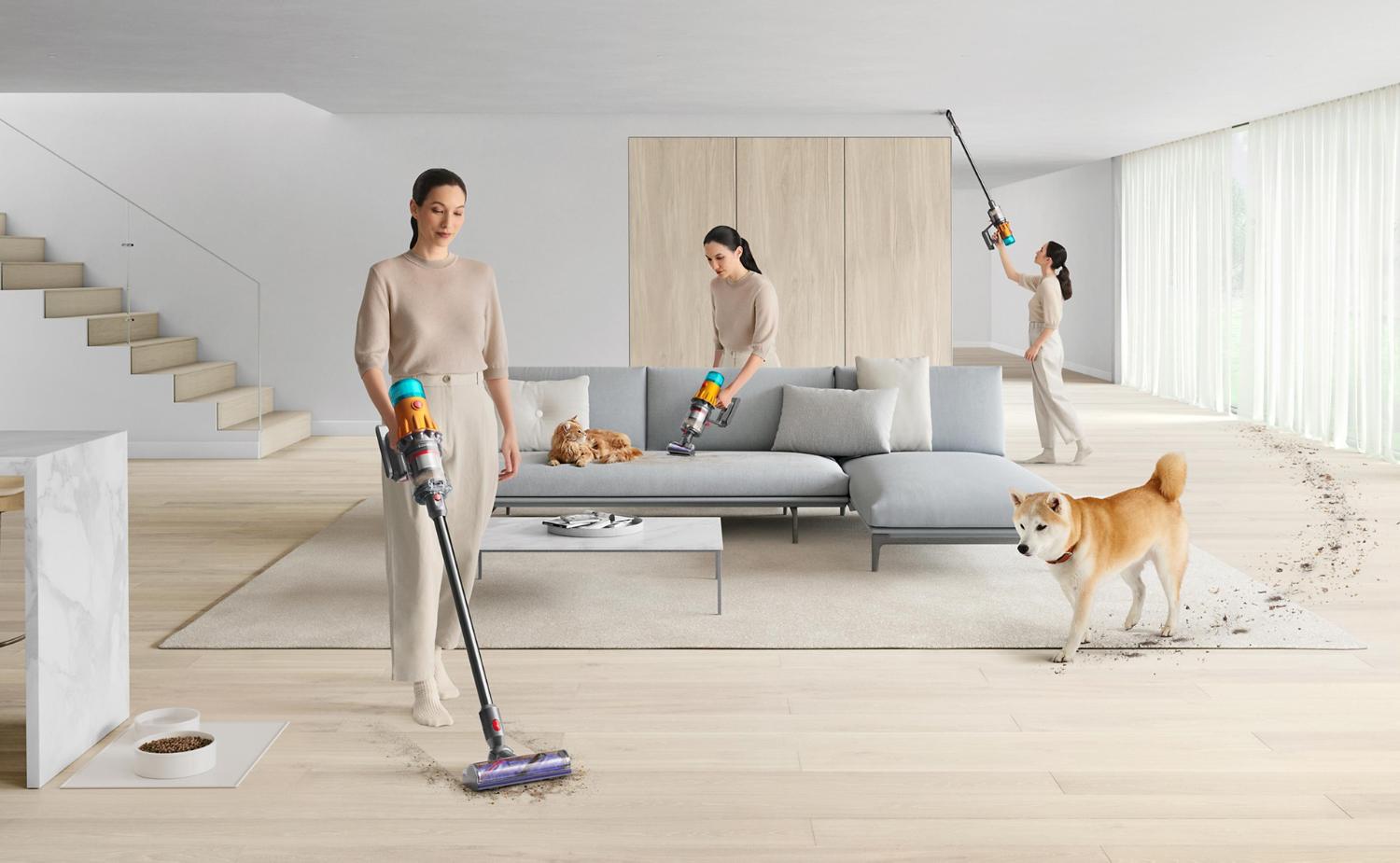 If you're a pet owner, you'll know that keeping your home clean can sometimes be quite a challenge.  But reducing dander and pet hair with a powerful vacuum cleaner can help with deep cleaning. It's important to know the key factors for optimum vacuum performance, as well as the features to look for if you want to keep pet hair, other dirt, and pet dander at bay.
USA

Emails us at USPR@Dyson.com

1330 West Fulton Street, 5th Floor, Chicago IL, 60607