Insights | Allergy | Pollen
Understanding the pollen calendar
Your seasonal allergy guide
Pollen allergy symptoms like sniffling and sneezing can be uncomfortable at certain times throughout the year. A pollen calendar can help you to understand when particular allergens are more likely to be present, and plan accordingly. And the good news is, you may only be sensitive to certain seasonal allergens, so won't be dealing with them all year long.
Use our pollen calendar below to find out when different tree, grass and weed pollen might affect you, month by month.
Pollen allergy season: when does it start and end?
The pollen calendar begins as early as January, peaks in the spring and summer months, and continues into autumn. While September marks the end of peak pollen counts, you can still experience hay fever in winter as different types of plant pollen are released throughout the year, each with their own symptoms.
It's helpful to keep a diary of your hay fever symptoms and use our allergy calendar to see which pollens are most likely to be in the air at that time. This may help you understand the types of pollen – and plants – you're particularly sensitive to.
Types of pollen by season
Spring
From March through to May, tree, grass and weed pollen are all in the air. Tree and grass pollens are common spring allergens as they have peaks at this time of year. Your spring hay fever symptoms may include painful sinuses and a cough.
Summer
Grass and weed pollen peaks in the summer months, so hay fever symptoms can be intense. Some people may experience itchy or watery eyes at this time of year, especially after spending time outdoors or near freshly-cut grass.
Autumn
Pollen season slows down at the beginning of September in the UK. This means hay fever sufferers will start to feel some relief. However, late-release weed pollen can still cause autumn allergy symptoms for some.
Winter
Most pollen allergens are no longer present in the winter, but tree pollen starts its season in January, meaning you could mistake hay fever in winter for a cold.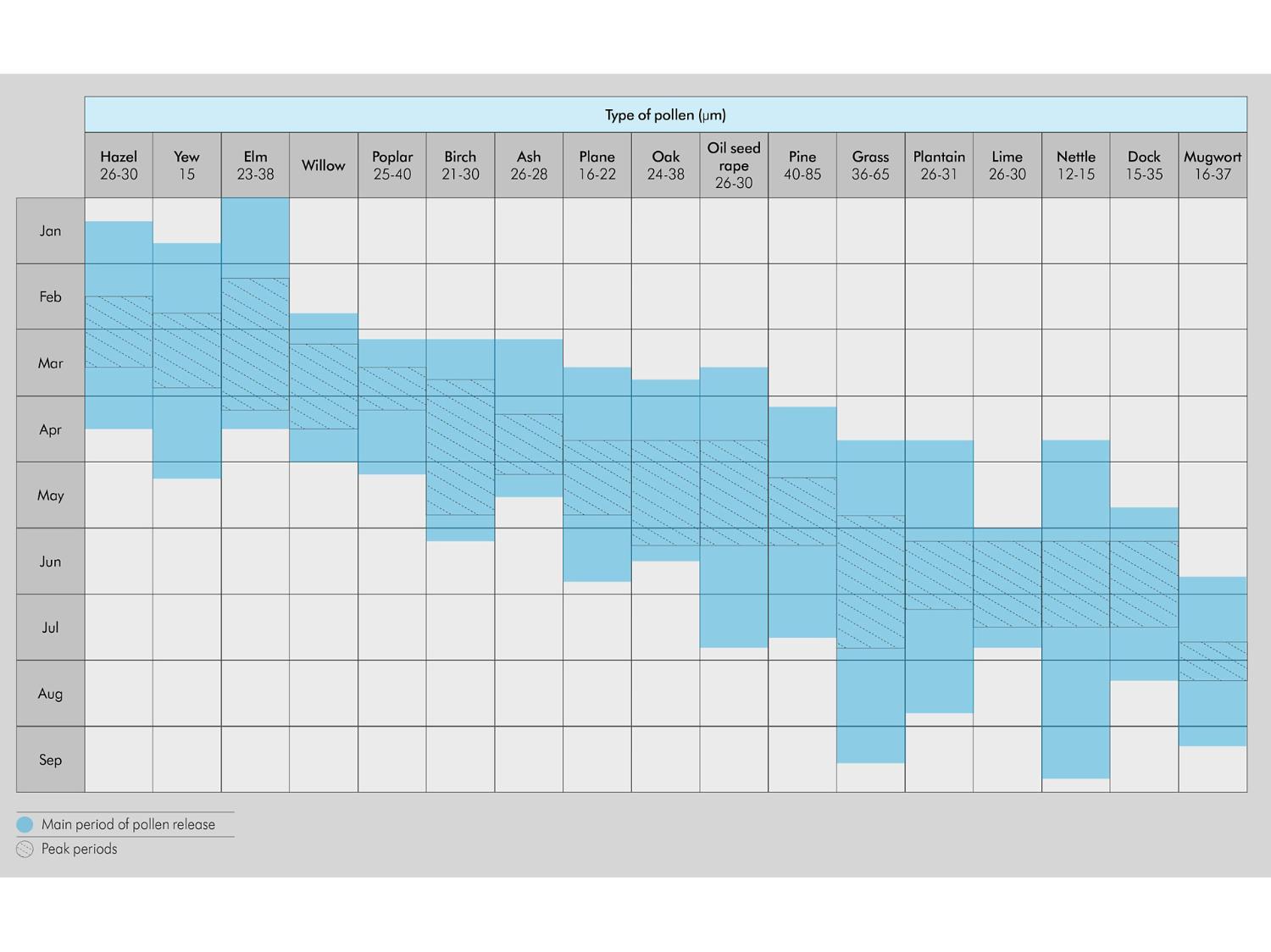 January
Pollen counts are low this month, but tree pollen is on the rise – specifically yew, alder and hazel tree pollen. This means you can get hay fever in winter and experience symptoms similar to a winter cold.
In January, hay fever may cause:
sneezing and a blocked nose
itchy eyes, throat and ears
difficulty breathing.
February
Five tree pollen variants cause hay fever symptoms in February. These are:
hazel
yew
alder
willow
elm.
February also sees the first winter pollen season highs, with hazel and yew pollen counts hitting their peaks until mid-March.
March
Hazel pollen drops off this month, but hay fever rises due to willow, alder, elm and poplar pollen.
Winter tree pollen allergies can start to cause noticeable symptoms, such as:
watery or itchy eyes
a reduced sense of smell
headaches
disrupted sleep.
April
This month sees the introduction of pine pollen, while birch, ash, oak, and plane pollen all reach their peaks. Weed, grass, oilseed rape, nettle and plantain all begin their season by the end of April.
May
This month tends to have the highest pollen counts. Lime and dock pollen make an entrance and can trigger hay fever, while pine and oilseed rape both peak in May. Plane, oak and birch pollen seasons start to end, but grass pollen starts to reach its high.
June
Allergy symptoms can be high in June. Mugwort pollen season begins, and grass pollen takes off. However, pine, oilseed rape and oak start to decline this month.
July
Mugwort and lime pollen begin to peak in July but grass pollen peaks end. As grass is the most common pollen allergen¹, this will be good news for a lot allergy sufferers.
August
This month, there is less airborne pollen as the summer starts to draw to a close. The dock and plantain pollen season now ends. The following weed pollen allergens may still cause symptoms, however:
September
It's good news in September, as grass and nettle pollen seasons end, and with this the end of traditional hay fever season too. From this point onwards, you'll find it easier to enjoy outdoor activities and symptoms should reduce.
October
While peak pollen season has ended, autumn weed allergies can still be triggered. Ragweed pollen is released well into October, so if you find yourself sneezing and itching your eyes at this time of year you may have a sensitivity to weed pollen.
November
Pollen levels are very low this time of year, but some weed allergens and mold spores are still airborne in November, causing late autumn allergies. Mold can be found in bathrooms and other damp areas of the home.
December
Pollen levels are lowest in December and hay fever symptoms should be minimal. That said, winter hay fever can still come from early tree pollen release, specifically from alder, hazel, and yew trees.
If you're susceptible to pollen allergies, understanding the pollen calendar can be a valuable tool for managing your symptoms. Used in combination with real-time pollen counts, it tells you when particular allergens are at their peak and helps you take proactive measures to minimize exposure
¹Allergy UK (2023). Pollens and mould in the garden. Available at: https://www.allergyuk.org/resources/pollens-and-moulds-in-the-garden-factsheet/
²University of Worcester (2023) Regional Pollen Calendars. Available at: https://www.worcester.ac.uk/about/academic-schools/school-of-science-and-the-environment/science-and-the-environment-research/national-pollen-and-aerobiology-research-unit/pollen-calendar.aspx
USA

Emails us at USPR@Dyson.com

1330 West Fulton Street, 5th Floor, Chicago IL, 60607