Dyson introduces a new lightweight cordless vacuum and refreshes line-up with de-tangling cleaner heads featuring polycarbonate teeth and precision engineered attachments to deliver no-compromise home cleaning solutions
Today in the US, Tuesday, June 7, Dyson launches the Dyson V12™ Detect Slim alongside a range of refreshed vacuum cleaners with de-tangling brush bar technology and laser illumination technology. In addition, Dyson is introducing several new attachments to provide the ultimate whole home clean, including a Pet Grooming Kit, Scratch-free Dusting Brush and Awkward Gap Tool attachment. The final addition is a new upright vacuum, Dyson Ball™ Animal 3.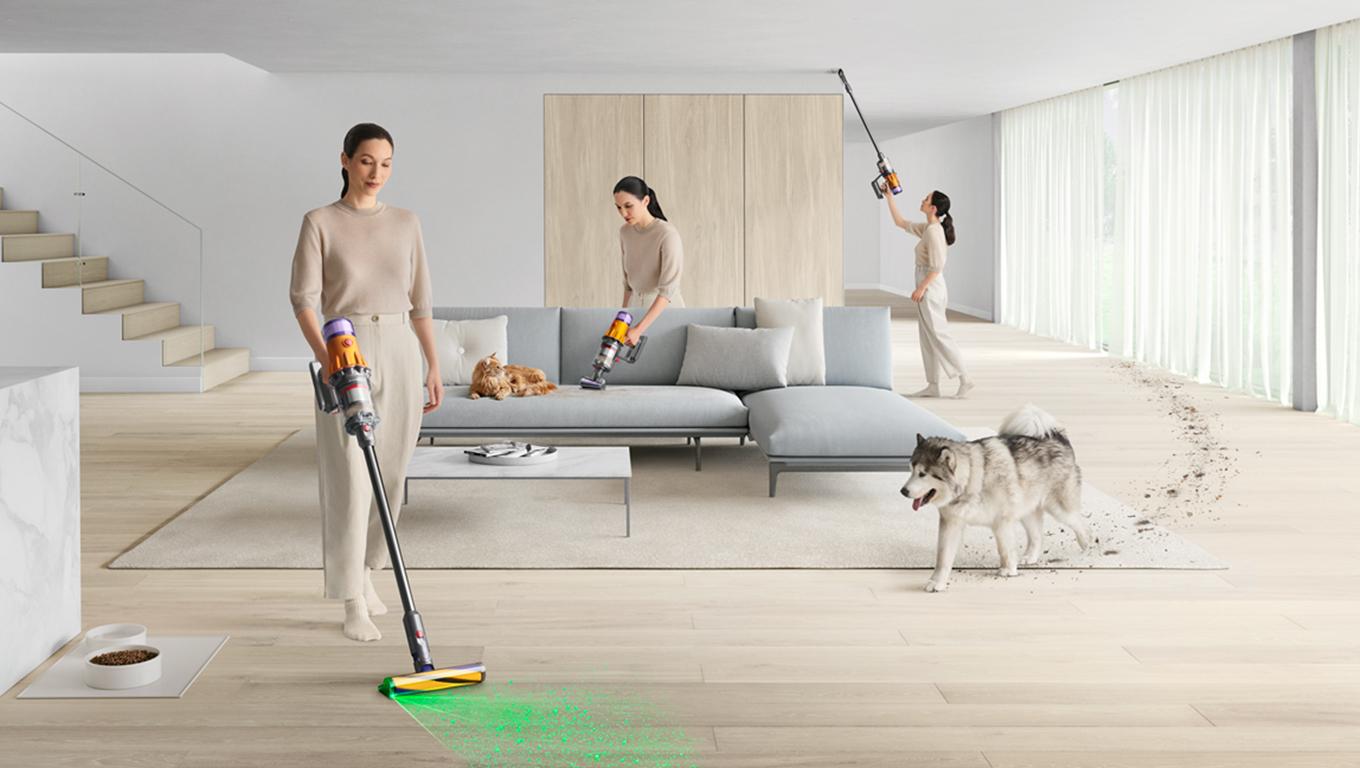 Introducing the Dyson V12™ Detect Slim, our most compact, intelligent cordless vacuum featuring laser illumination

Today, Dyson unveils a brand-new cordless vacuum cleaner in the US, the Dyson V12™ Detect Slim.  Designed for those looking for a lighter, more compact vacuum that does not compromise on performance, Dyson V12™ Detect Slim combines key features from the full range of Dyson cord-free vacuums to find the sweet spot between power and size, including Dyson laser illumination. ​The Dyson V12™ Detect Slim comes with single-button power control instead of the trigger featured on most Dyson vacuums, allowing owners to swap hands while navigating obstacles, making cleaning an easier and more seamless experience. Engineered to detect hidden allergens and pollen as small as 10 microns and equipped with an acoustic piezo sensor to enable scientific proof of what's been sucked up, the Dyson V12™ Detect Slim vacuum will redefine deep cleaning in smaller and city homes. 
The Dyson V12™ Detect Slim joins Dyson V15™ and the new Dyson Outsize+™ as part of a laser range – three vacuums at varying price points and sizes to suit a wider variety of home cleaning needs, all engineered to reveal hidden dust and pet dander with laser illumination.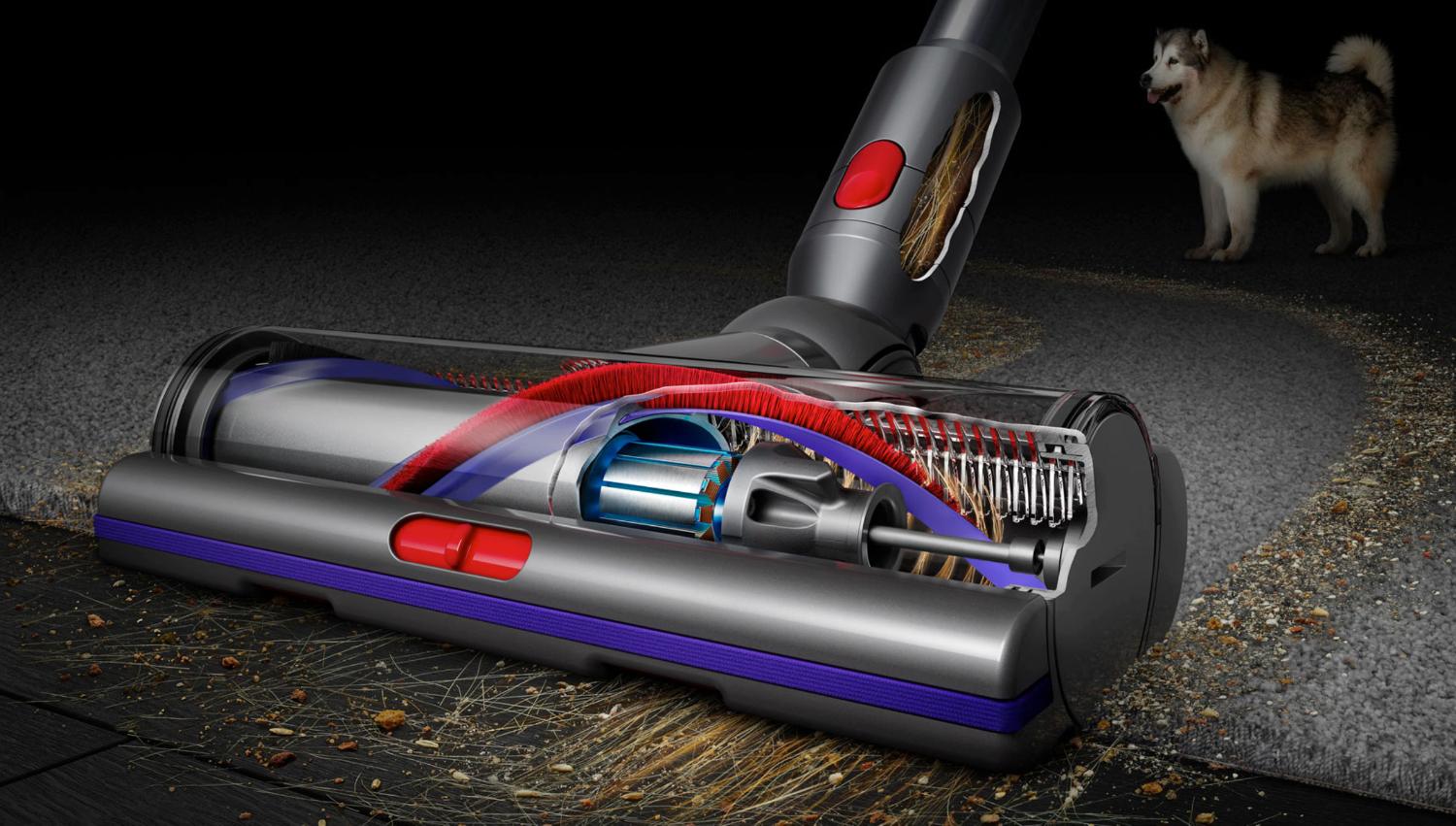 Advanced de-tangling brush bar technology
Now available across Dyson's latest range of vacuum cleaners,[1] latest brush bar technology is designed to tackle all hair, whether it is left behind by our feline, canine, or human friends. Inspired by a de-tangling comb, the brush bar features hair removal vanes, precisely angled to help migrate all hair types directly into the cleaner head. These polycarbonate teeth, combined with a set of spiralling nylon bristles, anti-static carbon fiber filaments, and strong suction power, captures and tackles troublesome tangles, as well as larger debris and microscopic dust.
The spectrum of hair, from dogs to donkeys
To truly understand the problem at hand, Dyson engineers and microbiologists studied a variety of animals, from traditional pets like cats and dogs to more unexpected animals such as alpacas, donkeys, horses and rabbits. This led Dyson to achieve a detailed understanding of size, texture and structure of hair across animal species and breeds, as well as the invisible allergens and bacteria they can introduce to the home. In addition to traditional real-world engineering methods, the development team combined high-speed camera footage with computational fluid dynamics (CFD) software to create 284 different hair fiber simulations. This replicates how different lengths of hair interact with high velocity airflow and virtual prototypes of the tools, allowing them to maximize their research while reducing the number of physical prototypes needed. This research enabled Dyson engineers to precisely engineer the hair removal vanes to match the dimensions of the brush bar while maintaining detangling performance across all hair types.
Monika Stuczen, Research Scientist in Microbiology at Dyson, says:
"The impact pets have in the home goes beyond what we can see. Effectively removing pet hair is important, but pet dander with dried-on saliva is a problem which is invisible to the naked eye. These microscopic particles can carry allergy-causing proteins around the home. Lightweight and miniscule, they can remain airborne for hours or transfer between objects. Research has even found cat allergens in rooms where cats have never been. So, the proper filtration found in Dyson machines is vital to maintain a cleaner whole-home environment."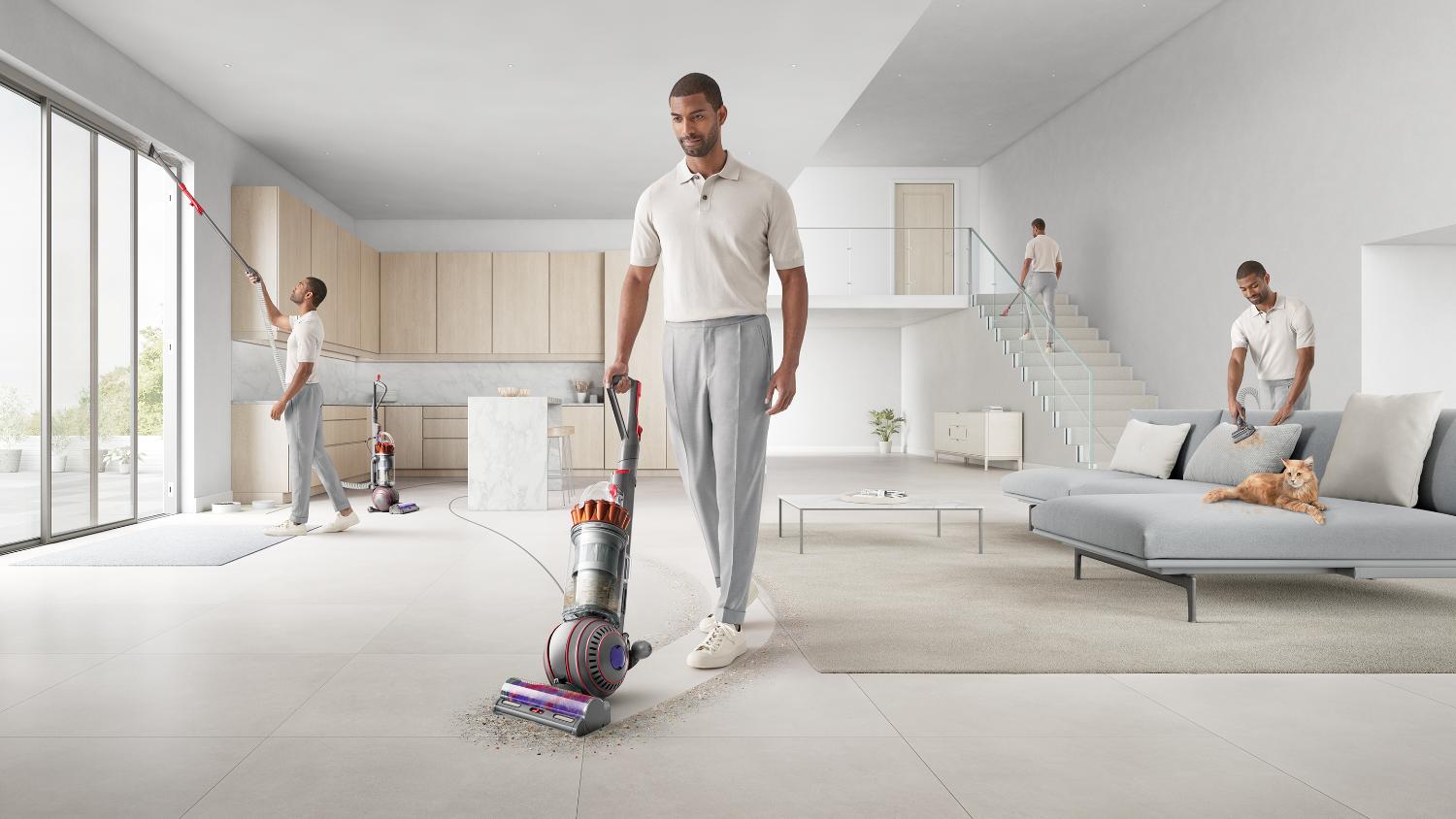 The Dyson V8™ vacuum refreshed with de-tangling technology
Initially launched in 2016, the Dyson V8™ vacuum was designed to deliver cord-free, hassle-free cleaning, for up to 40 minutes.[1] Now it is upgraded with Dyson's hair de-tangling technology with the new Motorbar™ cleaner head and the de-tangling Hair screw tool, to capture the mess pets leave behind. To also trap invisible particles the size of pet dander and allergens, the Dyson V8™ has fully-sealed filtration that traps 99.99% of fine dust as small at 0.3 microns.[2]
The Dyson upright makes a comeback. Now designed for homes with pets
Dyson is also introducing a new upright vacuum cleaner. The new Dyson Ball™ Animal 3 retains the dust pick-up performance, whole machine filtration and maneuverability of previous full-size Dyson vacuums with several key additions to make it ideal for homes with pets. The machine now features Dyson's new de-tangling Motorbar™ cleaner head with hair removal vanes, specially engineered with angled bristles which follow a spiraling helix design to migrate hair along the brush bar, from left to right. Also included with the Dyson Ball™ Animal 3 Extra are the Pet Groom Tool for efficient and comfortable grooming, as well as the Tangle-free Turbine Tool to remove ground-in hair and dirt.
An accessory for every cleaning need
Dyson's recent Global Dust Study revealed that 95% of people are cleaning just as much, if not more, than they did last year.[3] But vacuum cleaners are not designed to only clean your floors and carpets. With the right attachments, they can be used to clean almost everything from your mattress to your bookshelves, helping to maintain a cleaner environment around your whole home. But not all vacuum cleaner attachments are made equal. Dyson accessories are precision engineered, just like Dyson vacuum cleaners, to solve a problem.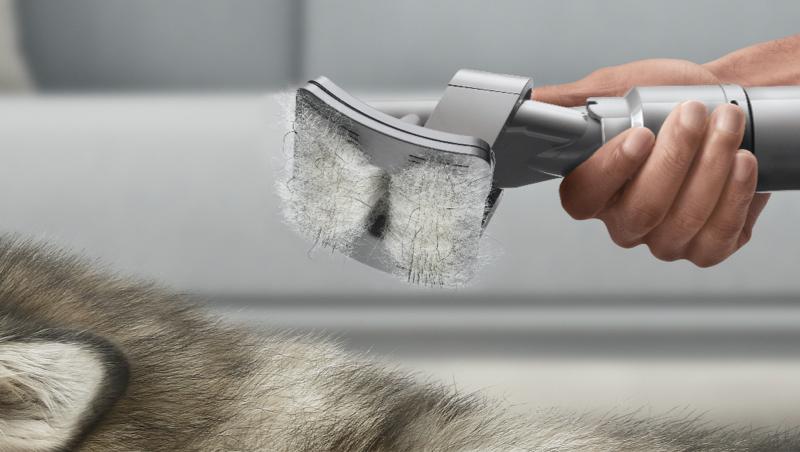 Dyson introduces the Pet Grooming Kit, compatible with cordless machines
Pet hair can carry pollen and other allergens all around your home. But Dyson has found that pet owners are likely to be unaware of the hidden impacts of their furry friends. By investigating cleaning habits from around the world in the Dyson Global Dust Study, Dyson revealed that 45% of dog owners and 57% of cat owners[4] in the US allow their pets to sleep on their beds. Yet only 37% of US pet owners are aware that house dust mite feces can reside on their pets.
The beloved Dyson Groom Tool, engineered to remove your dog's loose hairs, pet dander and microscopic skin flakes in an instant, is now compatible with Dyson's cordless range as part of Dyson's Pet Grooming Kit.[5] Attaching to the main body of the machine or via an extension hose with an adapter, the tool, which has 364 bristles angled at 35°, flexes as you brush your pet, reaching through your dog's coat to grab loose hairs, for fast and comfortable grooming.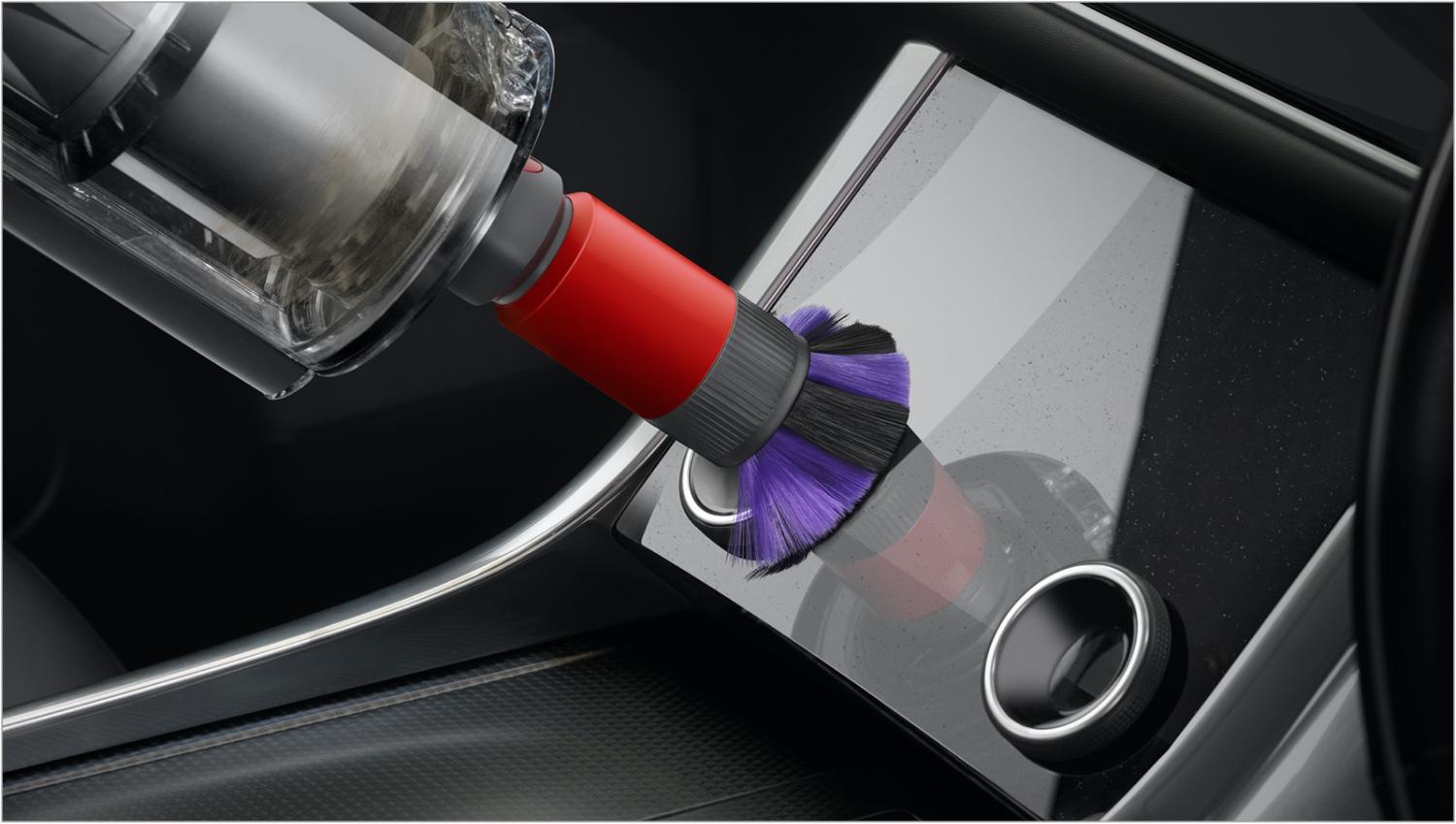 The Scratch-free Dusting Brush - Dyson's first self-cleaning ultra-soft dusting brush
While traditional dusting tools may use coarse bristles to agitate dirt which can inadvertently scratch surfaces, Dyson's new Scratch-free Dusting Brush is equipped with 8,100 ultrafine and densely packed Polybutylene Terephthalate (PBT) polymer filaments, a material inspired by fine paint and makeup brushes. The bristles are tapered to just 0.05mm, to avoid scratching of delicate surfaces. The brush also possesses a rotating cuff to remove dust and debris from the bristles hygienically and easily. The Scratch-free Dusting Brush will be available in the US later this year.
Reaching the tight spots - Dyson's Awkward Gap Tool
Other crevice tools can be rigid, making them hard to use in tight, awkward spaces, while flexing crevice tools can lose suction when bent, and clog easily from built up debris. Dyson's new Awkward Gap Tool twists 22o. Multiple prototypes tested at varying angles revealed that this is the optimum angle for cleaning the hardest-to-reach places around your home or car. With a width of just 12.5mm and 254mm reach, it is engineered to reach and clean deep into narrow gaps. The attachment also offers a secondary brush at the tip, to tackle the more stubborn of messes. These two new attachments are part of Dyson's full suite of 12 vacuum cleaner accessories, ensuring users are equipped with the right tool for every cleaning need. The Awkward Gap Tool will be available in the US later this year.
[1]  New de-tangling cleanerheads are available on the Dyson Outsize, Dyson V15, Dyson V12, Dyson V11, Dyson V10, Dyson V8 vacuums.
[2] Actual run time will vary based on power mode, dust level, floor type and/or attachments used.
[3] In Boost mode. All other modes achieve at least 99.97% filtration.
[4] 12,309 respondents across 11 countries: US, Australia, Japan, China, South Korea, France, Britain, Germany, Spain, Italy, and Turkey. Fieldwork conducted from 15th to 24th November 2021. Data has been weighted at a 'Global' level to be representative of different population sizes.
[5] Dyson Global Dust Study. 'Pet Owner' refers to respondents who own at least one dog or cat.
[6] Available on the Dyson Outsize, Dyson V15, Dyson V12, Dyson V11, Dyson V10, Dyson V8 vacuums.