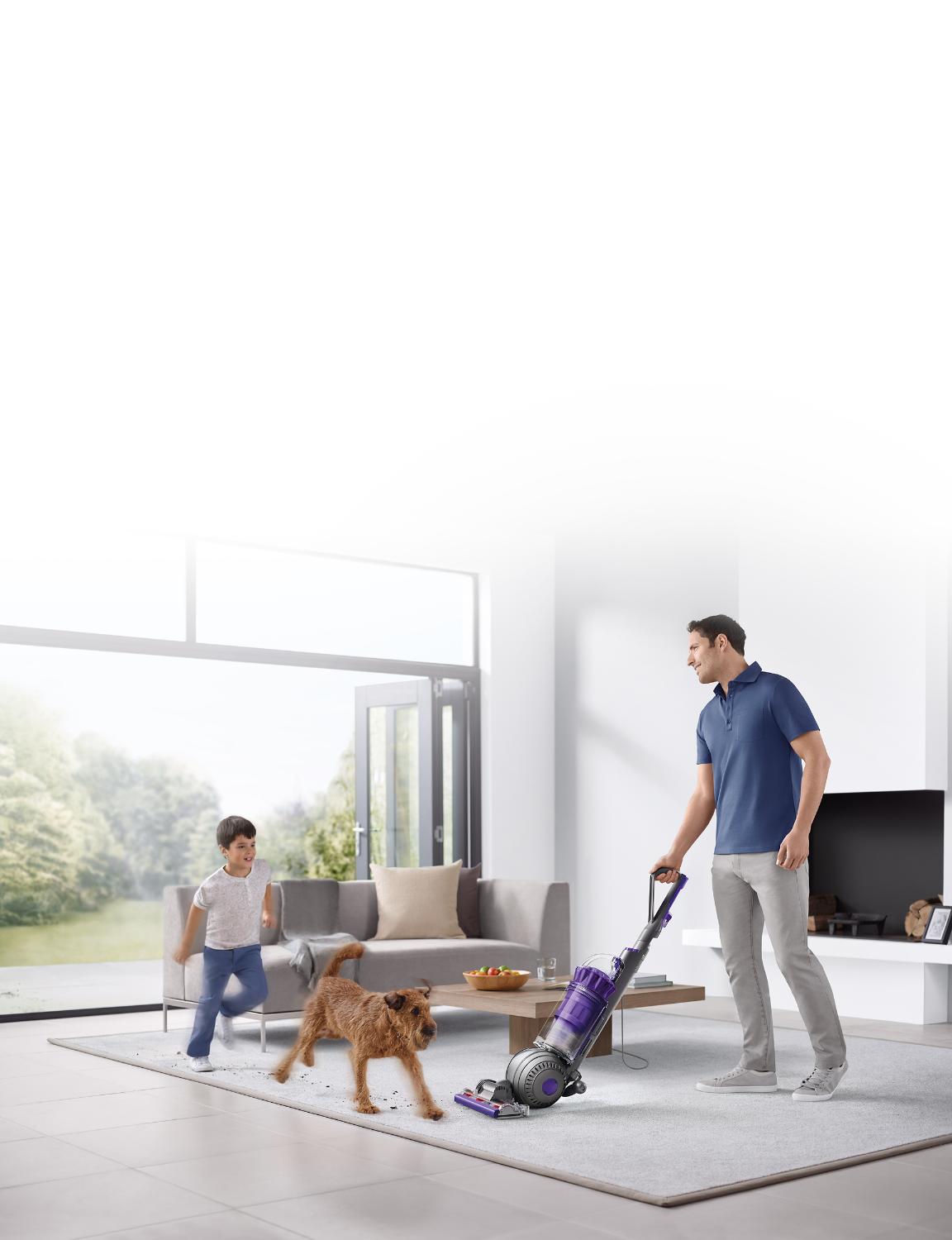 Pet vacuums for mucky dogs to shedding cats.
Dyson pet vacuums combine powerful suction and specialist tools to remove pet hair, pet allergens, and tracked-in dirt from your home.
Dirt doesn't stop at the doorway.
Pet vacuums sniff out hidden pet allergens
Dyson Root Cyclone™ technology generates powerful centrifugal forces to spin dust and dirt out of the air and into the bin. With a highly-efficient post-motor filter, microscopic allergens from pet hair and dander are trapped, leaving your home cleaner.
Keeps hard floors clean. Even if your pet doesn't.
A pet vacuum cleaner head with soft woven nylon traps large debris, while anti-static carbon fiber filaments remove fine dust.
Transforms to a hand-held. Tackles dirt, everywhere.
Dyson cord-free machines transform from a stick vacuum to a handheld in moments. Tools and cleaner heads connect to the wand or directly to the machine for easy cleaning, up high and down low. So pet hair has nowhere to hide.

A bite bigger than its bark.
The Dyson digital motor in our cord-free vacuums is small and light – but extremely powerful. Combined with motorized tools and cleaner heads, it's designed to suck up dirt, pet hair and allergens from all floor types.
Tools for homes with pets.
Tangle-free turbine tool.
We've engineered the only turbine tool that doesn't tangle. Its counter-rotating heads remove pet hair from carpets, cushions, drapes and bedding.
It's included with all Dyson Animal upright and canister vacuums. Also available to purchase separately.
Groom tool.
Remove problem pet hairs at the source. Flexible, angled bristles collect loose hair as they comb your dog's pelt, then retract when the thumb trigger is released to suck hair and allergens directly into the airflow.
Designed for use on medium- and long-haired adult dogs. Available to purchase separately.

Mini stiff bristle brush.
Digs through carpet pile to dislodge dead skin cells and dried-in mud. The stiff, angled bristles create a flicking action, releasing dirt directly into the airflow.
Perfect for cleaning both your home and car. Available to purchase separately.

Certified asthma and allergy friendly™.
Our engineers and microbiologists work together to remove more and more allergens. So more and more of our machines are approved for allergy sufferers by the Asthma & Allergy Foundation of America. Look for the logo when browsing.
Dyson V11™ vacuums

Dyson Cyclone V10™ vacuums

Dyson V8™ vacuums
Certified asthma & allergy friendly® and the asthma & allergy friendly® symbol are certification marks and registered trademarks of Allergy Standards Limited and the Asthma and Allergy Foundation of America.