Dyson hair care holiday gifting ideas 2023
The holiday season is just around the corner, and it's time to start thinking about the perfect gifts for your loved ones. We explore our range of hair care gift ideas, from debossing and limited colorways to exclusive gift sets.
Special edition colorways
From sophisticated Prussian Blue to vibrant Fuchsia, our special edition colourways are designed to stand out. These exclusive editions elevate the styling experience and make for a truly memorable gift.
Our special edition gifting colorway this year is Blue Blush – a combination of a vibrant blue and a soft, pale pink. This colour exclusive is perfect for great nights out and good hair days. Also available in time for the holiday season is the new special edition Ceramic Pop with its beautiful blush pink, topaz, and orange tones.
Give the gift of invention in Blue Blush. With exclusive accessories.
Ongoing color choice
As well as special editions, the ongoing Dyson color palette provides another opportunity to individualize and personalize your hair care gift. Our combination of colors and finishes allow you to select the right machine to match your loved one's personality and décor – ensuring your gift fits seamlessly into their lifestyle.
Our colorways tell a story of innovation and experimentation by our Color, Materials and Finishes engineers.
Dyson Airwrap™ multi-styler
Suitable for both long and short hair, the Dyson Airwrap™ can curl, dry, and style. It comes with a variety of attachments designed for different styling techniques and hair types. The machine offers smooth styling, while protecting hair by avoiding the need for extreme heat. As with all Dyson machines, the Dyson Airwrap™ is powered by an advanced motor, which generates the air pressure needed to create the Coanda effect. This aerodynamic phenomenon harnesses a continuous flow of air to attract and wrap hair around the barrels and brushes.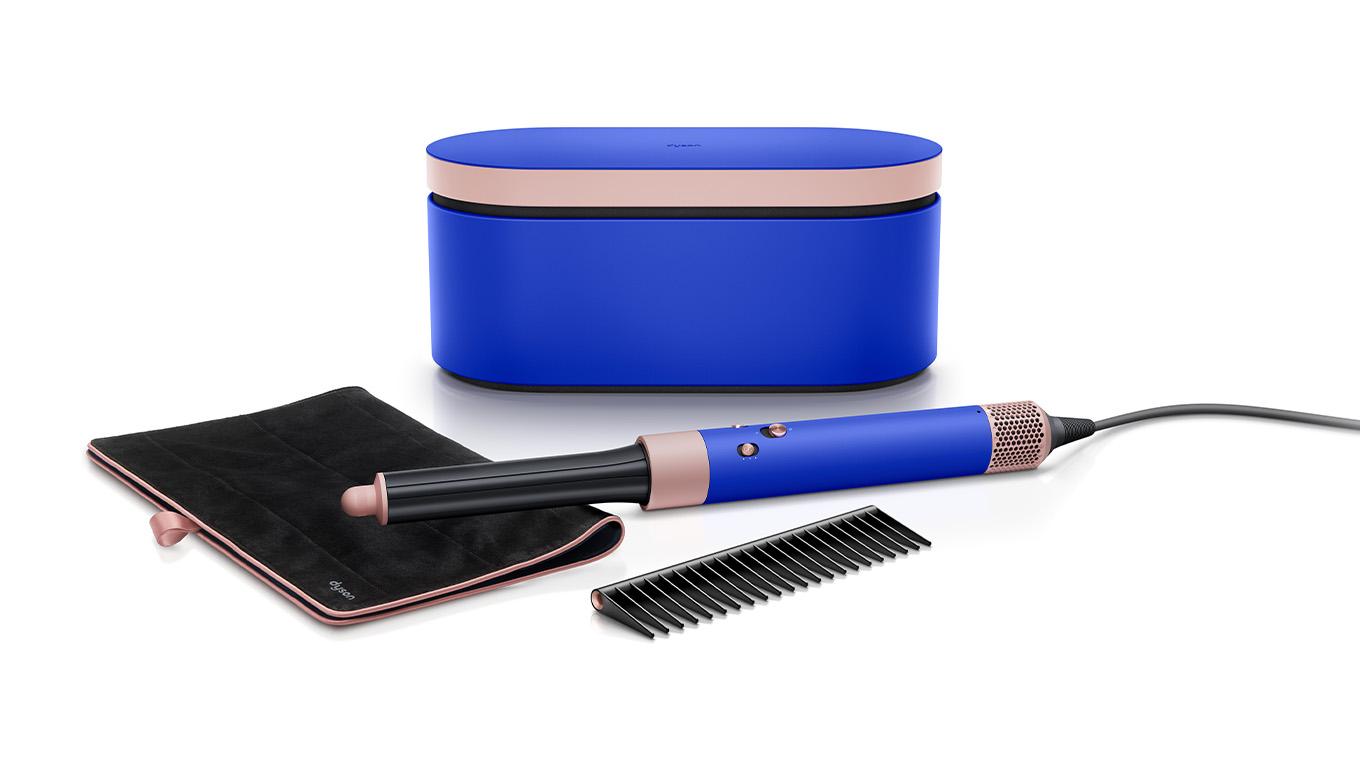 Dyson Airwrap™ customization
Customize your Dyson Airwrap™ multi-styler for gifting, with a choice of different attachments to suit your friend or family member's hair type, length, and desired style.
For those with curly and coily hair, there's also the new Dyson Airwrap™ multi-styler Complete Long Diffuse, which comes with attachments engineered specifically for this hair type. And if you buy now, you'll receive a presentation case and two complimentary gifts.

Dyson Supersonic™ hair dryer
Give the gift of fast drying and precision styling with the Dyson Supersonic™ – the most awarded hair dryer.¹ Rigorously tested on different hair types, the machine comes with a range of magnetic styling attachments, including the Flyaway attachment for sleek, straight styles, the Styling concentrator for focused styling, and the Diffuser for defined curls and waves.
Unlike some others, the Dyson Supersonic™ hair dryer measures exit airflow temperature over 40 times per second. This prevents extreme heat to help protect your hair's shine.
Personalize your Dyson Supersonic™
The  Dyson Supersonic™ attachments address individual styling needs and hair types. For example, the Diffuser, designed for wavy, curly and coily hair types, minimizes frizz and simulates natural drying. And for those looking for sleek styles, the Flyaway attachment hides flyaways for a smooth and shiny finish.
If you're looking for a simplified machine, the new Dyson Supersonic™ Origin hair dryer in Black and Nickel is our original hair care hero, streamlined with our most popular attachment – the Styling concentrator.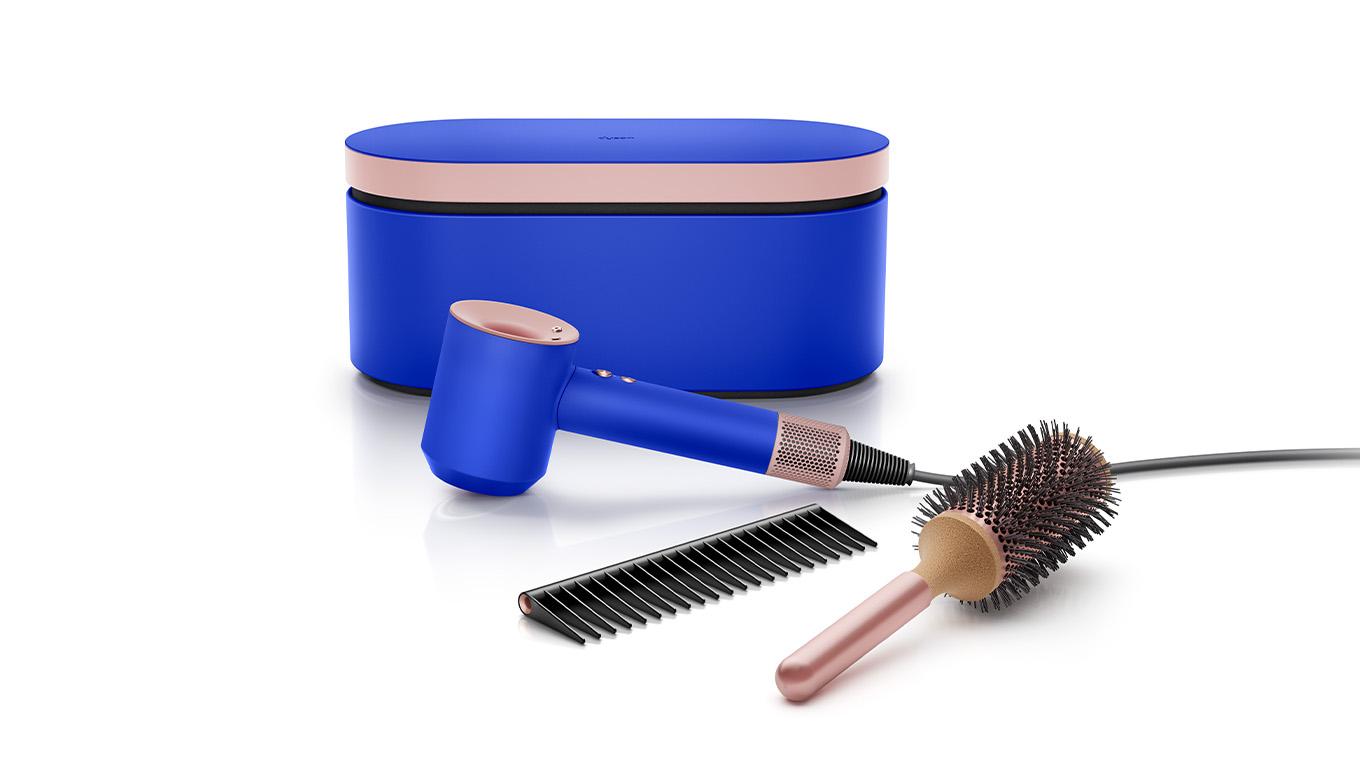 Dyson Corrale™ straightener
Using unique Dyson technology, the Dyson Corrale™ straightener reduces hair damage caused by extreme heat.² Where other hair straighteners rely on heat to style hair, ours achieves looks through Manganese copper plates, which flex to gather hair. Cordless and versatile, the Dyson Corrale™ fully recharges in just 70 minutes.
Choose your style
No matter your style preference, the Dyson Corrale™ can achieve a variety of looks – from bouncy and voluminous curls to smooth and sleek hair.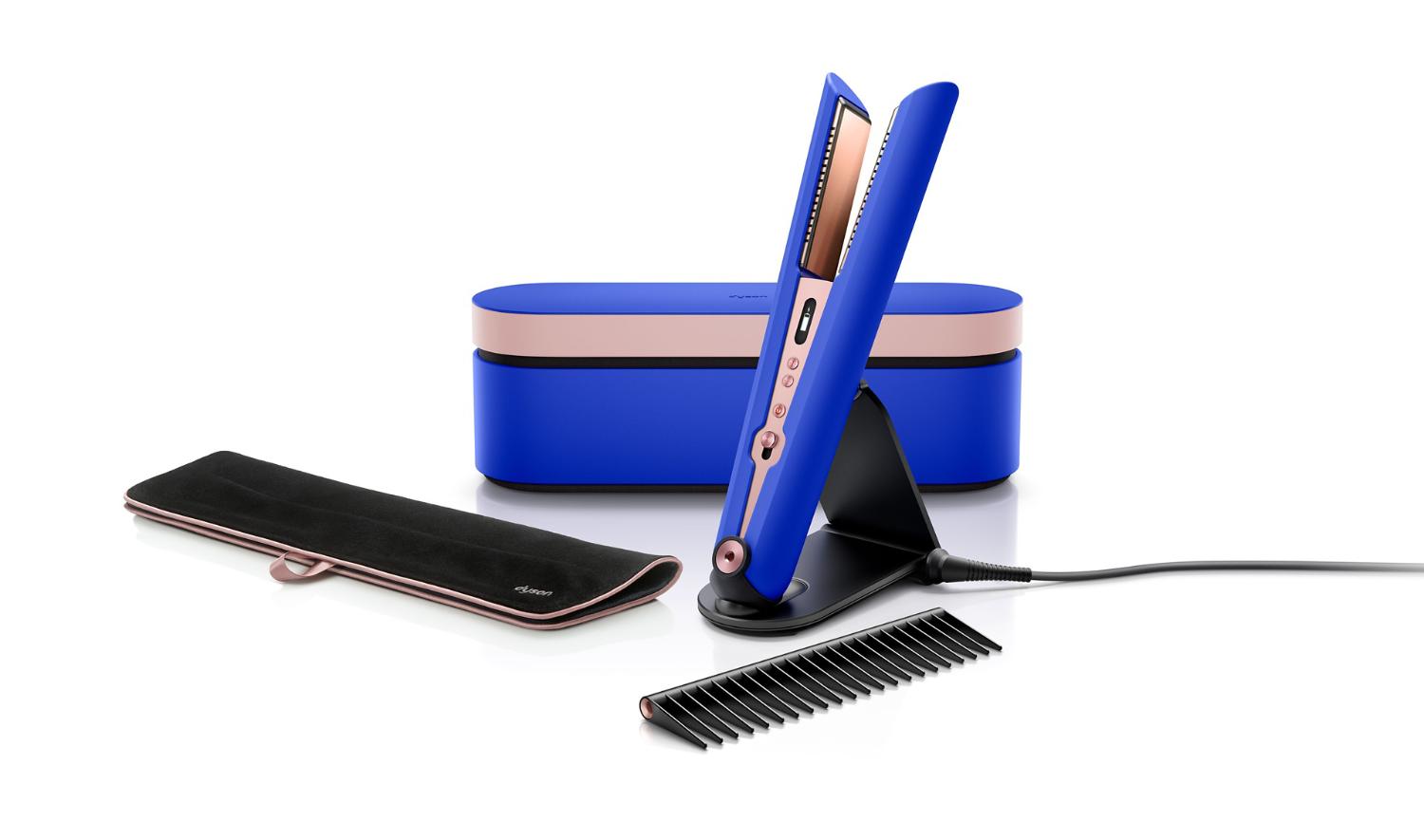 Debossing initials on presentation cases
One of the most thoughtful ways to make a Dyson gift even more special is by adding a personal touch. Dyson offers the option of debossing gold initials or up to eight characters on presentation cases for select products – creating a unique and memorable gift that goes beyond the ordinary. Deboss letters, numbers, or even a choice of three icons – a love heart, a lightning bolt, and a star.
Debossing is available exclusively at our Dyson Demo Store personalization bars. It's a complimentary service with purchase of the Dyson Supersonic™ hair dryer, Dyson Corrale™ straightener, Dyson Airwrap™ multi-styler or Dyson Airstrait™ straightener.
Attachment upgrades and accessories
If your loved one already owns a Dyson hair care machine, they may appreciate new attachments or extra Dyson-designed accessories.
Attachments
All Dyson hair care attachments can be bought individually on our website, but if you're looking for a complete set of new Dyson Airwrap™ attachments, the Re-engineered attachment upgrade kit is perfect for those who own an older version of the machine. It comes with the Coanda smoothing dryer, Firm smoothing brush, Soft smoothing brush, and two multi-directional barrels for clockwise and anticlockwise curls.
All newer hair care attachments are fully compatible with older versions of our technology.
Accessories
Dyson hair care accessories make for thoughtful gifts too. Our Dyson-designed stands neatly display your hair care machines, while our soft, heat-resistant travel pouches conveniently store your Dyson Airwrap™or Dyson Corrale™– for styling on the go or party top-ups on demand.
Discover Dyson attachments and accessories
Dyson straightener accessories

Complement your Dyson Airstrait™ and Dyson Corrale™ machines with exclusive Dyson-designed accessories.
 

Dyson multi-styler accessories

Upgrade your Dyson Airwrap™ multi-styler with re-engineered attachments to curl, shape, smooth, and hide flyaways on different hair types.

Dyson hair dryer accessories

Magnetic attachments, storage, and styling accessories for your Dyson Supersonic™ hair dryer.
 
Find the right Dyson hair care machine
Our scientists test and study all types of hair in our labs and years of research have enabled us to specifically engineer for every hair type.
When choosing a hair care gift, it's important to match the recipient's hair type and styling needs to our hair care technology. Find the right Dyson hair care machine using our Help me choose tool.
Whether you opt for debossing initials on a presentation case or choose our special edition Blue Blush colourway, you'll make a lasting impression with a Dyson gift.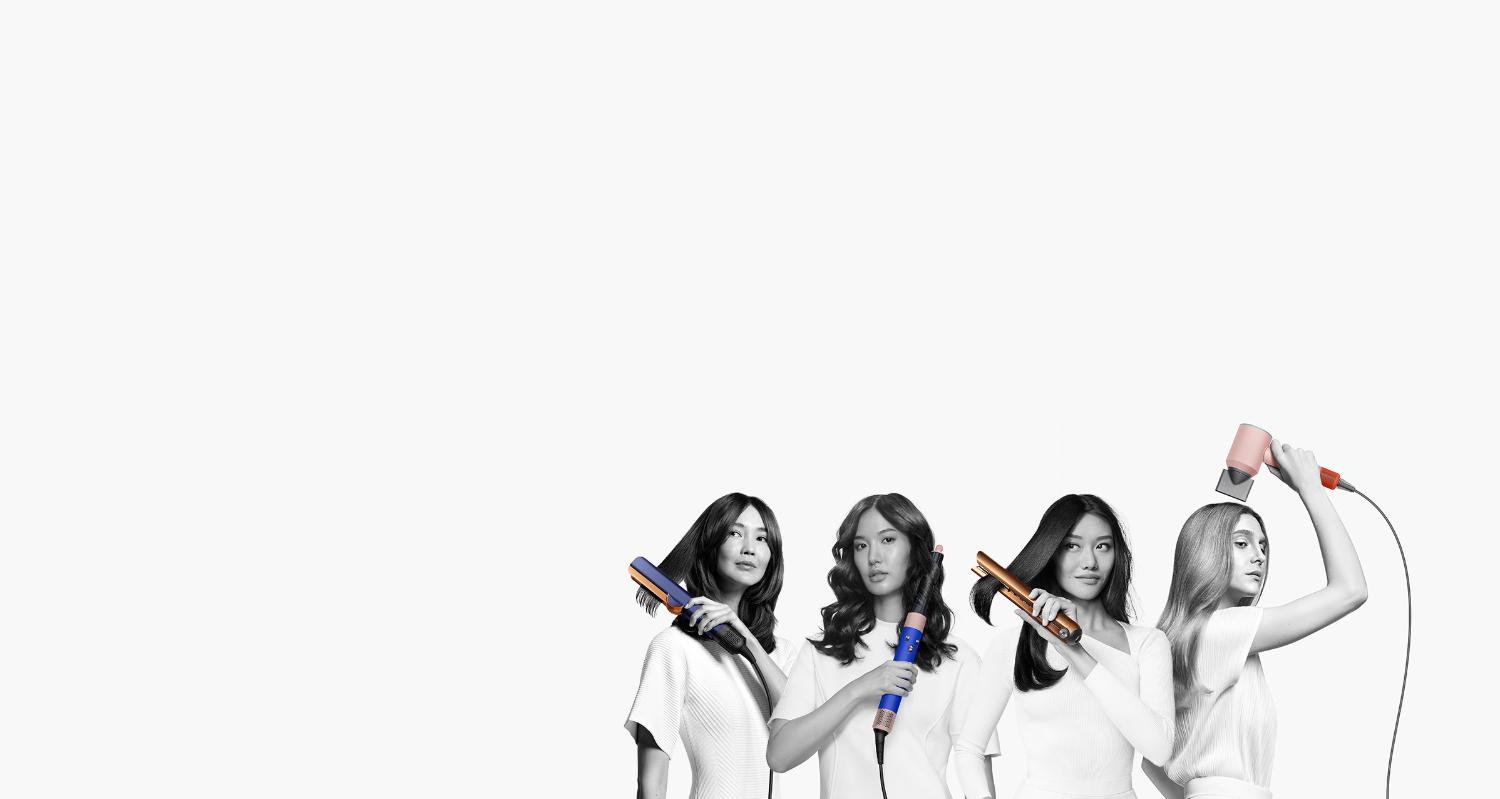 Hair Care gift guide
Give the gift of an
exclusive colorway
Protect against extreme heat damage. With more focus on control and less on heat.
¹Based on annual awards for hair dryers by top 20 publications in GB from January 2021 to April 2023.
²Enhanced styling. Half the damage.
USA

Emails us at USPR@Dyson.com

1330 West Fulton Street, 5th Floor, Chicago IL, 60607