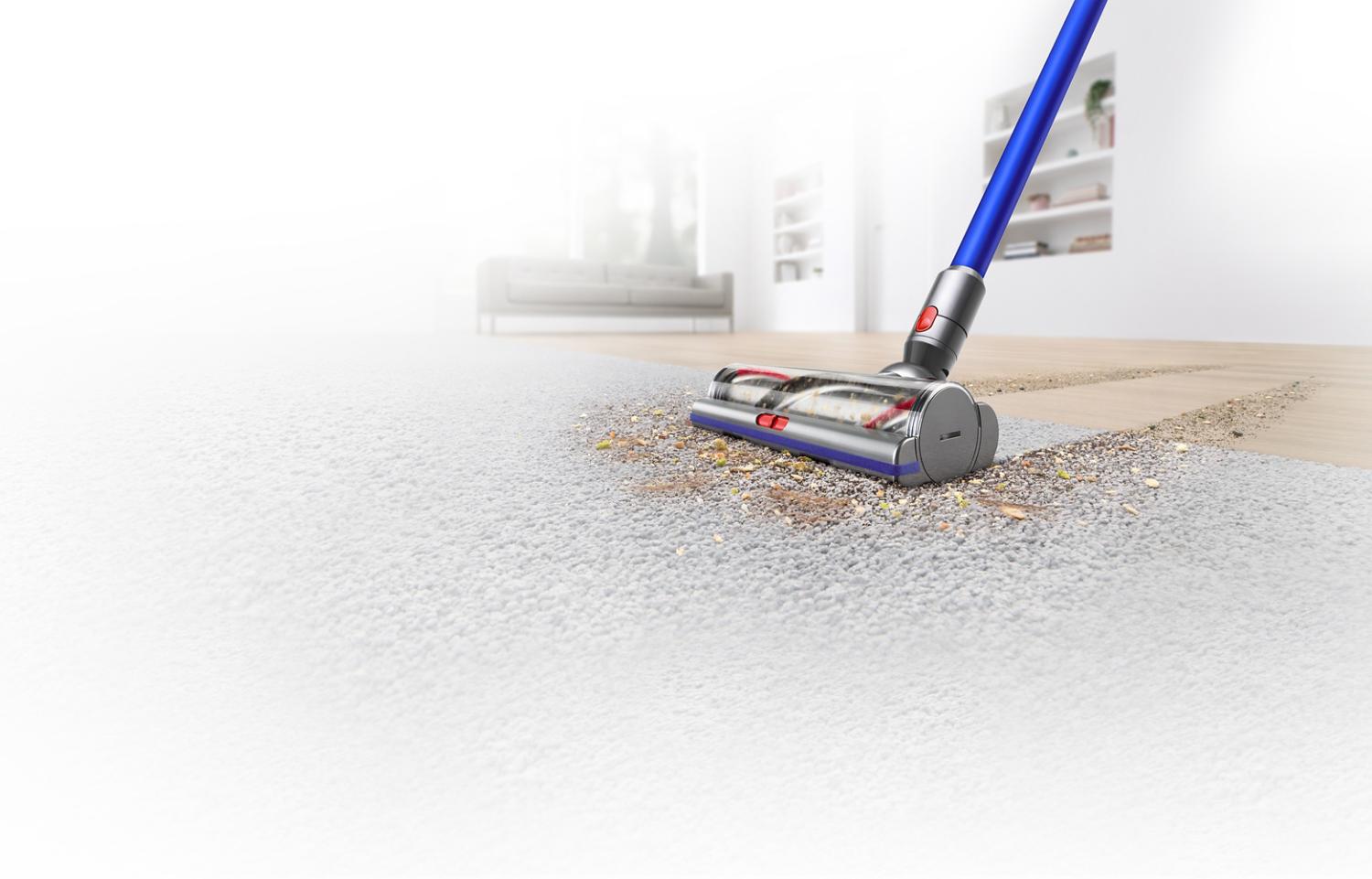 Whole home, deep cleans
The most powerful Dyson vacuums. With multiple tools engineered to deep clean dirt, debris and pet hair from every corner of your home.
Dyson V11 Torque Drive (Black)
Dyson's most powerful, intelligent vacuum for deep cleaning with twice the suction of any cordless vacuum¹ and up to 60 minutes of run time.* The high torque cleaner head features DLS technology that automatically optimizes suction for removing dirt, debris and pet hair across all floor types. AnLCD screen displays run time and performance.
Dyson V11 Outsize (Red)
Features a full-size bin, full-size cleaner head and twice the run time for an even deeper clean. Intelligently adapts power between floor types. 2 battery packs for up to 120 minutes of run time.* High Torque XL cleaner head with DLS technology adapts suction across floor types. 150% bigger bin than the V11 Torque Drive.
Dyson Ball Animal 2 (Purple)
Powerful, self-adjusting cleaner head drives deep into carpet fibers to capture dust, animal hair and ground-in dirt. No other vacuum has stronger suction at the cleaner head.² Even more power for tough tasks. Engineered for homes with pets.
Was $499.99
$449.99
Save $50.00
Dyson Cyclone V10 Absolute (Black)
Engineered to deep clean anywhere with strong suction across multiple surfaces. Includes two cleaner heads for hard floors and carpets. Up to 60 minutes of run time.* 3 cleaning modes for the right power where you need it.
Available for delivery in 6-9 days.
¹Tested at the cleaner head to ASTM F558, dust loaded.
*Run time will vary based on power mode, floor type and/or attachments used. 120 minutes run time is based on consecutive useoftwo separate battery packs.
²Suction tested to ASTM F558 at the cleaner head, dust-loaded against upright market


Latest vacuum technology
Intelligently optimizes cleaning and run time.
With twice the suction of any cord-free vacuum.*
*Tested at the cleaner head to ASTM F558, dust-loaded.
Not seeing what you're looking for?
Lightweight and versatile vacuums under 6.5lbs allow you to quickly clean any type of mess. Engineered to solve your everyday cleaning needs.
Heavy-duty performance for big cleans on all floor types. Lightweight and versatile for everyday use. 
Discover how our vacuums are engineered for homes with pets
Our whole-home vacuums combine powerful Dyson suction with specialized tools to remove pet hair and pet allergens.