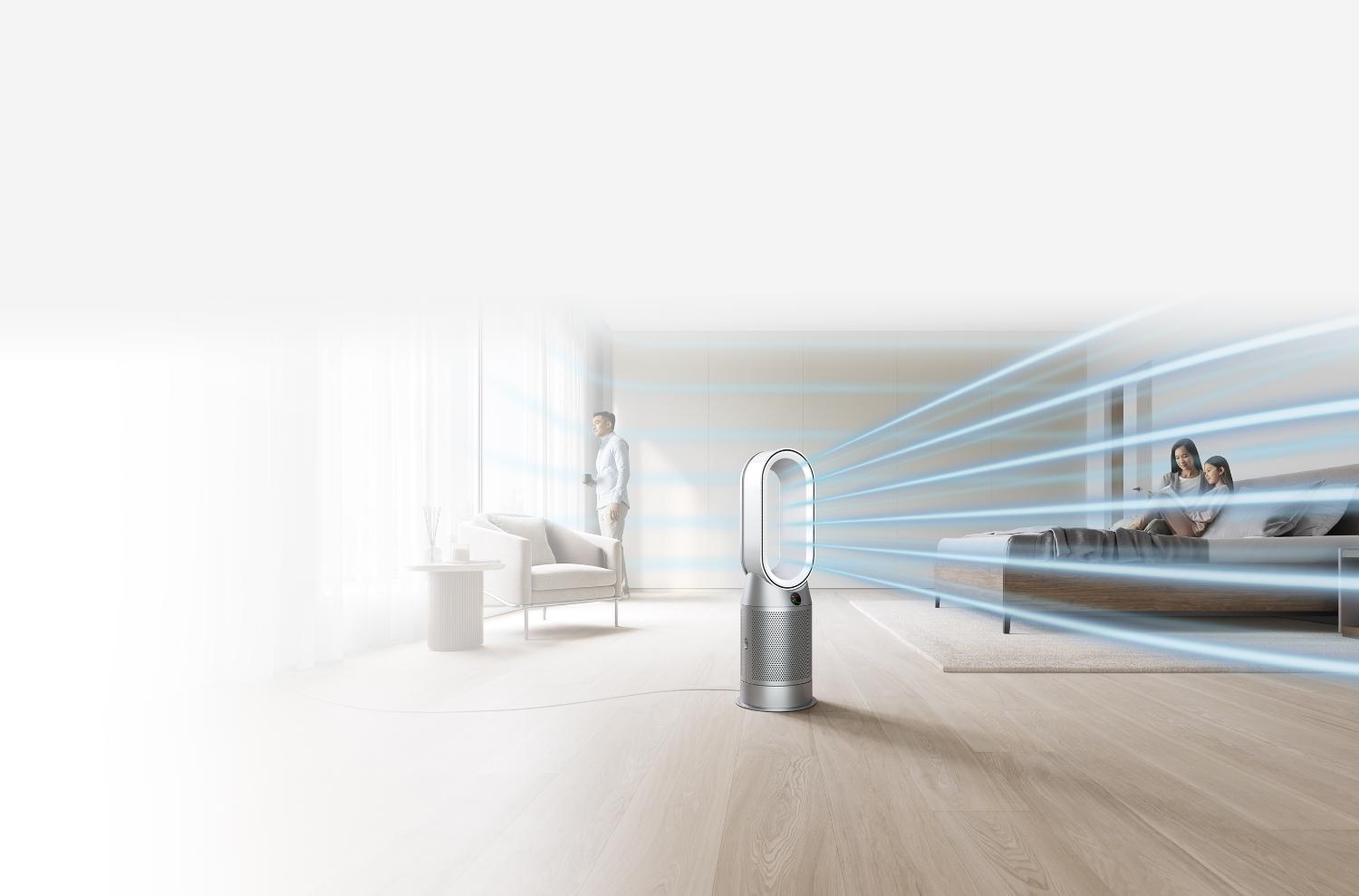 Re-engineered to deliver cleaner air
Automatically senses, captures, and traps pollutants
Fully sealed to HEPA H13 standard.⁹
So what goes inside, stays inside.
Purifies, heats⁶ the whole room,⁸ and cools you³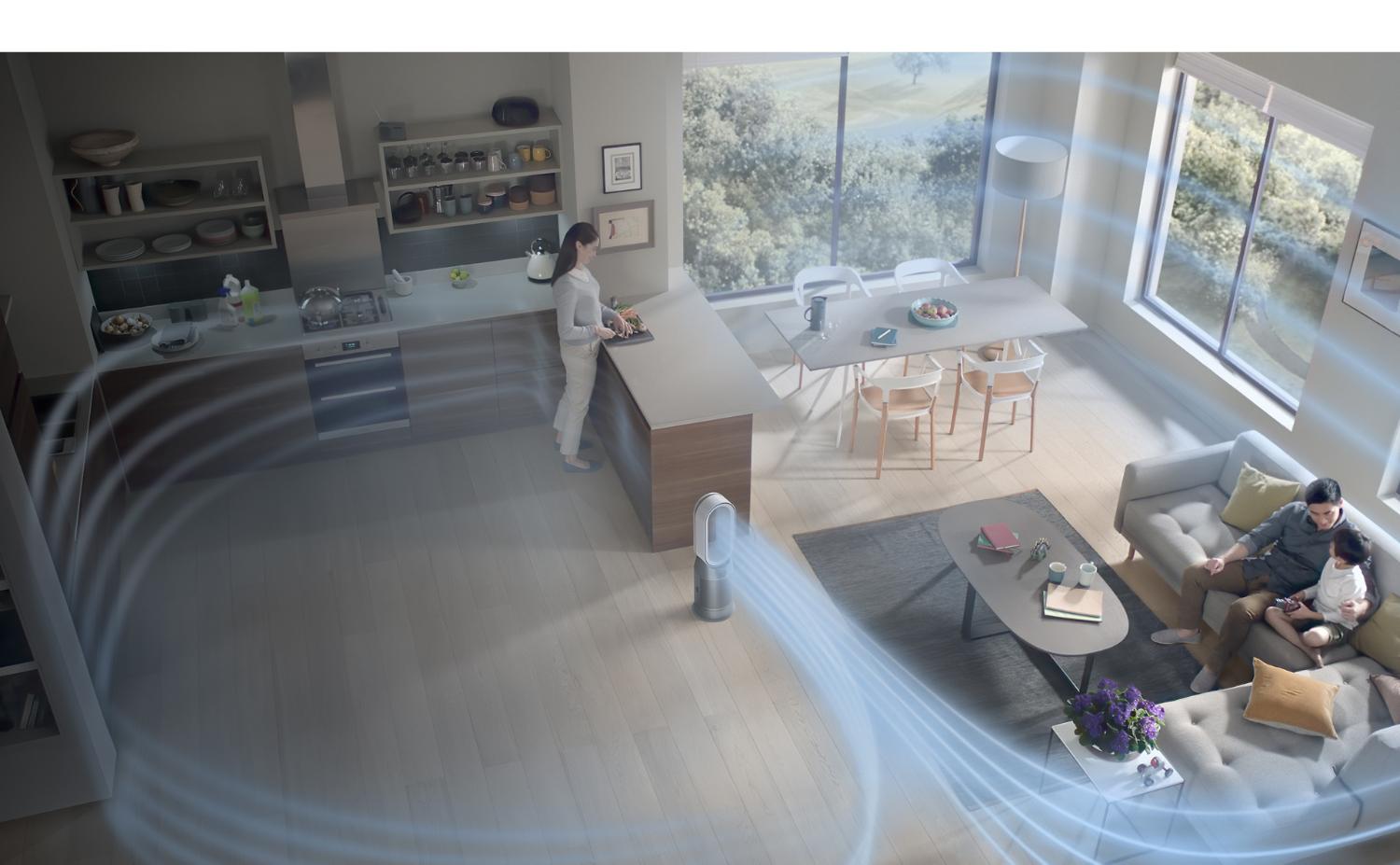 Powerful circulation to purify the whole room
Only Dyson purifiers have Air Multiplier™ technology to draw in distant pollutants and project purified air throughout the room.⁸
We test beyond the industry standard. For real living spaces.
Dyson engineers designed the POLAR test to challenge the industry standard test methods - measuring purification, sensing, and circulation to ensure the whole room is purified properly.
Some CADR methods do not measure purification performance in a realistically-sized room.

In this 28.5m³ room, a fan to mix the air before the test, and another to circulate air during the test. Only one sensor measures air quality.

Dyson's POLAR test goes further to measure purification throughout a realistically-sized room.

In this 81m³ room, no fans except the air purifier. Nine different sensors to measure even-room air quality.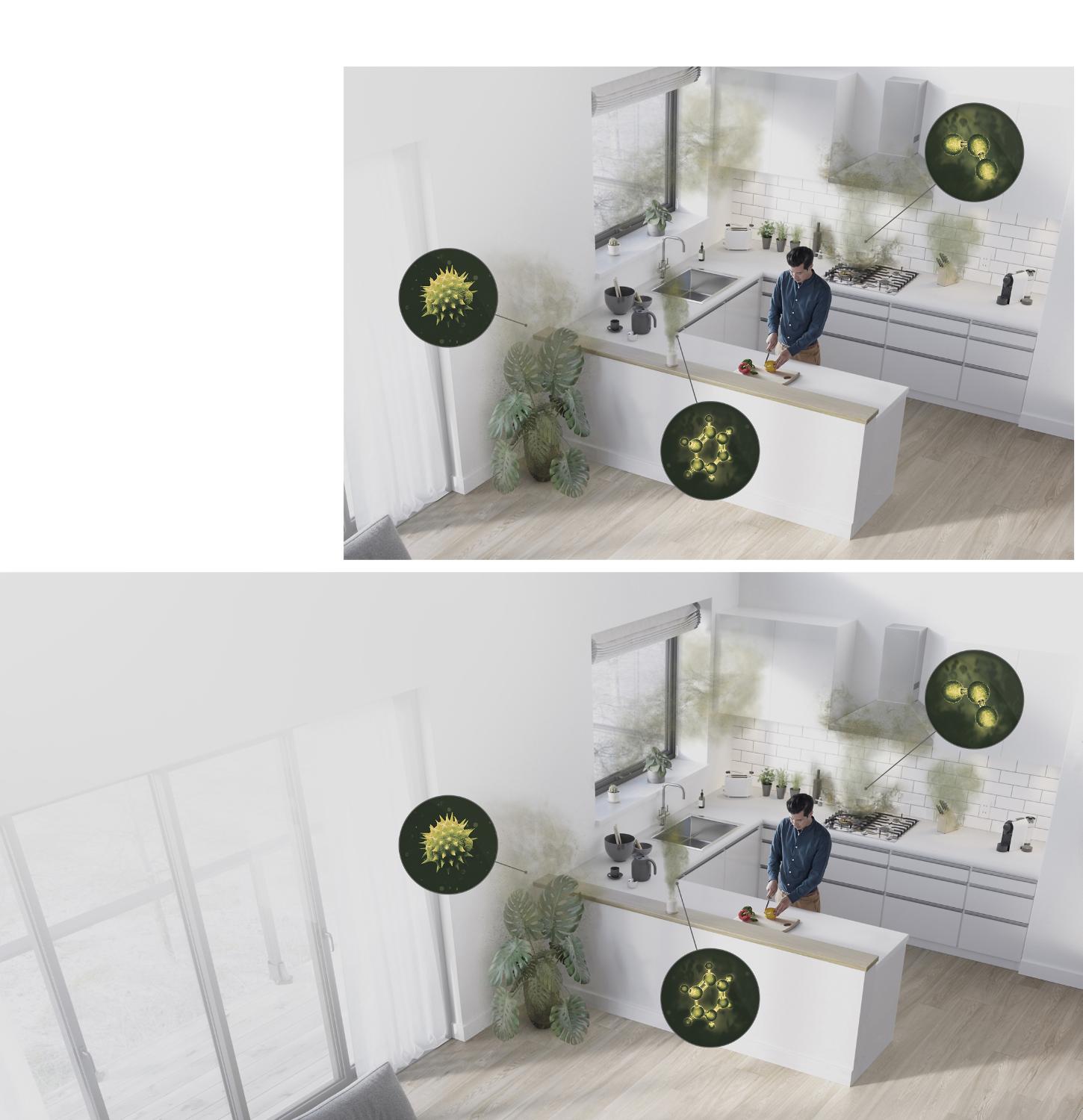 Poor air quality isn't just a problem outside.
It's a problem inside too.
From pets and flowers, to sprays and stoves, our homes can trap pollutants in the air. That's why Dyson purifiers automatically sense and remove them.
Common household pollutants
Common allergens - pet dander, pollen and dust

Nitrogen dioxide

Gas stoves and car exhausts

Industrial emissions and smoke
Formaldehyde (HCHO)

Carpets, rugs and flooring

Odors

Household fumes and cooking

Benzene and VOCs

Cleaning products and candles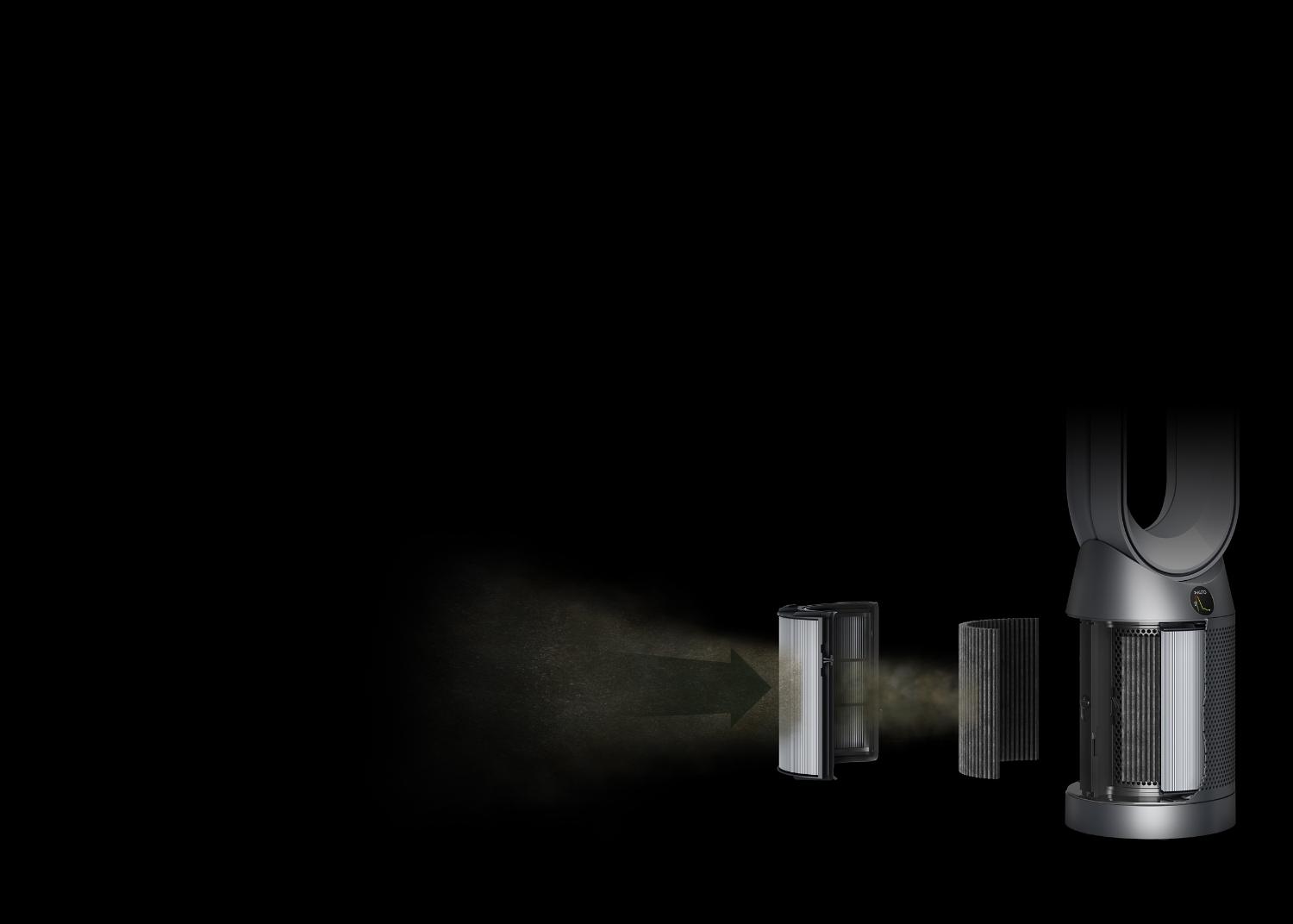 Captures with advanced HEPA filtration
The HEPA filter captures gases and 99.97% of particles as small as 0.3 microns.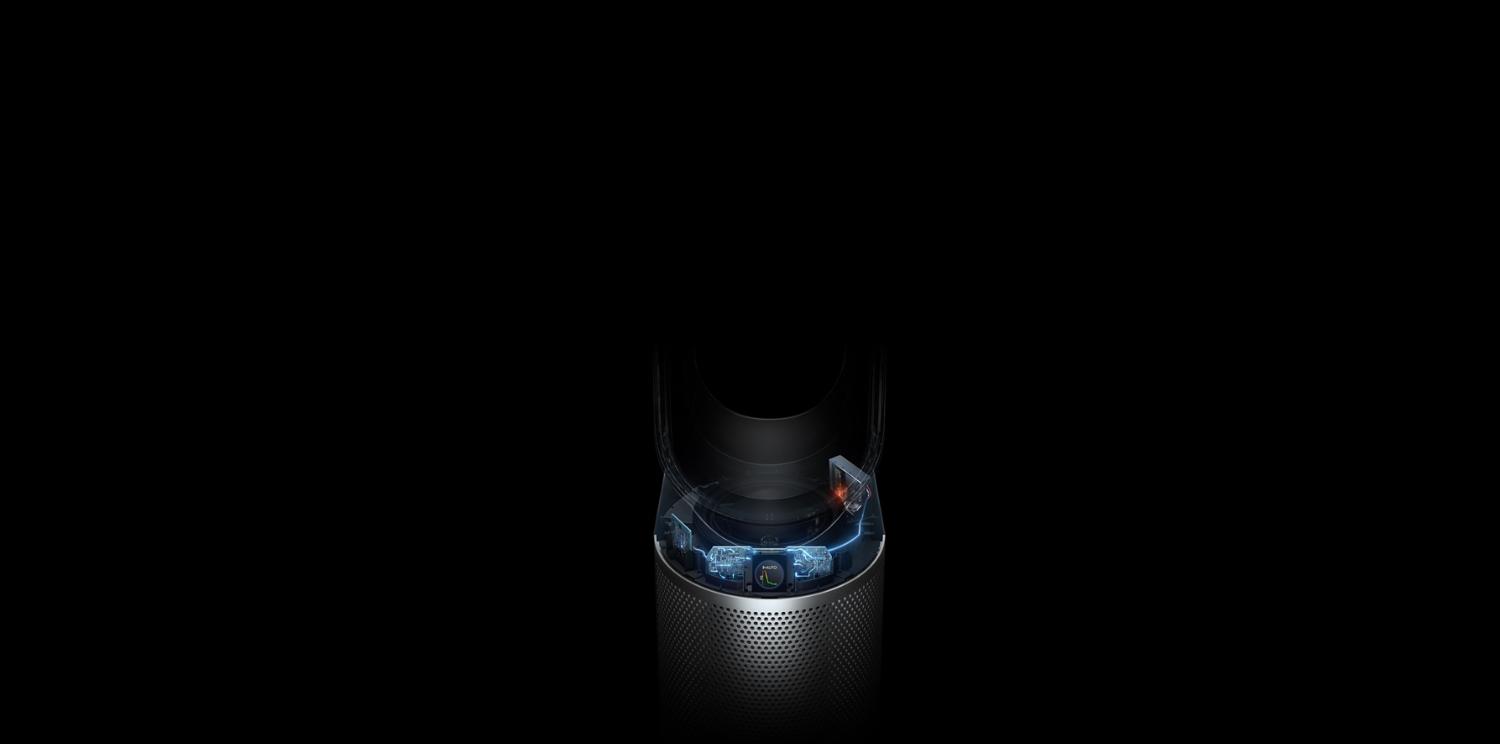 Senses and reports, automatically
Three sensors interact with our unique algorithm to precisely diagnose, display and react to your air quality.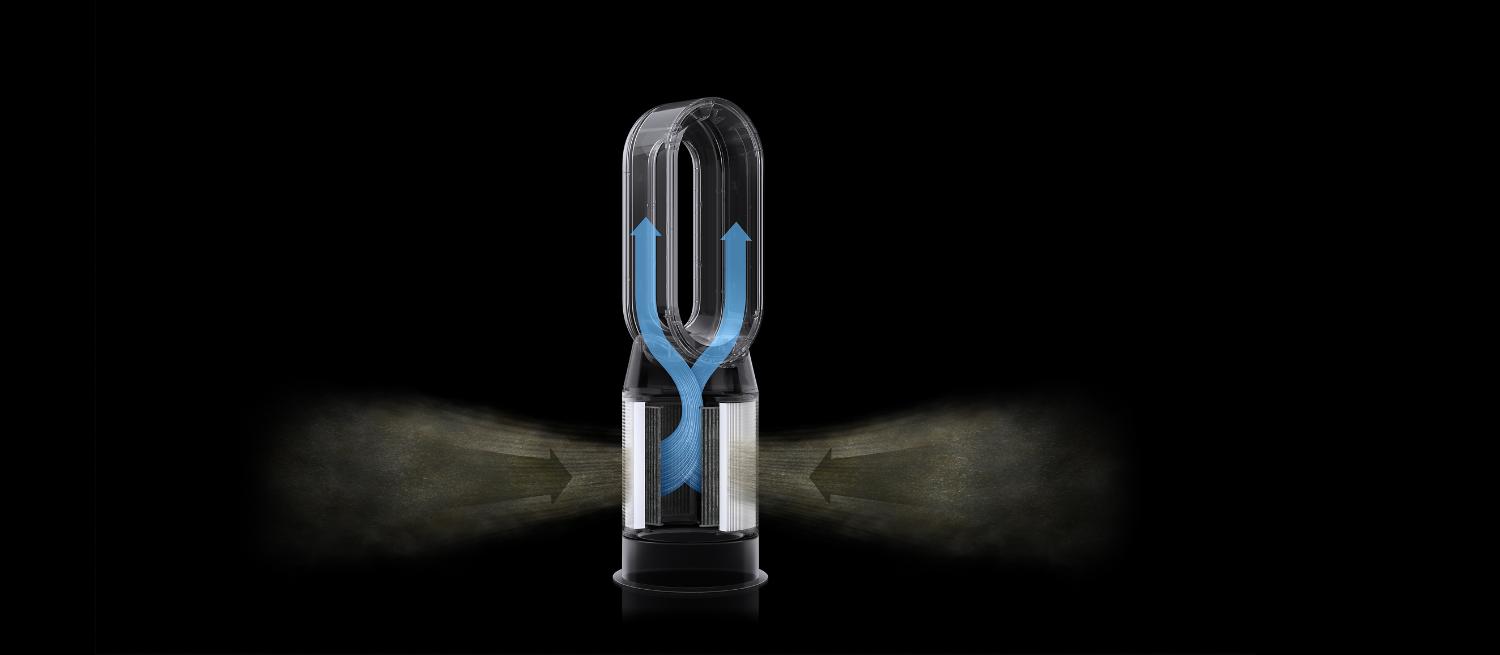 Fully-sealed to HEPA H13 standard
To prevent pollutants from leaking back into the air, it's not just the filter that's sealed to HEPA H13 standard, it's the whole purifier.⁹ So what goes inside, stays inside.
Get more from your Dyson with the MyDyson™ app▴
Control air quality, wherever you are

Control your air purifier from anywhere with your smart device, whether you're traveling, at work, or simply at home on the sofa.

Monitor air quality. View reports, fast.

Monitor indoor and outdoor air quality from your smart device. See your machine's activity as well as temperature, humidity, and filter reports.

Automated filter alerts

You'll never need to worry about when to replace your filter. We'll let you know. Helping your machine to always perform at its best. 
▴The MyDysonTM app is only compatible with select Dyson products. For a list of compatible products, please click here.
Cools you when needed³

Projects over 77 gallons of air a second for cooling airflow.

Heats when needed⁶

Air Multiplier™ technology projects purified, heated air throughout the room.² Once your target temperature is reached, heating automatically stops.

Backward airflow. Purifies without cooling you.

Airflow is diverted through the back of the machine, maintaining effective purification without cooling you.⁴

Easy filter care

We recommend replacing the HEPA filter when you're alerted by the MyDyson app or every 12 months, whichever comes first.

Night mode

For lighter sleepers, it monitors and purifies using the quietest settings along with a dimmed display.
Featured air treatment articles
Frequently asked questions
*Allergens refer to non-living materials.
³Fan; not air conditioning unit

⁴Not applicable to heating
⁵Requires device to run app, Wi-Fi or mobile data, Bluetooth 4.0 support, and iOS version 10 or Android version 5 (or above). Standard data and messaging rates may apply. Refer to the MyDyson app for compatible voice services.
⁶This machine is compliant with safety standard UL 1278, as required by the US government. For this reason, heating and temperature control are not available in the MyDyson app. Please use your machine's remote control instead.
⁸Tested in maximum setting for air projection, tested in Auto mode for purification coverage, tested for room heating per relevant Dyson method DTM961.
⁹Particle challenge by DEHS oil specified in EN1822 within a chamber specified in ASTM F3150.
¹¹Based on capture of particles, ammonia, benzene, and acetic acid. 
Apple and the Apple logo are trademarks of Apple Inc., registered in the U.S. and other countries.
App Store is a service mark of Apple Inc., registered in the U.S. and other countries.
Google Play and the Google Play logo are trademarks of Google Inc.