Register your machine
You can get support that's tailored to you, owner exclusives and more when you register your machine.
Getting started

It's easy to get started with your new 1.5kg cordless vacuum. You can watch our video for a quick introduction.

Charging your battery

The first battery charge can take up to four hours. For more information on battery charging, watch our video or visit our battery care page.

Eco mode

Designed for everyday cleaning of hard floors and surfaces, Eco mode is engineered to deliver the optimum balance of power and run time. Press the Power button to turn the vacuum on and activate Eco mode.


MAX mode

Maximum power, with a shorter run time. For intensive spot cleaning of futons, sofas and carpets. Press the Mode Change button when the machine is working to switch MAX mode on and off.


Emptying the bin

Remove the wand and firmly push the red bin release button. The bottom of the bin will open and the shroud will slide down inside the bin, wiping away any dirt. You can also completely remove the bin if you prefer.

Cleans anywhere
Your Dyson-engineered accessories are ergonomically designed for cleaning up high, down low and everywhere in between – including mattresses, blinds, stairs and cars.
Mini motorized tool

For soft surfaces and upholstery. Ideal for cleaning sofas, futons and mattresses.


Combi crevice tool

Two tools in one. Soft bristles for gentle dusting. A slim crevice tool for tight spots.


Worktop tool

Conveniently cleans table tops, counters and other smaller, hard surfaces.

Light pipe crevice tool

The Light pipe crevice tool with LED lights is an exclusive accessory that lets you reach into dark, narrow spaces and see where you're cleaning.

Fitting the wall dock

If you haven't already installed your wall dock, our video shows you how. There's also a step-by-step guide included in the box.


Grab and Go Dok

Dyson Grab and Go Dok. Neatly stores and charges your vacuum. You can set up your Dok using the step-by-step guide inside the box.

Problem with your machine?
Try our new voice assistant.
Get troubleshooting advice for your cordless vacuum cleaner using Dyson Care
Say, "Alexa, open Dyson Care" to get started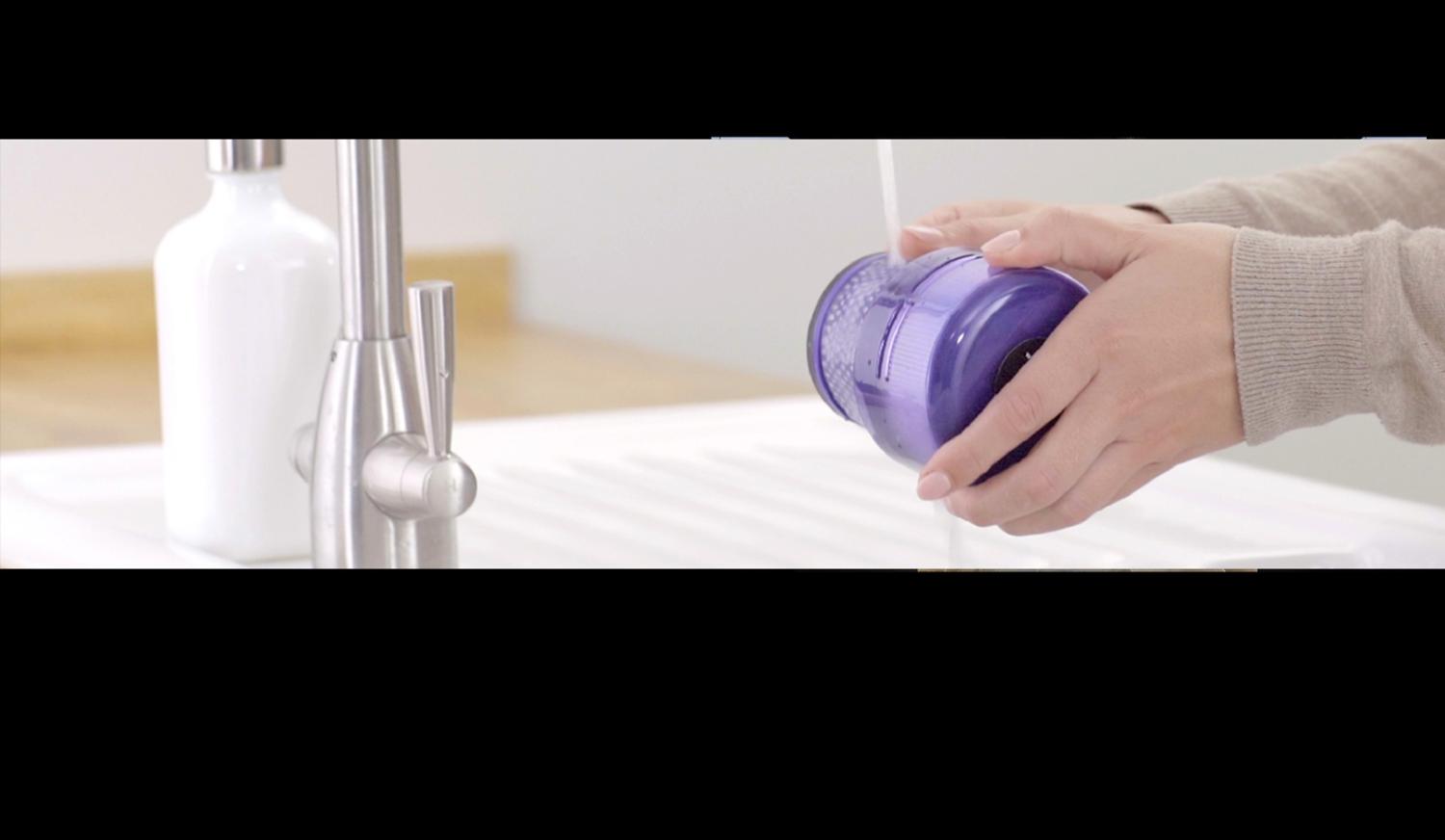 Cleaning the bin

You can maintain suction by emptying the bin before debris reaches the MAX line. The bin can also be fully removed from the machine for cleaning. Watch our video for a step-by-step guide.


Washing the Micro Fluffy™ cleaner head

Removing fine dust from the Soft roller brush bar maintains its effectiveness. Detach from the cleaner head, and wash in cold tap water until the water runs clear. Make sure it's completely dry before refitting. Our video guide shows you how.


Checking for blockages

If your machine detects a blockage, the motor will pulse six times. You won't be able to use your machine until the blockage is cleared. If this happens, remove the wand, bin and cleaner head and clear any blockages you find. Watch the video guide to see how.
Cleaning the washable parts
Many parts of your machine can be easily cleaned using a lint-free cloth. This helps to maintan performance by preventing a build up of fine dust. Our video guide shows you how.

Replacing the battery
With your machine unplugged from the charger, the battery can be replaced using a small Posidrive screwdriver. Watch our video to guide you through the steps.

Cleaning the filter

Your filter captures fine dust which can build up over time and reduce performance. But by cleaning it at least once a month, you can help maintain suction power. Follow the video guide, or step-by-step instructions below.

1. Turn off your machine

Disconnect your machine at the wall socket and twist the top to remove your Dyson filter.


2. Remove excess debris

Tap your filter unit lightly on the side of the sink or in the bin, to remove any loose dust and debris.


3. Rinse filter

Wash your filter unit under the tap, gently squeezing the water out with your hands. Avoid using detergent or washing in a dishwasher or washing machine.


4. Give it a gentle shake

Fill the filter unit with water. With one hand covering each end, shake it gently to ensure all trapped debris is released. Repeat this step until the water runs clear.


5. Leave to dry for 24+ hours

After washing the filter, leave to dry for at least 24 hours with the wider end positioned downwards.


6. Maximize airflow

Leave your filter in a warm place with plenty of airflow until completely dry. This could be beside a fan or open window. Avoid drying the filter in a tumble dryer, microwave or near a naked flame.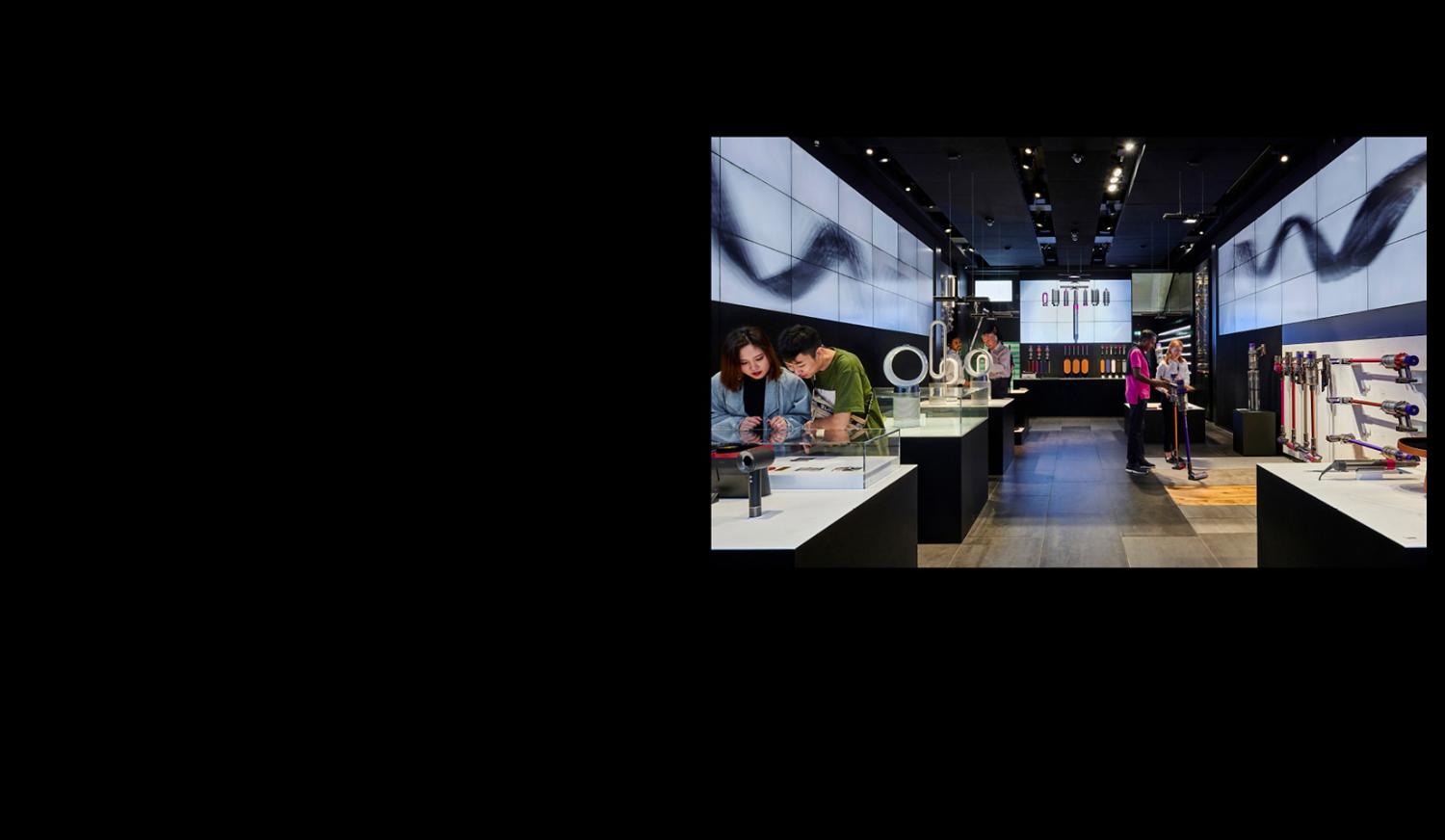 Visit the Dyson Demo or chat to us online
Our Dyson Experts are on hand at the Dyson Demo store and online to help you get the most from your Dyson Micro 1.5kg™ vacuum.
Frequently asked questions
Why Register? More perks.
Save 20% during Savings Events, only for Dyson owners.

Registered owners receive exclusive events and sneak peeks at our latest technology before anyone else.


Dyson Technology Trial Program

Experience the latest technology in our invitation-only reviewer program.


Helpful tips to get the most out of your machine and keep it working at its best.

We don't stop caring about our machines once they're yours. Registering your machine allows us to give you a tailored, complimentary, direct service for your machine. Even after your warranty has ended, we'll still be on hand to help.