Activate your warranty
You can get support that's tailored to you, owner exclusives and more when you register your machine.
Getting started
You can quickly get up and running with our step-by-step guide.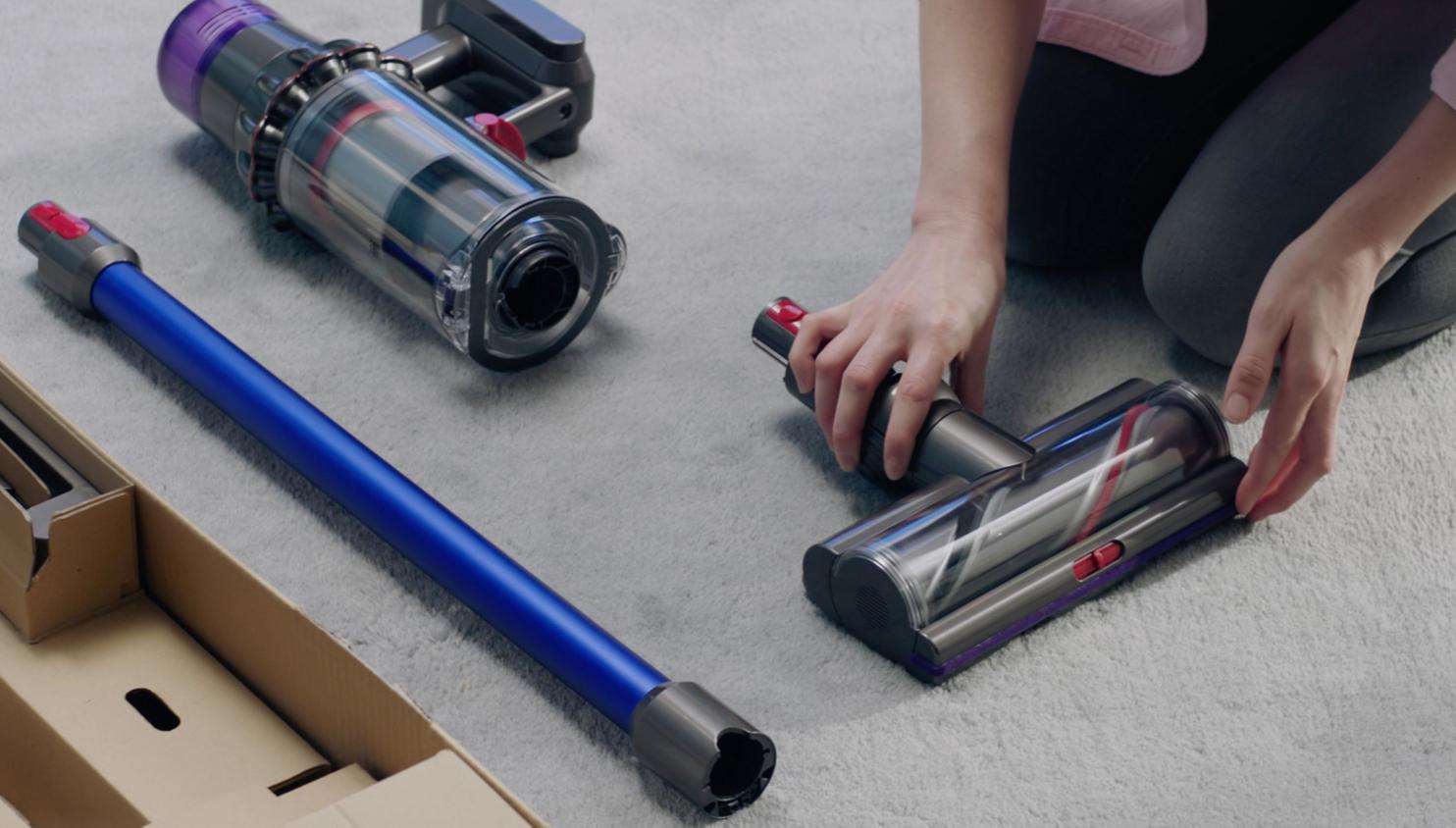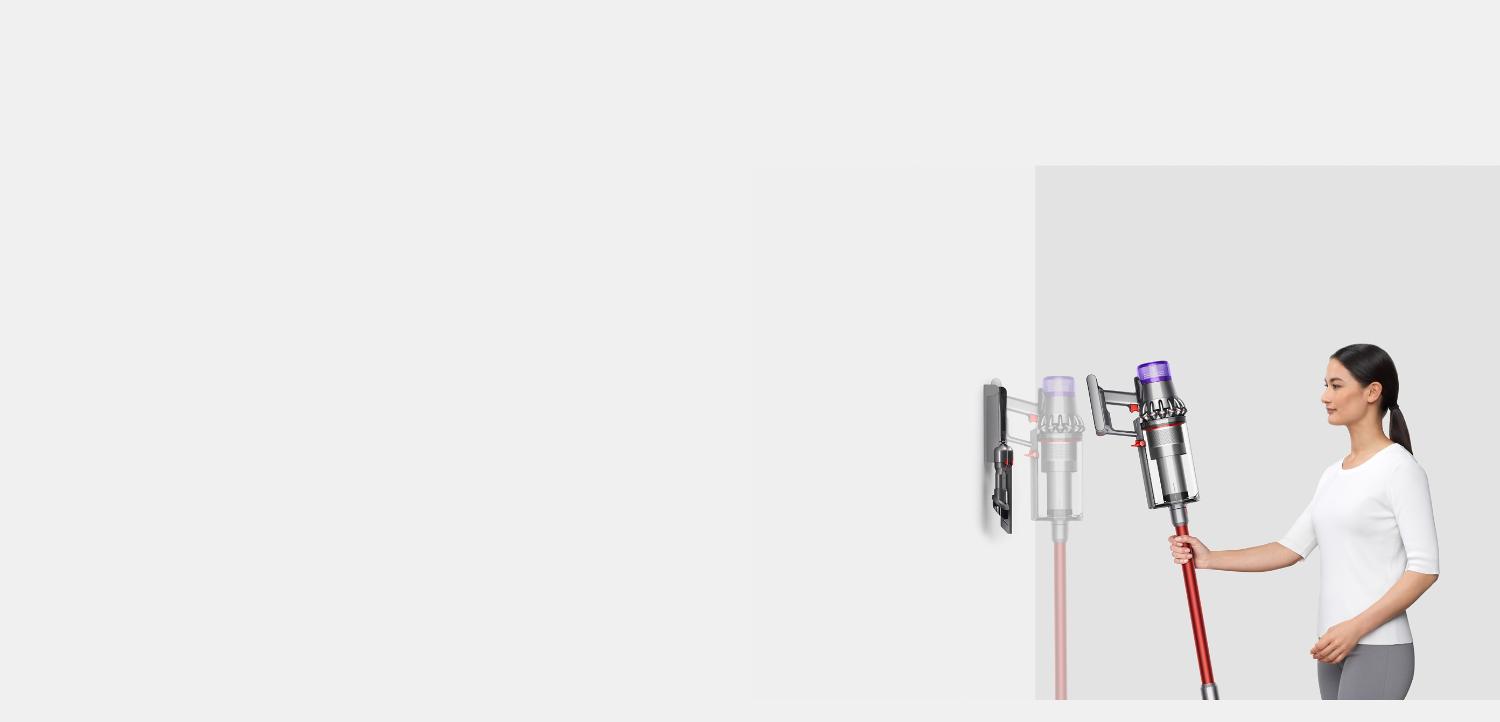 Fully charge your batteries
It's important to fully charge click-in batteries as soon as you open the box and after every clean. The battery and monitoring system's algorithm 'learns' over time, and fully charging your batteries help it to more accurately calculate and display remaining run time.
Understanding the three cleaning modes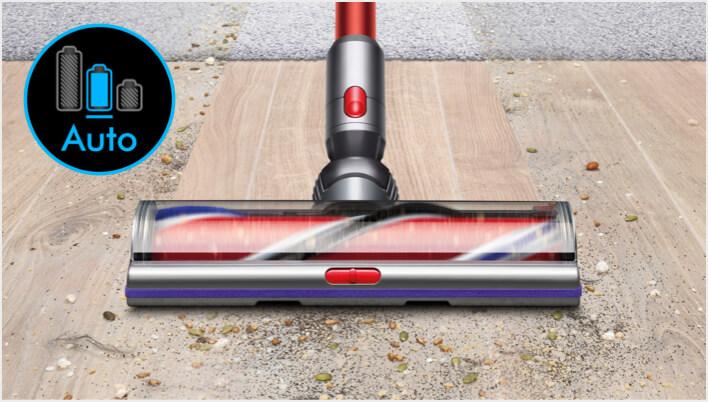 Auto/Med mode
Automatically adjusts suction power across different floor types. Auto mode is replaced by Med mode when you're not using the High Torque XL cleaner head.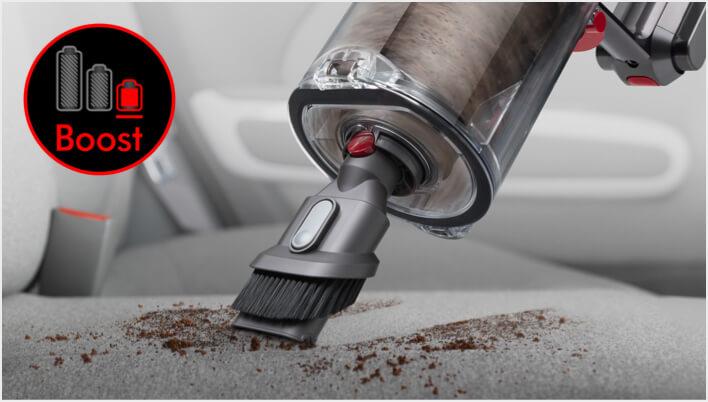 Boost mode
Designed for intensive cleaning on ground-in dirt, with up to five minutes of run time.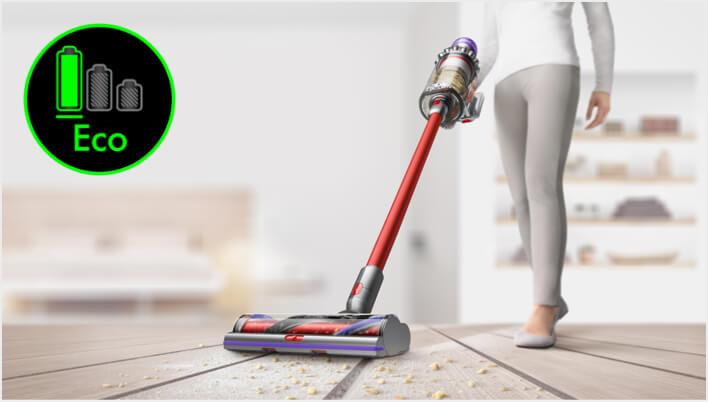 Eco mode
Maximum run time for longer cleans all around your home.

Choosing the right tool for the task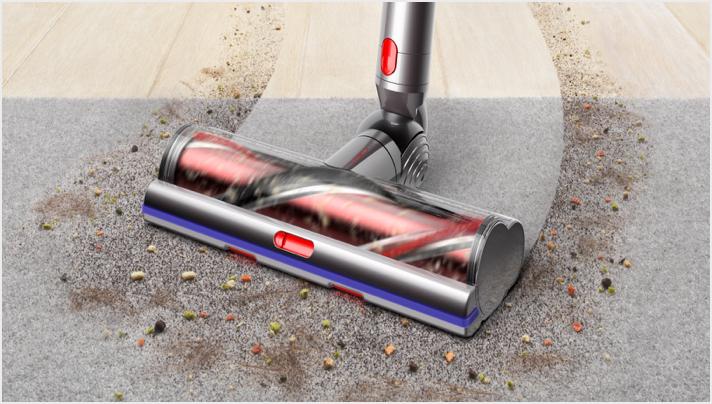 High Torque XL cleaner head
Uses Dyson DLS™ (Dynamic Load Sensor) technology to automatically adjust power across floor types. So you can deep clean between carpet and hard floor without having to change accessories.
Soft dusting brush
Designed for vacuum-assisted dusting. Soft bristles lift dust and allergens from delicate surfaces.
Charging your machine's battery
If your machine has a red catch on the battery, you can charge your battery on or off your machine, in or outside of the dock.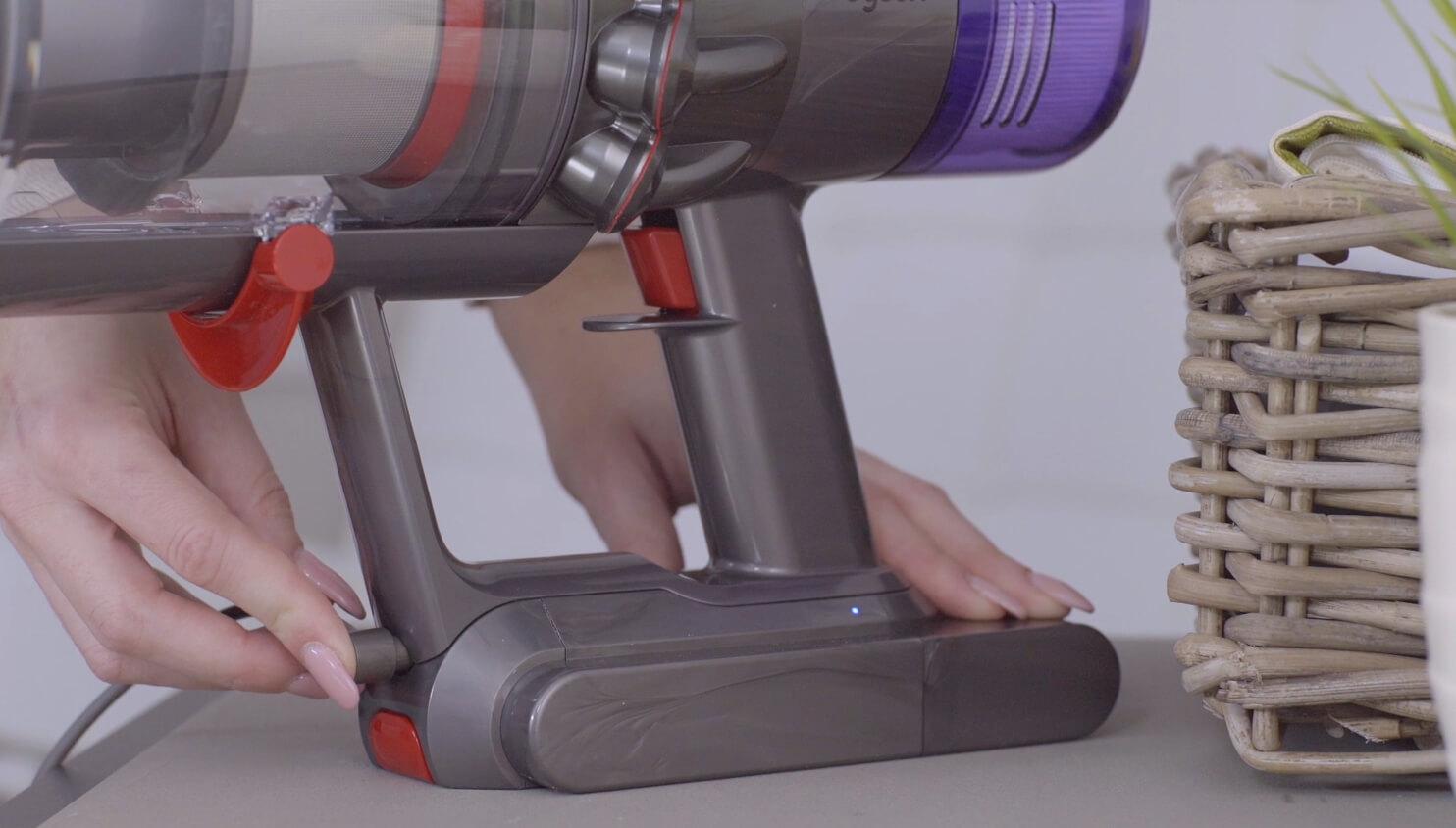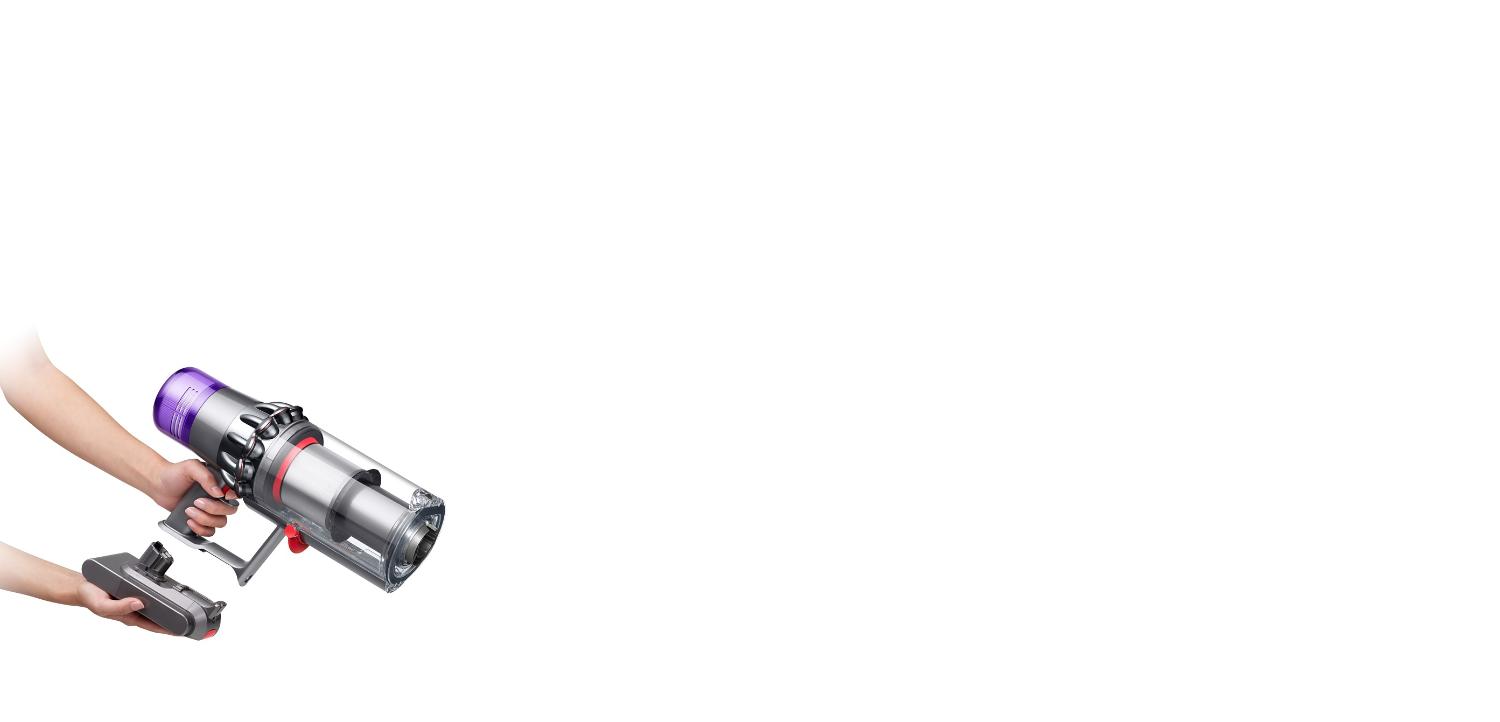 How to swap your click-in battery
To swap your battery, press the red battery release button and pull the battery away from the handle. Then replace it with an additional click-in battery. We recommend alternating and charging all click-in batteries regularly to prolong battery health.
Maintaining your machine
From clearing the brush bar to washing the filter, our quick guide will help you keep your machine working at its best.
Washing the filter
We recommend washing your filter once a month, for your vacuum to perform at its best. See how to do it quickly and easily.
Checking for blockages
Your machine will make a pulsing sound when there's a blockage. Watch the video to see how to find blockages.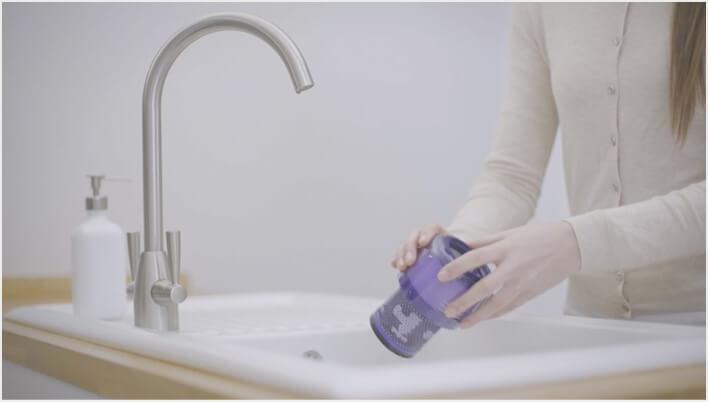 Regularly wash the filter
It's important to wash the filter regularly, to maintain optimum performance. The screen will remind you when it's time to do this.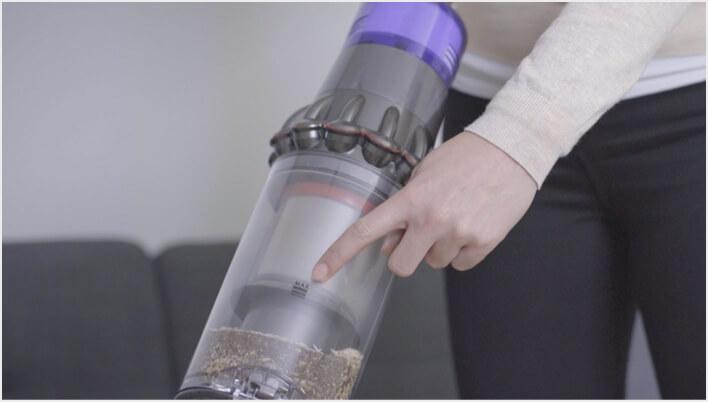 Don't overfill it
To maintain suction, keep an eye on the bin and empty it as soon as debris reaches the MAX marker.

Frequently asked questions
Why Register? More perks.
Being a Dyson product registered owner has even more perks:

Save 20% during Savings Events, only for Dyson owners.
Reminders for free preventative maintenance checks at a Dyson Service Center near you.

Registered owners receive exclusive events and sneak peeks at our latest technology before anyone else.

Assistance from our team of Dyson experts, who are on hand to help through a dedicated VIP hotline, and online support 7 days a week.

Experience the latest technology in our invitation-only reviewer program.

Helpful tips to get the most out of your machine and keep it working at its best.

We don't stop caring about our machines once they're yours. Registering your product allows us to give you a tailored, complimentary, direct service for your machine. Even after your warranty has ended, we'll still be on hand to help.