Activate your warranty
You can get support that's tailored to you, owner exclusives and more when you register your machine.
Follow these three simple steps to connect the app to your machine.
Step 2
Hold your device next to your machine's display. This will allow your machine to detect your mobile device.
Step 3
Press the power button on your machine to activate the pairing process. Then follow the on-screen instructions to complete connection set-up. 
Understanding your LCD screen's icons
The icons on the built-in LCD screen show you which pollutants are present, reporting them in real time. They also tell you about temperature, humidity and filter life.

Indoor Air Quality Index (AQI)
Shows your air quality over the last 12 seconds, or over the last 24 hours. 

Particulate matter PM2.5
Shows microscopic particles as small as 2.5 microns, including smoke, bacteria and allergens.

Particulate matter PM10
Shows particles smaller than 10 microns, including pollen, dust and pet dander.

Volatile Organic Compounds (VOCs)
Shows gases released from a wide range of sources, such as aerosol sprays and air fresheners. They include formaldehyde and benzene, household fumes and odours.

Nitrogen Dioxide (NO₂)
Shows oxidising gases such as NO₂, released by combustion. Includes cigarette smoke, car emissions, candles and gas stoves. 

Filter life
Shows how much filter life remains on both the HEPA and active carbon filters. So you know which one to replace and when. 

Understanding pollutant levels
When a pollutant causes the air quality to drop, the relevant icon will appear on the LCD screen. The coloured bar on the left of the screen will indicate how much of the pollutant is present, and will continually update as your machine purifies the air. 

Good
When the green section of the coloured bar is highlighted, your machine is detecting a very low level of the type of pollutant.

Fair
When the yellow section of the coloured bar is highlighted, your machine is detecting a moderate level of the type of pollutant. 

Poor
When the orange section of the coloured bar is highlighted, your machine is detecting a high level of the type of pollutant. 

Very poor
When the red section of the coloured bar is highlighted, your machine is detecting a very high level of the type of pollutant.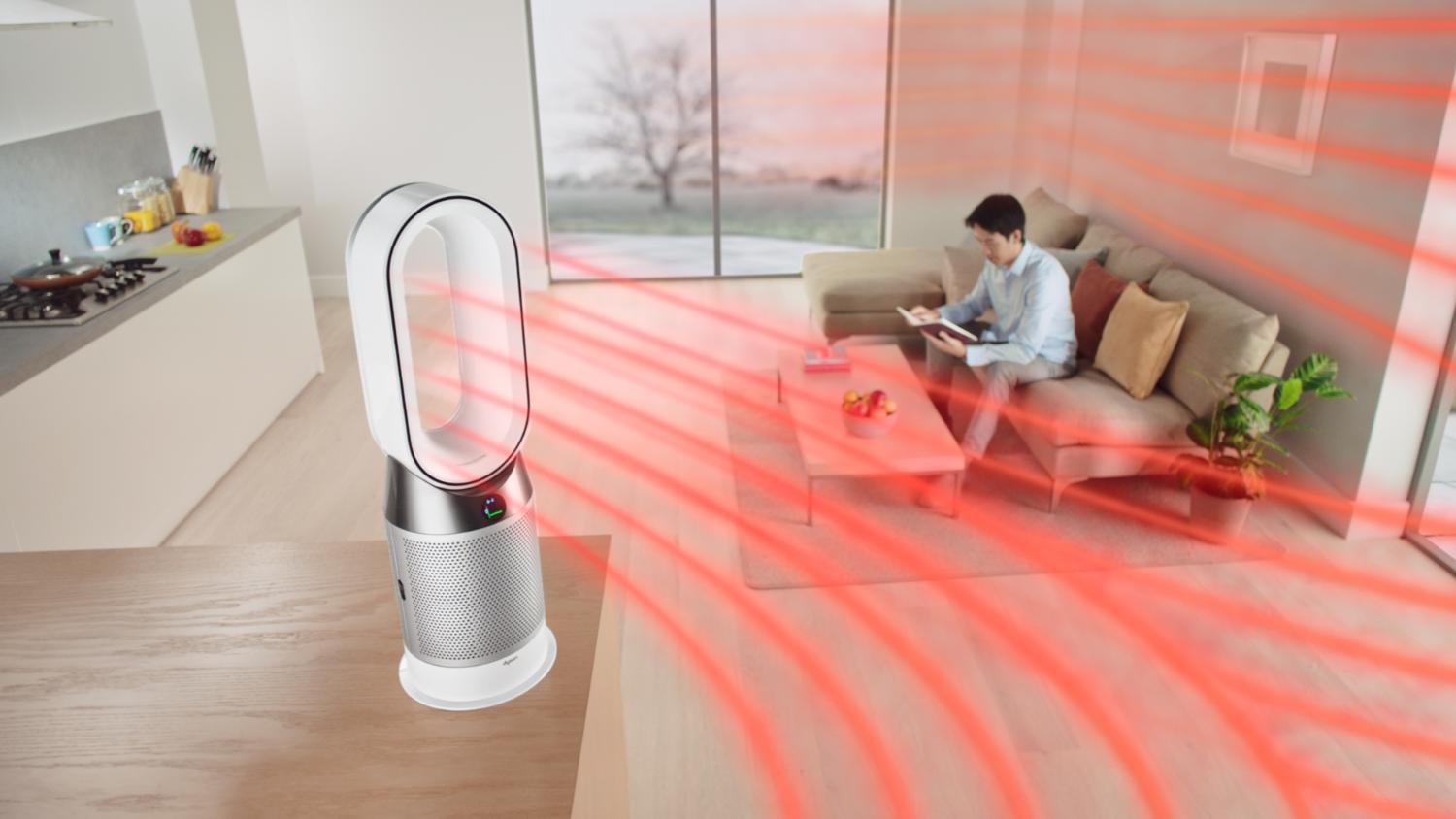 Oscillation and airflow
Watch our video guide on how to customise the angle, speed and direction of airflow. 
7-day scheduling
Set when you want your machine to be on and off, up to seven days in advance, with the Dyson Link app.
Night-time mode
For the quietest settings and a dimmed screen, set your machine to Night-time mode using your remote control.
Sleep timer
Set a timer to turn your machine off for any time between 15 minutes and 9 hours, using your remote control. 
Voice control. All you have to do is ask.
Ask about the current activity of your purifier heating fan, or ask it to begin a new task. Check the Dyson Link app for examples of voice commands. 


Cleaner indoor air, day after day
Over time, purifier filters can get clogged up with microscopic pollutants, and even let unpleasant odours back into the room. That's why we recommend changing your filter when your machine alerts you – so it keeps on running effectively, for a cleaner environment.
Frequently asked questions
Accessories and replacement parts
Remote control
Part No. 969897-01
Curved and magnetised to store neatly on the machine
Filter shroud
Part No. 969899-01
Replacement filter shroud for your Dyson purifier.
HEPA filter
Part No. 968707-04
29 feet of borosilicate microfibers, pleated over 238 times, to capture 99.97% of particles as small as 0.3 microns
Why Register? More perks.
Being a Dyson product registered owner has even more perks:

Save 20% during Savings Events, only for Dyson owners.
Reminders for free preventative maintenance checks at a Dyson Service Center near you.

Registered owners receive exclusive events and sneak peeks at our latest technology before anyone else.

Assistance from our team of Dyson experts, who are on hand to help through a dedicated VIP hotline, and online support 7 days a week.

Experience the latest technology in our invitation-only reviewer program.

Helpful tips to get the most out of your machine and keep it working at its best.

We don't stop caring about our machines once they're yours. Registering your product allows us to give you a tailored, complimentary, direct service for your machine. Even after your warranty has ended, we'll still be on hand to help.

1Requires device to run app, Wi-Fi or mobile data, Bluetooth 4.0 support, and iOS version 10 or Android version 5 (or above). Standard data and messaging rates may apply.
Apple and the Apple logo are trademarks of Apple Inc., registered in the U.S. and other countries. App Store is a service mark of Apple Inc., registered in the U.S. and other countries.
Google Play and the Google Play logo are trademarks of Google Inc.