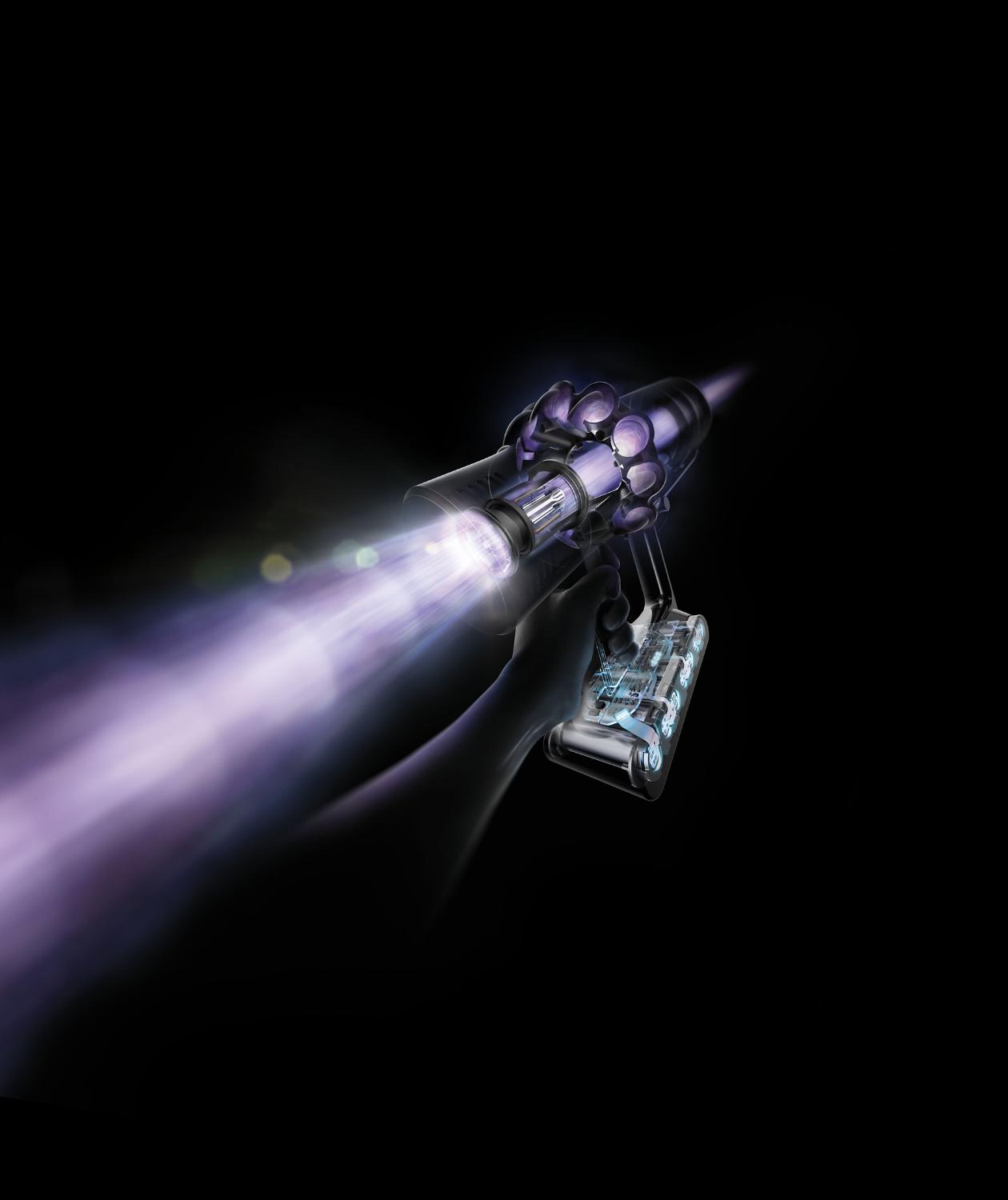 Vacuum Cleaner Technology
Pioneering technologies.

"The engineering is beautiful. The suction is world-class. The simplicity is unbeatable."
---
NoAngeles - Dyson.com user review, March 2018
"At Dyson, it's invention that sets us apart. Cyclones that generate 79,000g to separate dust. Pioneering digital motors that are smaller, faster and more powerful than anything before. It's our obsession. That's why nothing else really works like a Dyson vacuum."
---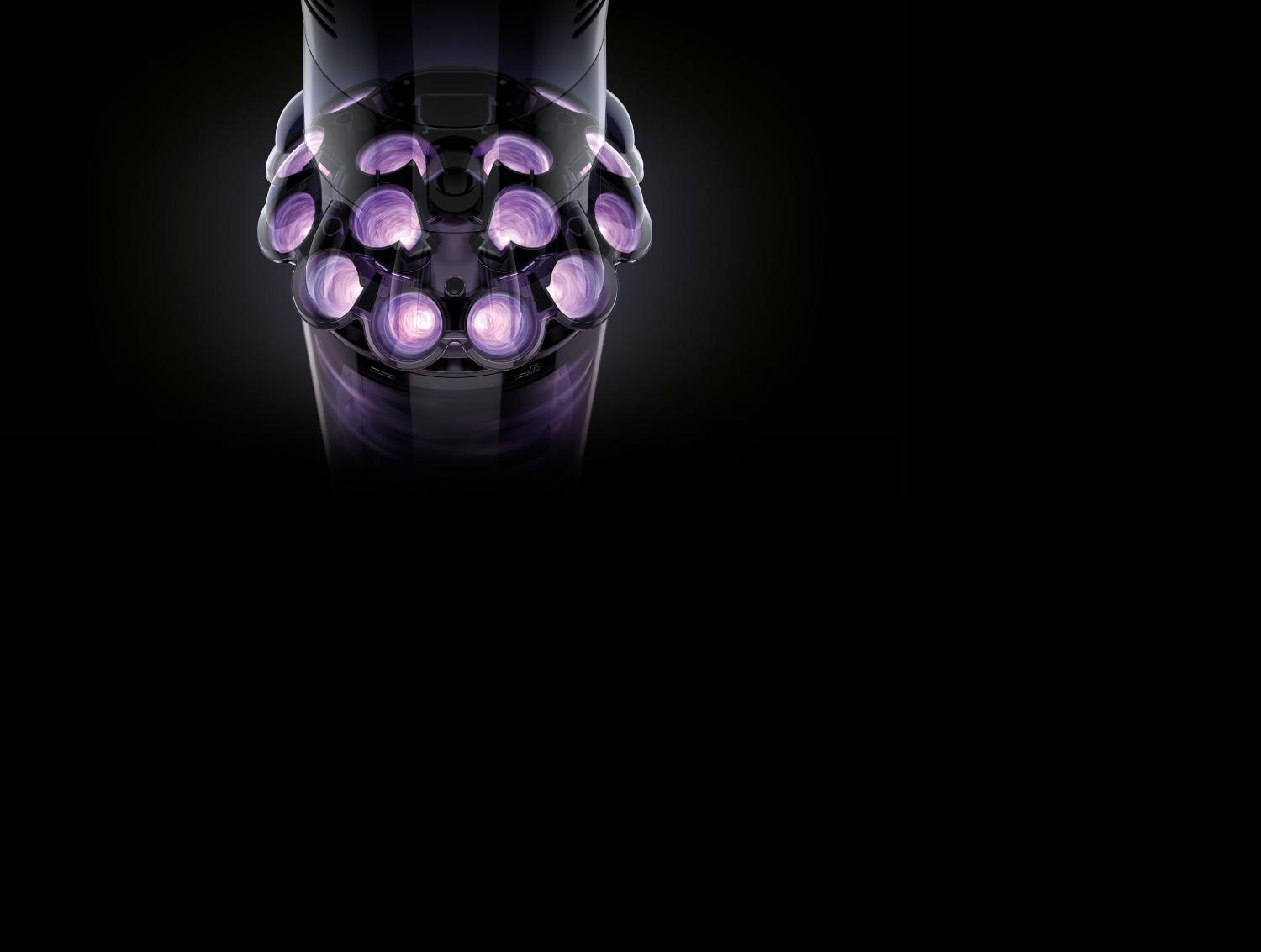 14 cyclones.
Generating forces of more than 79,000g, the vacuum cleaner flings microscopic particles – such as pollen and even bacteria – into the bin. By arranging each of the 14 cyclones concentrically around the central axis of the machine, air flows more efficiently through it. As the cyclones narrow, air is accelerated from 45mph to 120mph to create the centrifugal forces that capture fine particles.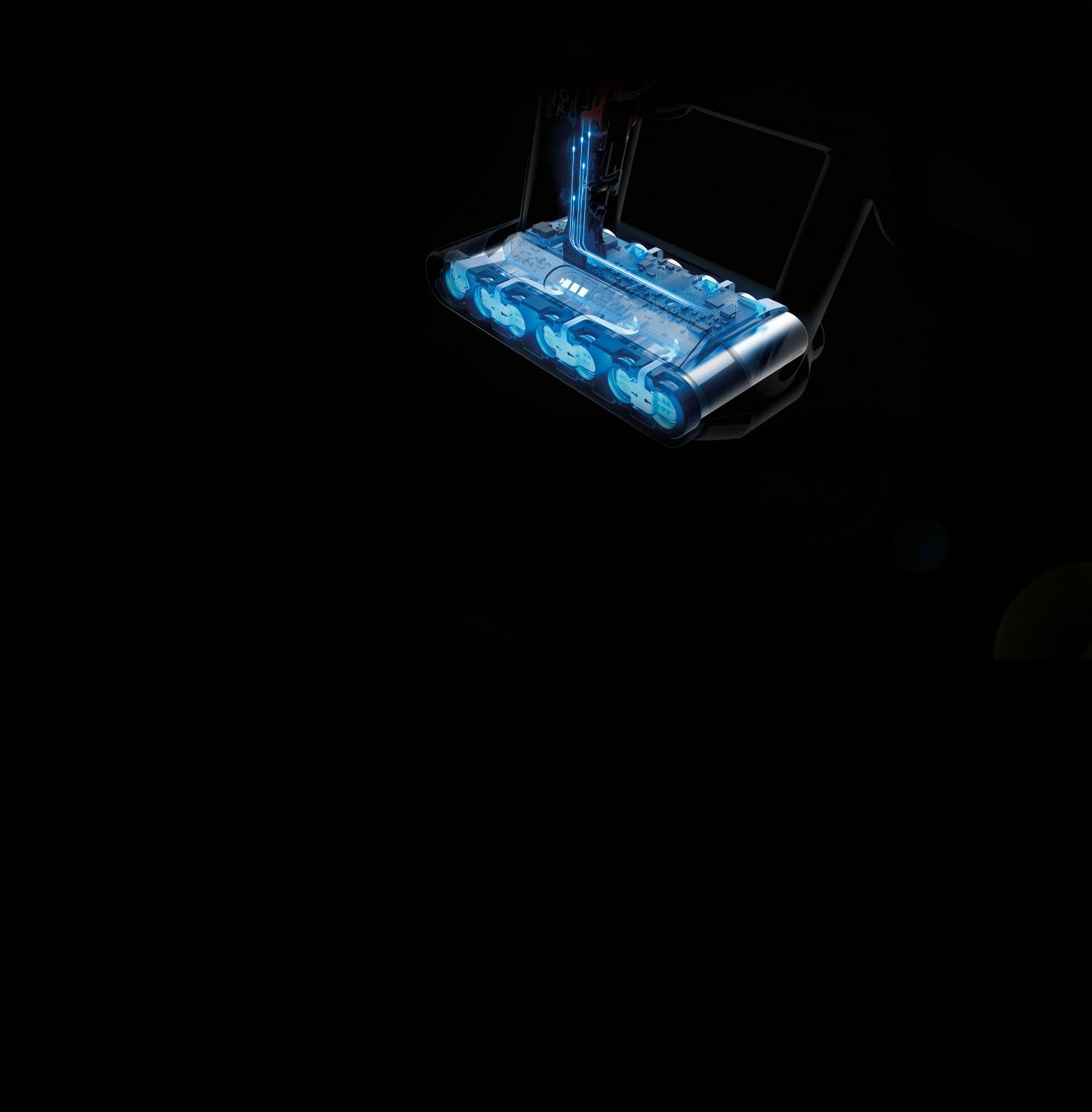 7-cell, energy-dense battery.
The Dyson Cyclone V10™ vacuum cleaner's lithium-ion battery has one more cell than the Dyson V8™ vacuum, to run at a higher voltage and create more power. But because each of the seven high-capacity, nickel-cobalt-aluminum cathodes is slightly smaller, there's no additional weight. Innate LED system diagnostics and altitude sensors enable the machine to automatically optimize power to the cleaner head at all times. So power doesn't fade.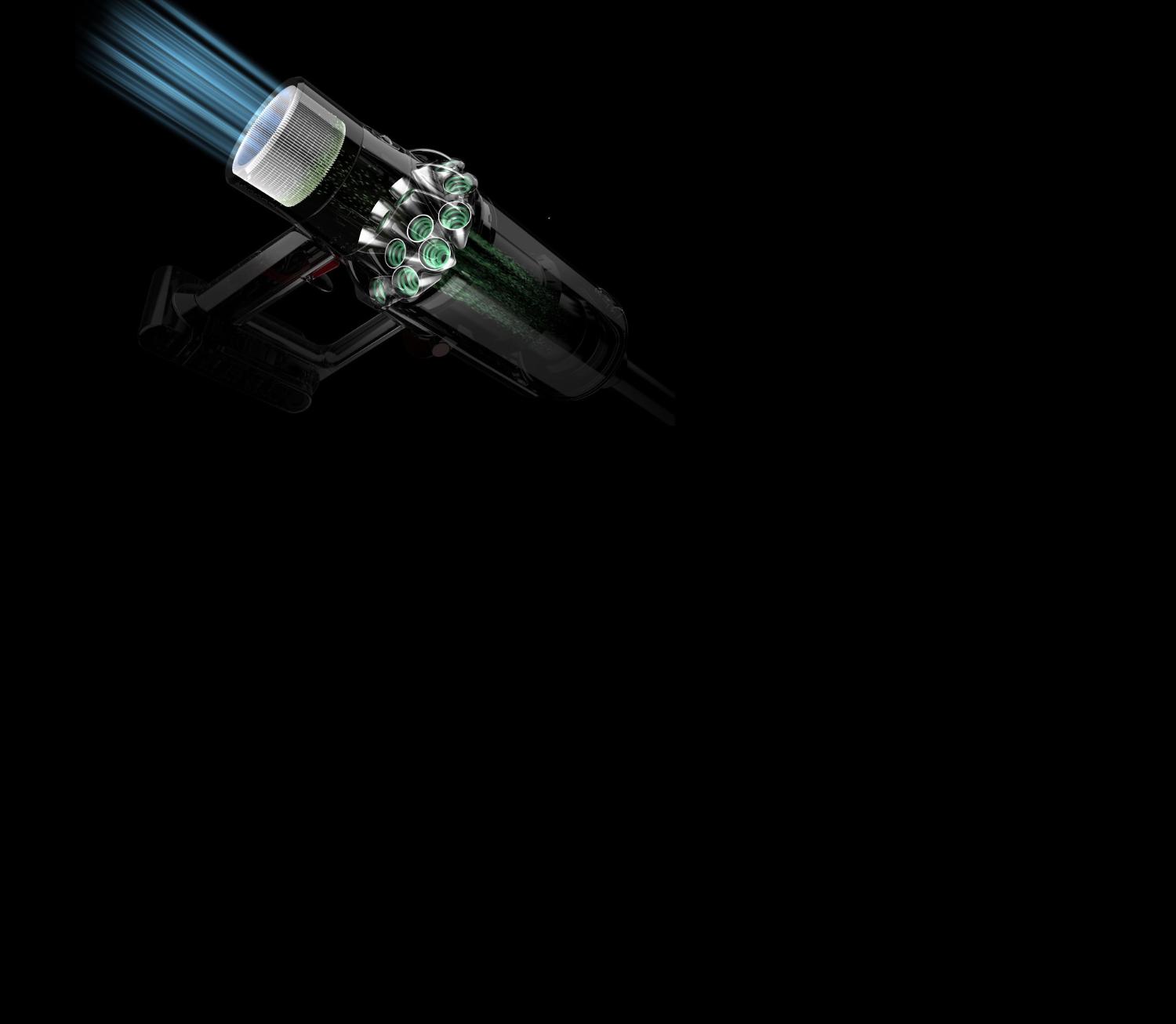 Whole-machine filtration.
With an airtight gasket around the vacuum cleaner cyclone assembly and a pressurized rubber seal around the advanced filter, the whole system is fully sealed – preventing dust, allergens and bacteria from leaking back into the air. This means the vacuum retains 99.99% of dust as small as 0.3 microns, and expels cleaner air. Pre- and post-motor filters are combined into one unit for easier maintenance.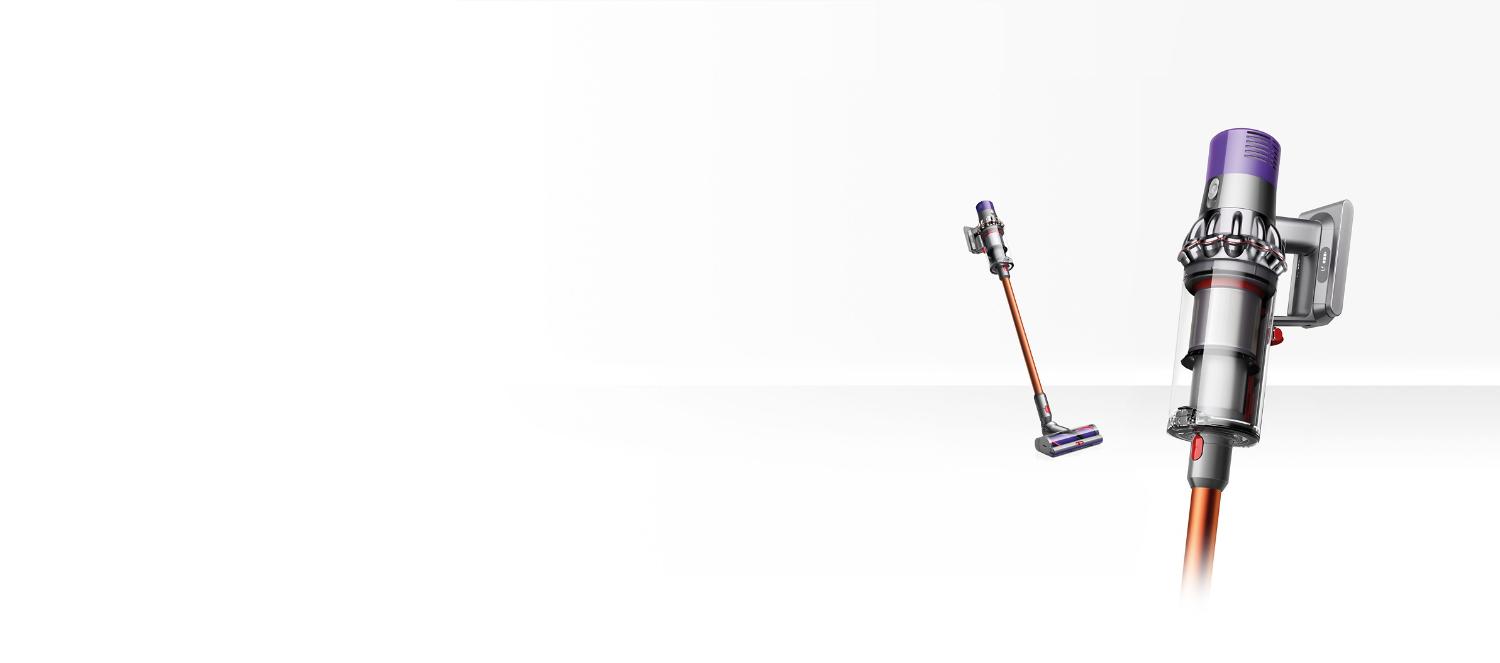 All Dyson Cyclone V10™ vacuum cleaners have:
• Up to 60 minutes' run time in Suction mode I with non-motorized tool* (up to 35 minutes with Torque drive cleaner head in Suction mode I)
*Actual run time will vary based on power mode and/or attachments used.
• Fully-sealed filtration system to trap 99.99% of particles as small as 0.3 microns.
• Hygienic 'point and shoot' bin emptying.
Dyson Cyclone V10™ vacuums

Dyson Cyclone V10™ vacuums

Dyson Cyclone V10™ vacuums
EXCLUSIVE COLOR

Dyson Cyclone V10 Absolute

Engineered for deep cleaning anywhere around the home

8 tools and accessories included

See all

Click to learn more

Torque drive cleaner head

The Torque drive cleaner head– our most powerful yet.

Soft roller cleaner head

Engineered with soft woven nylon and anti-static carbon fibre, for hard floors

Mini Motorized tool

Great for cleaning smaller surfaces, upholstery and stairs

Mini soft dusting brush

With soft nylon bristles to clean delicate surfaces and fabrics

Combination tool

Two tools in one - brush and wide nozzle. For simple switching between tasks

Crevice tool

Designed for precise cleaning around edges and narrow gaps.

Docking station

Wall-mounted dock to recharge your vacuum and tidily store tools

Charger

Charges your vacuum with or without the docking station

Dyson Cyclone V10 Animal

Engineered for homes with pets.

Powerful suction to deep clean carpets and remove ground-in dirt.

7 tools and accessories included

See all

Click to learn more

Torque drive cleaner head

The Torque drive cleaner head– our most powerful yet.

Mini Motorized tool

Great for cleaning smaller surfaces, upholstery and stairs

Mini soft dusting brush

With soft nylon bristles to clean delicate surfaces and fabrics

Combination tool

Two tools in one - brush and wide nozzle. For simple switching between tasks

Crevice tool

Designed for precise cleaning around edges and narrow gaps.

Docking station

Wall-mounted dock to recharge your vacuum and tidily store tools

Charger

Charges your vacuum with or without the docking station

Dyson Cyclone V10 Motorhead

With motorized cleaner head for powerful cleaning

5 tools and accessories included

See all

Click to learn more

Direct drive cleaner head

Powerful direct-drive cleaner head removes ground-in dirt from carpets

Combination tool

Two tools in one - brush and wide nozzle. For simple switching between tasks

Crevice tool

Designed for precise cleaning around edges and narrow gaps.

Docking station

Wall-mounted dock to recharge your vacuum and tidily store tools

Charger

Charges your vacuum with or without the docking station