Dyson Cyclone™ V10 vacuum cleaner reviews
Customer reviews powered by Bazaarvoice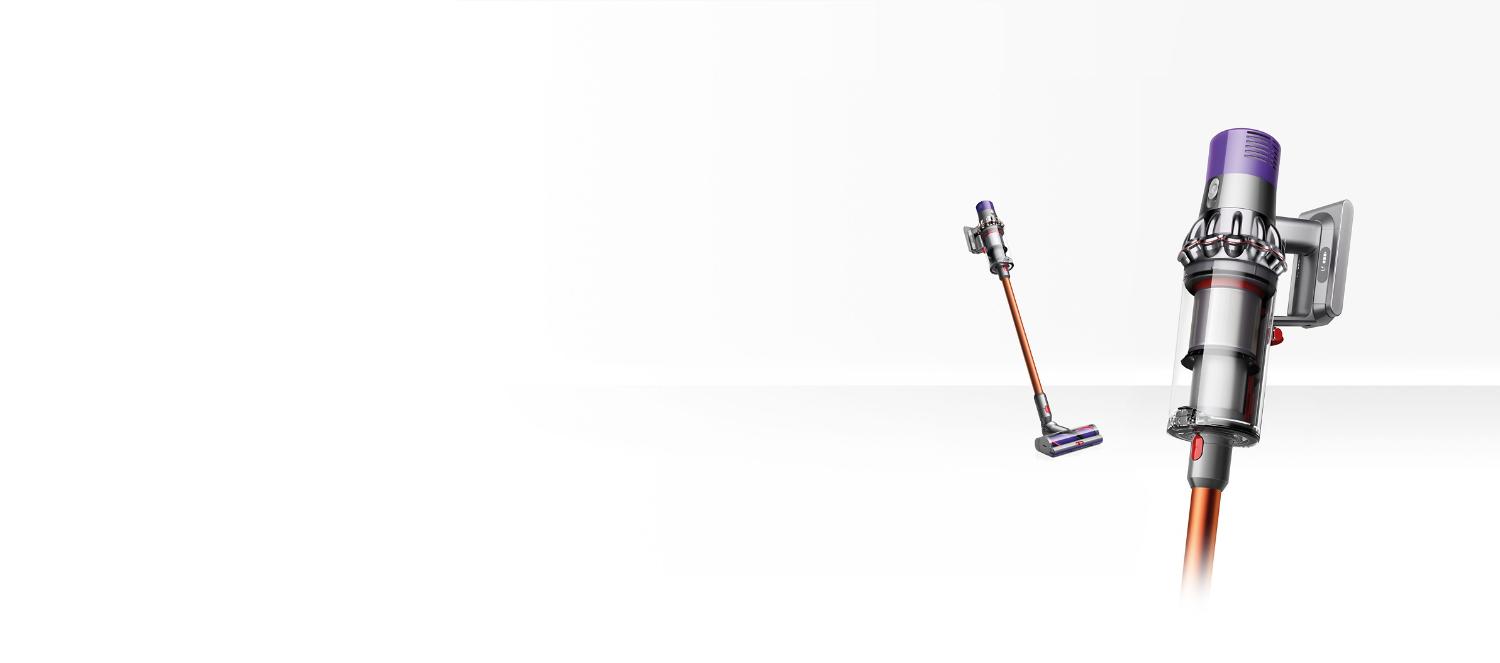 All Dyson Cyclone V10™ vacuum cleaners have:
• Up to 60 minutes' run time in Suction mode I with non-motorized tool* (up to 35 minutes with Torque drive cleaner head in Suction mode I)
*Actual run time will vary based on power mode and/or attachments used.
• Fully-sealed filtration system to trap 99.99% of particles as small as 0.3 microns.
• Hygienic 'point and shoot' bin emptying.
Dyson Cyclone V10™ vacuums

Dyson Cyclone V10™ vacuums

Dyson Cyclone V10™ vacuums
EXCLUSIVE COLOR

Dyson Cyclone V10 Absolute

Engineered for deep cleaning anywhere around the home

8 tools and accessories included

See all

Click to learn more

Torque drive cleaner head

The Torque drive cleaner head– our most powerful yet.

Soft roller cleaner head

Engineered with soft woven nylon and anti-static carbon fibre, for hard floors

Mini Motorized tool

Great for cleaning smaller surfaces, upholstery and stairs

Mini soft dusting brush

With soft nylon bristles to clean delicate surfaces and fabrics

Combination tool

Two tools in one - brush and wide nozzle. For simple switching between tasks

Crevice tool

Designed for precise cleaning around edges and narrow gaps.

Docking station

Wall-mounted dock to recharge your vacuum and tidily store tools

Charger

Charges your vacuum with or without the docking station

Dyson Cyclone V10 Animal

Engineered for homes with pets.

Powerful suction to deep clean carpets and remove ground-in dirt.

7 tools and accessories included

See all

Click to learn more

Torque drive cleaner head

The Torque drive cleaner head– our most powerful yet.

Mini Motorized tool

Great for cleaning smaller surfaces, upholstery and stairs

Mini soft dusting brush

With soft nylon bristles to clean delicate surfaces and fabrics

Combination tool

Two tools in one - brush and wide nozzle. For simple switching between tasks

Crevice tool

Designed for precise cleaning around edges and narrow gaps.

Docking station

Wall-mounted dock to recharge your vacuum and tidily store tools

Charger

Charges your vacuum with or without the docking station

Dyson Cyclone V10 Motorhead

With motorized cleaner head for powerful cleaning

5 tools and accessories included

See all

Click to learn more

Direct drive cleaner head

Powerful direct-drive cleaner head removes ground-in dirt from carpets

Combination tool

Two tools in one - brush and wide nozzle. For simple switching between tasks

Crevice tool

Designed for precise cleaning around edges and narrow gaps.

Docking station

Wall-mounted dock to recharge your vacuum and tidily store tools

Charger

Charges your vacuum with or without the docking station