In the box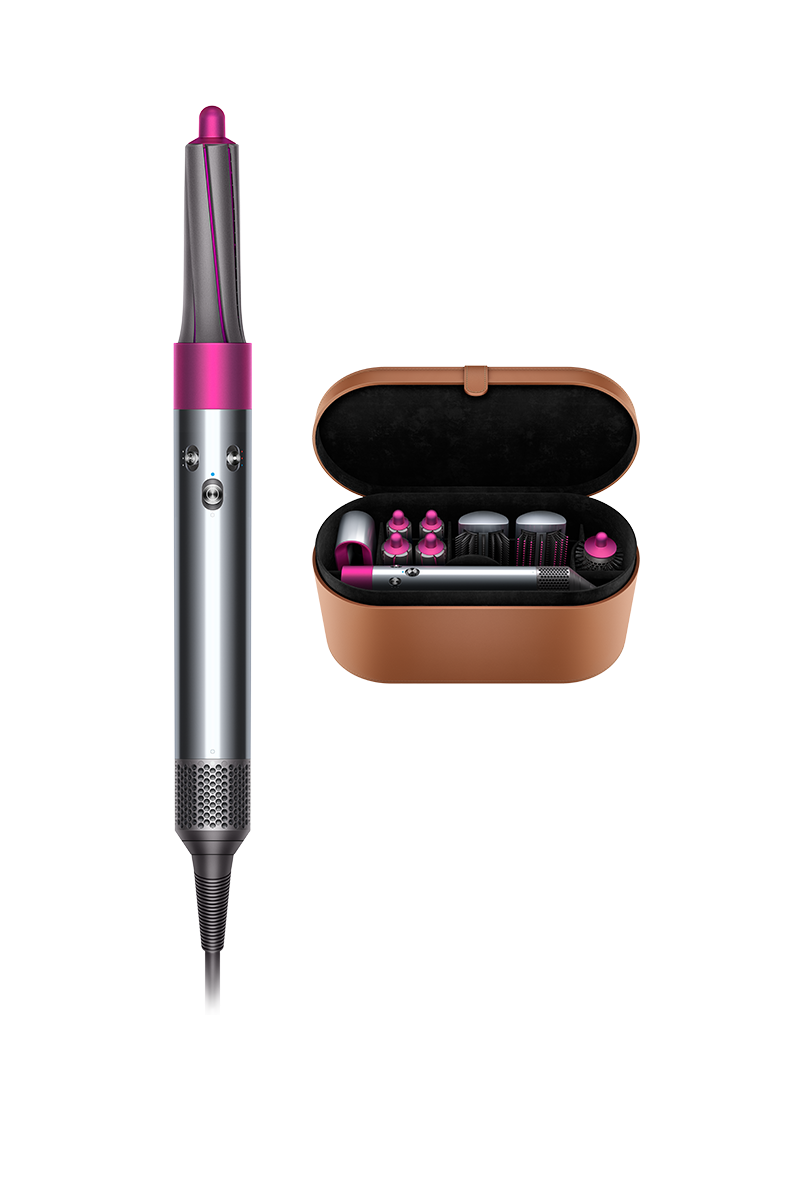 Dyson Airwrap™ styler Complete Nickel/Fuchsia
1.2 inch Airwrap™ barrels

1.6 inch Airwrap™ barrels
Styling guides
Watch our quick, step-by-step guides to achieve your ideal style.
Casual curls
See how to create and set gentle, natural-looking casual curls.
Wavy bob
Add body and texture to your bob. Learn how to create soft, loose curls and waves in short to medium-length hair.
Silky and straight
How to create smooth, silky hair with a soft appearance. For fine hair.
Smooth and straight
How to create a smooth, elegant style – from roots to tips. For coarser hair.
Textured volume
How to shape and lift your hair for textured, natural-looking body.  
6 steps to curl retention
1. Start with damp, towel-dried hair.
2. Use the 1.2 inch barrel for a defined curl.
3. Use high heat and airflow.
4. Make sure curl is completely dry before you turn the machine off.

5. End with cool shot to set style.

6. Add styling product such as hairspray to maximize curl longevity.
Airflow settings
Select the best airflow speed and heat settings for your hair type and style.
Airflow speed
Three precise airflow speeds, to suit your styling.
Heat control
Four precise heat settings, including constant cold shot.
Cold shot
Immediately deactivates the heating element, for cooler air to set your style.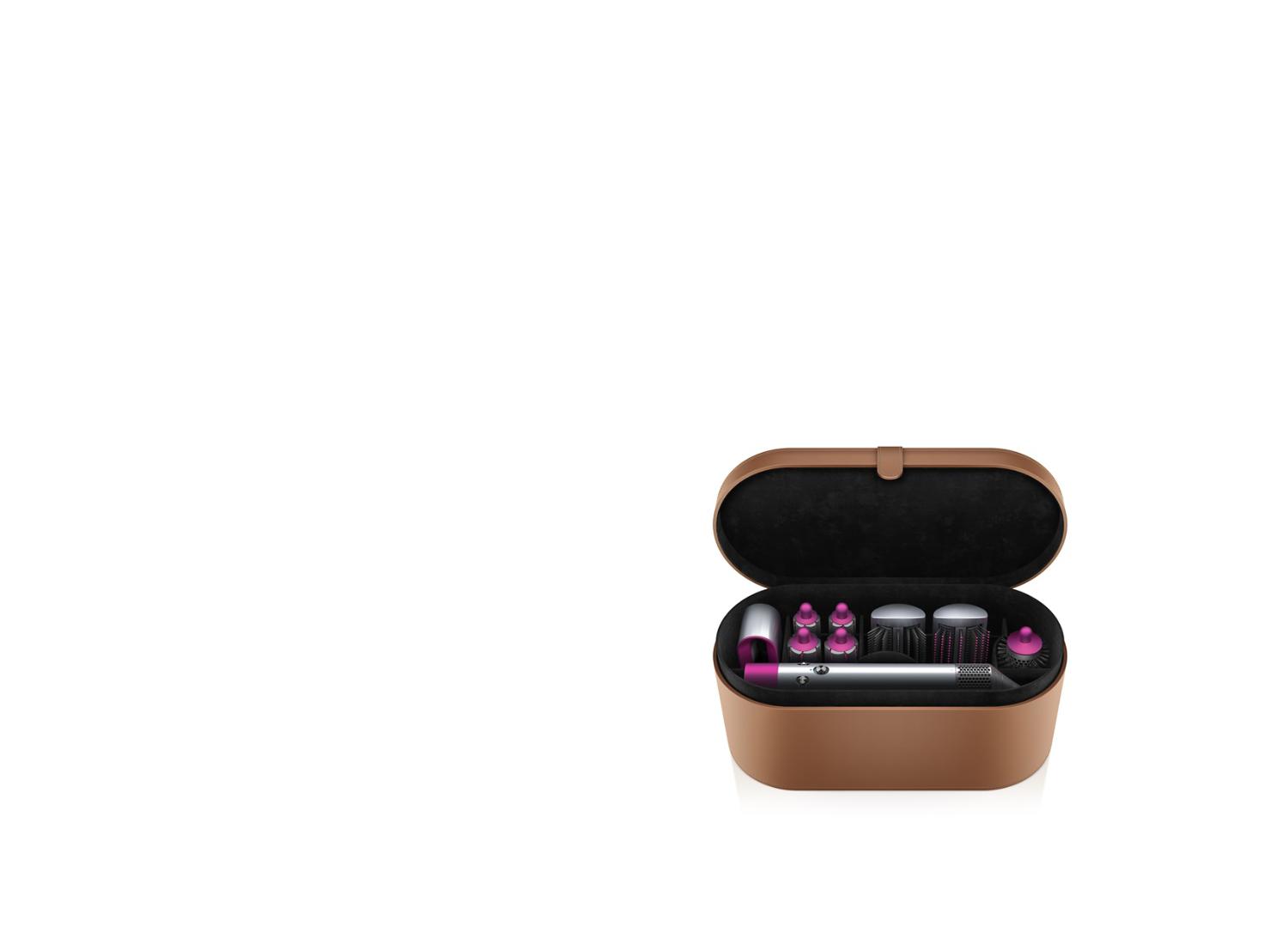 Storage case
Protects and neatly stores your Dyson Airwrap™ styler and attachments. Finished in tan, cushioned with soft fabric, and secured by a magnetic clasp.
Specifications
Negative ions

Help reduce static

Sound level

82 dBA

Power/Heat setting

4 heat, 3 speed

Power

1,300 W

Cable Length

8.5 ft

Air Flow

13 l/s

Weight

1.5 lbs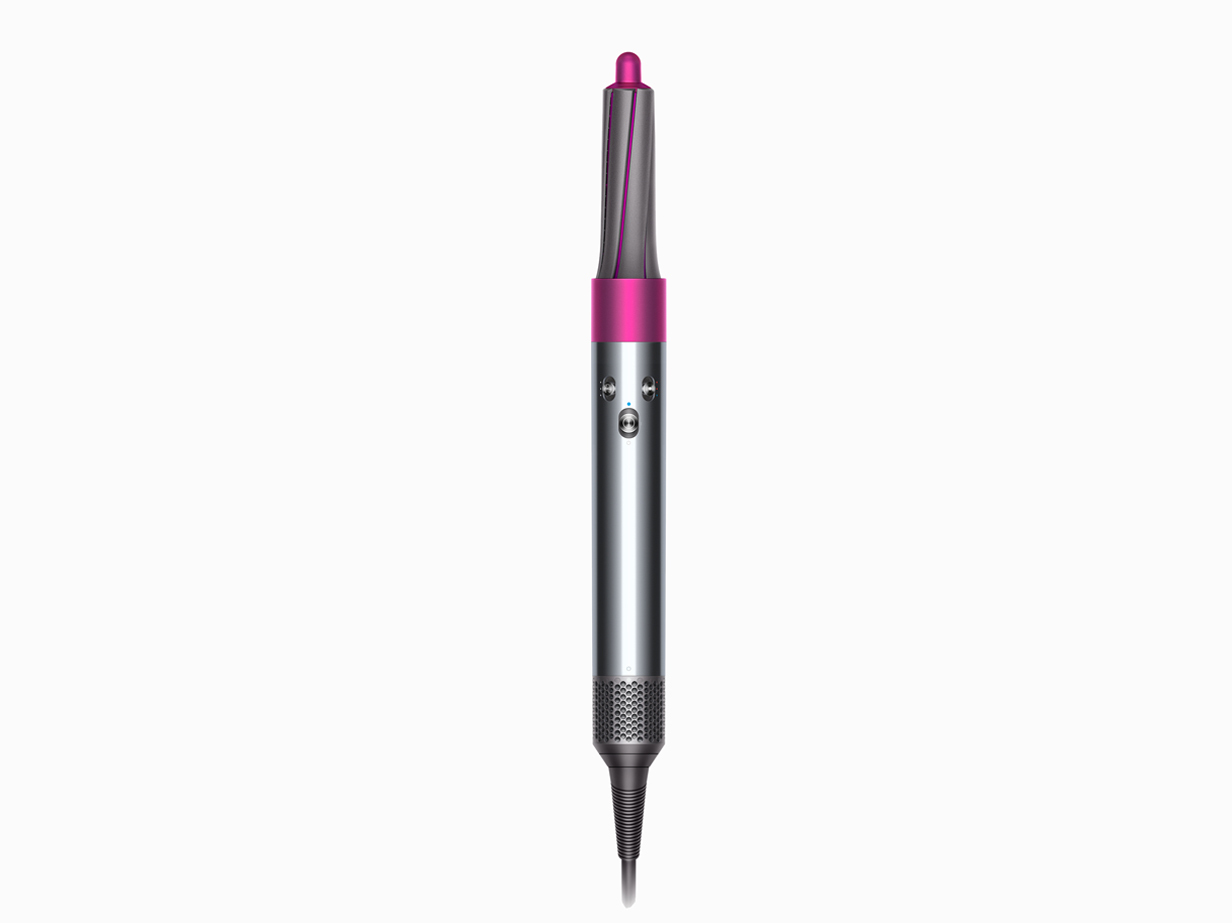 Height

10.7 in

Length

1.61 in

Width

1.89 in
Dyson Airwrap™ styler (Copper/Silver)

Engineered for multiple hair types and styles

Powerful Dyson digital motor V9

Brushes to add body and volume, smooth or control and barrels to curl or wave

What's included

See all

Click to learn more

1.2 inch Airwrap™ barrels

Create voluminous curls or waves with the Coanda effect

1.6 inch Airwrap™ barrels

Create loose curls or waves with the Coanda effect

Firm smoothing brush

Firm bristles to smooth and control unruly, frizz-prone hair. For a straighter style with less frizz and fewer flyaways¹

Soft smoothing brush

Creates a smooth, blow-dry finish. Engineered to be gentle on the scalp.

Round volumizing brush

Engineered to give body and shape to limp, flat hair

Pre-styling dryer

Takes hair from wet to damp, ready for styling

Non-slip mat

For safe placement during and after styling

Filter cleaning brush

Filter cleaning brush for your Dyson Airwrap™

Copper presentation case

Protects and neatly stores your Dyson Airwrap™ styler and up to six attachments

Storage bag

Dyson-designed copper-edged storage bag.

Dyson Airwrap™ styler Complete Nickel/Fuchsia

Engineered for multiple hair types and styles.

Powerful Dyson digital motor V9

Brushes to add body and volume, smooth or control and barrels to curl or wave

What's included

See all

Click to learn more

1.2 inch Airwrap™ barrels

Engineered especially for chest-length and longer hair. Creates voluminous curls or waves.

1.6 inch Airwrap™ barrels

Produces loose, bouncy curls and waves

Firm smoothing brush

Firm bristles to smooth and control unruly, frizz-prone hair. For a straighter style with less frizz and fewer flyaways.¹

Soft smoothing brush

Creates a smooth, straighter style. With soft, ball-tipped bristles engineered to be gentle on the scalp

Round volumizing brush

Long, fine bristles direct air deep into the hair to give body, creating tension to shape hair as it dries

Pre-styling dryer

Takes hair from wet to damp, ready to start styling with barrels or brushes

Storage case

Protects and stores the Dyson Airwrap™ styler and attachments

Non-slip mat

For safe placement during and after styling

Filter cleaning brush

Filter cleaning brush for your Dyson Airwrap™

Dyson Airwrap™ Styler Complete Black/Purple

Engineered for multiple hair types and styles

Powerful Dyson digital motor V9

Brushes to add body and volume, smooth or control and barrels to curl or wave

What's included

See all

Click to learn more

1.2 inch Airwrap™ barrels

Creates voluminous curls or waves

1.6 inch Airwrap™ barrels

Produces loose, bouncy curls and waves

Firm smoothing brush

Creates a straighter style with less frizz and fewer flyaways¹

Soft smoothing brush

Creates a smooth, straighter style. With soft, ball-tipped bristles engineered to be gentle on the scalp.

Round volumizing brush

Long, fine bristles direct air deep into the hair to give body, creating tension to shape hair as it dries

Pre-styling dryer

Takes hair from wet to damp, ready to start styling with barrels or brushes

Storage case

Protects and stores the Dyson Airwrap™ styler and attachments

Non-slip mat

For safe placement during and after styling

Filter cleaning brush

Filter cleaning brush for your Dyson Airwrap™

Dyson Airwrap™ Styler Complete Nickel/Red

Engineered for multiple hair types and styles

Powerful Dyson digital motor V9

Brushes to add body and volume, smooth or control and barrels to curl or wave

What's included

See all

Click to learn more

1.2 inch Airwrap™ barrels

Create voluminous curls or waves with the Coanda effect

1.6 inch Airwrap™ barrels

Create loose curls or waves with the Coanda effect

Firm smoothing brush

Firm bristles to smooth and control unruly, frizz-prone hair. For a straighter style with less frizz and fewer flyaways.¹

Soft smoothing brush

Creates a smooth, blow-dry finish. Engineered to be gentle on the scalp.

Round volumizing brush

Engineered to give body and shape to limp, flat hair

Pre-styling dryer

Takes hair from wet to damp, ready for styling

Storage case

Protects and stores the Dyson Airwrap™ styler and attachments

Non-slip mat

For safe placement during and after styling

Filter cleaning brush

Filter cleaning brush for your Dyson Airwrap™

Dyson Airwrap™ styler Volume+Shape Nickel/Fuchsia

Engineered to add volume and shape to fine, flat hair.

For multiple hair types

Brushes to add body and volume, smooth or control and barrels to curl or wave

What's included

See all

Click to learn more

1.2 inch Airwrap™ barrels

Engineered especially for chest-length and longer hair. Creates voluminous curls or waves.

Soft smoothing brush

Creates a smooth, straighter style. With soft, ball-tipped bristles engineered to be gentle on the scalp

Round volumizing brush

Long, fine bristles direct air deep into the hair to give body, creating tension to shape hair as it dries

Pre-styling dryer

Takes hair from wet to damp, ready to start styling with barrels or brushes

Storage case

Protects and stores the Dyson Airwrap™ styler and attachments

Non-slip mat

For safe placement during and after styling

Filter cleaning brush

Filter cleaning brush for your Dyson Airwrap™

Dyson Airwrap™ styler Smooth+Control Nickel/Fuchsia

Engineered to smooth and control frizz-prone hair.

Powerful Dyson digital motor V9

Brushes to smooth or control and barrels to curl or wave

What's included

See all

Click to learn more

1.2 inch Airwrap™ barrels

Engineered especially for chest-length and longer hair. Creates voluminous curls or waves.

1.6 inch Airwrap™ barrels

Produces loose, bouncy curls and waves

Firm smoothing brush

Firm bristles to smooth and control unruly, frizz-prone hair. For a straighter style with less frizz and fewer flyaways.¹

Pre-styling dryer

Takes hair from wet to damp, ready to start styling with barrels or brushes

Storage case

Protects and stores the Dyson Airwrap™ styler and attachments

Non-slip mat

For safe placement during and after styling

Filter cleaning brush

Filter cleaning brush for your Dyson Airwrap™