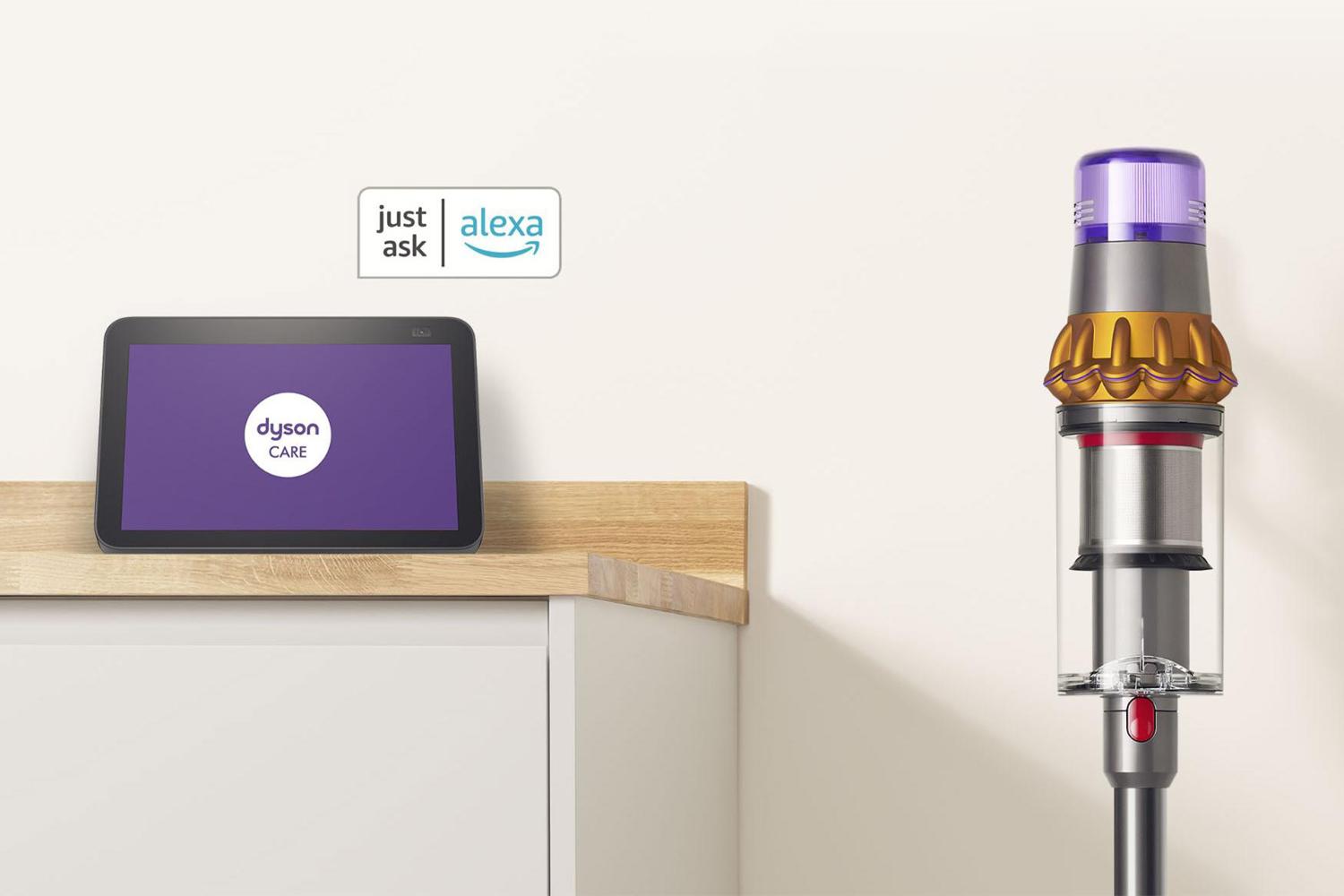 Dyson launches Dyson Care: An Amazon Alexa voice skill that provides owner support
Cordless floorcare owners can now say, "Alexa, open Dyson Care" to address their cordless vacuum's performance, power, or visible issues. Alexa from Amazon guides owners through step-by-step diagnostics to identify problems and ways to resolve them.
Dyson Care helps vacuum owners solve problems​

Vacuums are some of the most frequently used cleaning machines in homes and while Dyson designs high-quality cordless vacuums, their frequent use requires regular upkeep to ensure optimal performance and overall longevity. Troubleshooting common issues helps owners get the most out of their technology.​

In mid-December 2022, Dyson launched the Dyson Care Alexa skill. It's a pioneering, first-of-its-kind skill for Dyson and the floorcare industry. Dyson, along with other brands, offer Alexa skills for connected technology that help users control their machines' settings with their voice. Dyson Care is a first step into what voice AI can do to support Dyson machine owners with troubleshooting.

 

"At Dyson we are never satisfied with 'good enough'. We know that our product owners purchase our products because we think through the details and apply new ways of addressing the issues others seem to ignore with innovative engineering. We applied this same pioneering spirit to the Dyson Care skill – asking ourselves what we can do to further support our owners and the lifespan of their machine."

– Julie Hecht, Lead Experience Design, Business Development and innovation AMS

 
How does Dyson Care support owners?

The types of troubleshooting that Dyson Care can support can fit into three main categories: performance, power, or visible. This could include a clog that's affecting the suction, a battery replacement to improve your machine's run time, or regular wear and tear on a vacuum part.

Dyson Care can help identify the problem and provide the necessary steps to fix it. Many issues can be resolved by the machine owner without the need for advanced engineering knowledge.​

Dyson Care can help owners resolve​:

A vacuum that is pulsing or turns on and off rapidly
Battery life that is not what it used to be
A part that seems broken or has visible wear
Cleaning or changing the vacuum filter
Suction that is not what it used to be
Explanations for alerts on your machine's display

What makes Dyson Care different​?

Dyson Care guides users through a step-by-step diagnosis and resolution of the issue with their machine. Because the Dyson Care skill is voice based, users will have their hands free to focus on their machine and the Dyson Care prompts. Dyson Care is supported by all Alexa-enabled devices, with or without a screen. The Alexa devices with screens do have visuals to support owners during the troubleshooting experience. If the issue or resolution needs more explanation, Dyson Care will send links to videos and additional resources directly to the user's phone.​

Owners have several care options when experiencing issues. They can visit support on Dyson.com, chat, email, call, or visit a local Dyson service center. Dyson Care provides yet another channel for owners seeking support for Dyson cordless vacuums. This channel helps reduce wait times for a resolution because owners don't need to wait to speak with a representative, receive an email back, and/or drive and wait for service or a repair to be completed.​

Maintenance reminders​

Dyson Care also supports users by providing an option to set a regular maintenance reminder about filter cleaning, which is an important but often overlooked task that's essential to keeping their cordless vacuum performing at its best. Owners can choose the best day and time to receive this monthly reminder.​

What vacuums are support​ed by Dyson Care?

At launch, Dyson Care will only support owners with cordless vacuum troubleshooting needs. This includes support for the Dyson V6, Dyson V7, Dyson V8, Dyson V10, Dyson V11, Dyson Outsize, Dyson Micro, Dyson V12, and Dyson V15. Dyson Care does not currently support any corded upright models, the DC series, air treatment machines, or hair care machines.​

Where is Dyson Care available​?

Dyson Care is currently only available in the US and German skill stores through Amazon in either English or German. Dyson owners in these countries can now simply say, "Alexa, open Dyson Care" to try this new experience.
USA

Emails us at USPR@Dyson.com

1330 West Fulton Street, 5th Floor, Chicago IL, 60607