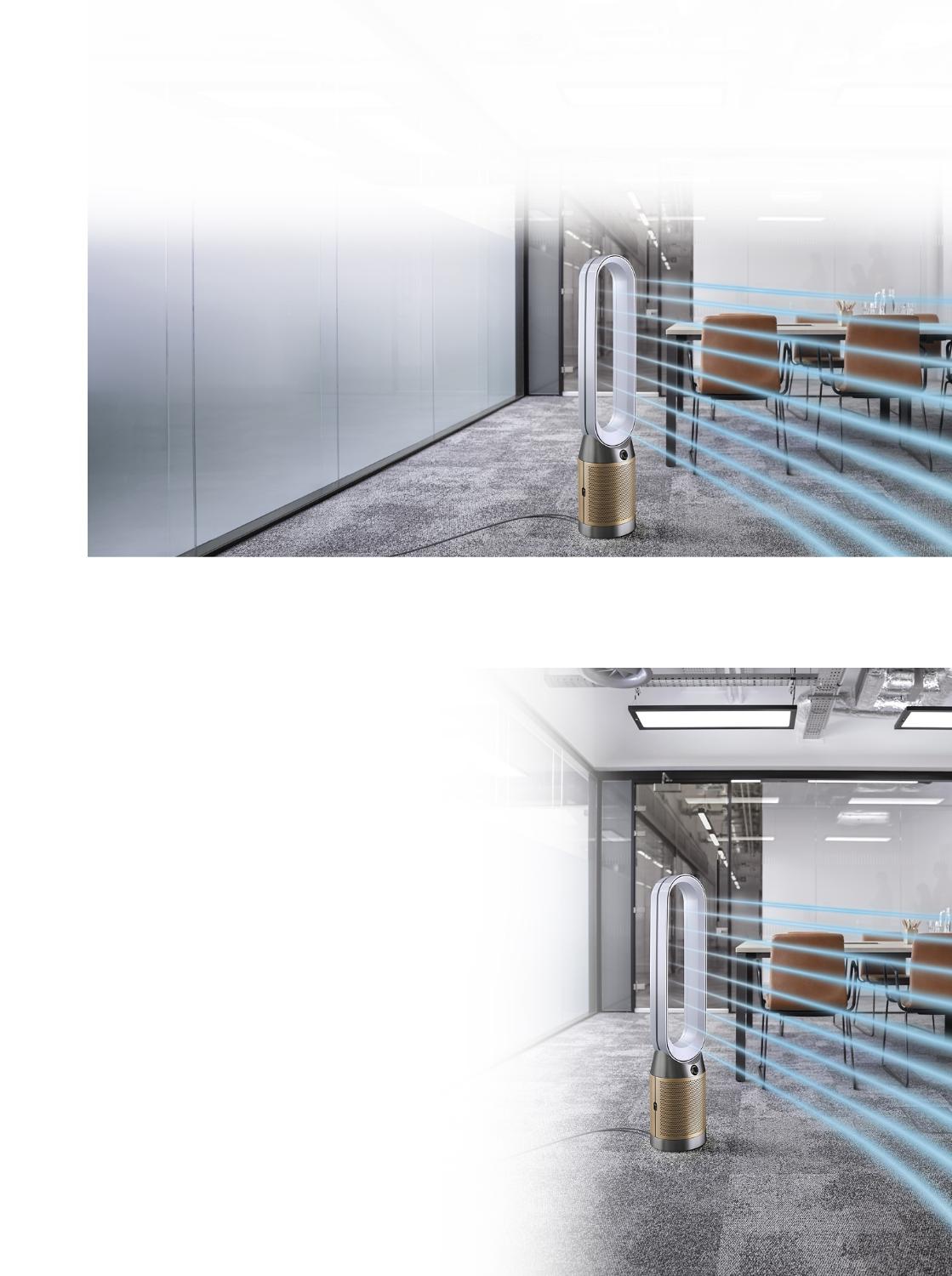 Dyson HEPA Cool Formaldehyde tower fan
Re-engineered to deliver cleaner air.  Designed for business.¹
Fully sealed filtration and airflow system.
Proven to capture the Influenza A Virus (H1N1)²
Even destroys formaldehyde³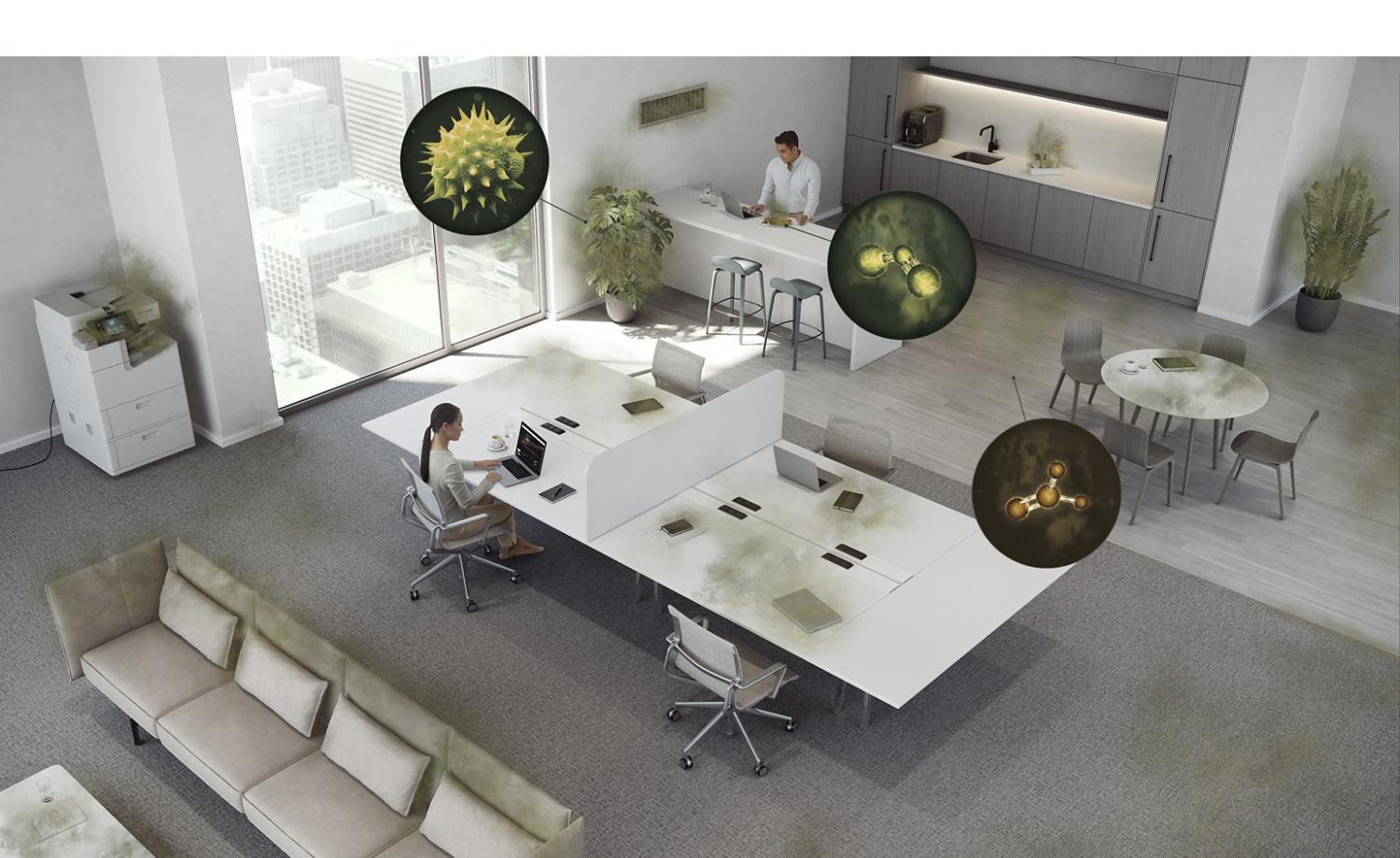 Pollutants can build up inside your business, you just can't see them
Indoor air quality can be up to 5 times worse than the air outdoors.* Many items in your business – from flooring and furniture, to printer emissions and building materials – can release microscopic particles and gases. This includes formaldehyde, which can quickly build up and keep polluting over time.
Our latest Dyson purifier can benefit your business, by tackling these common sources and helping to create a healthier, more comfortable environment.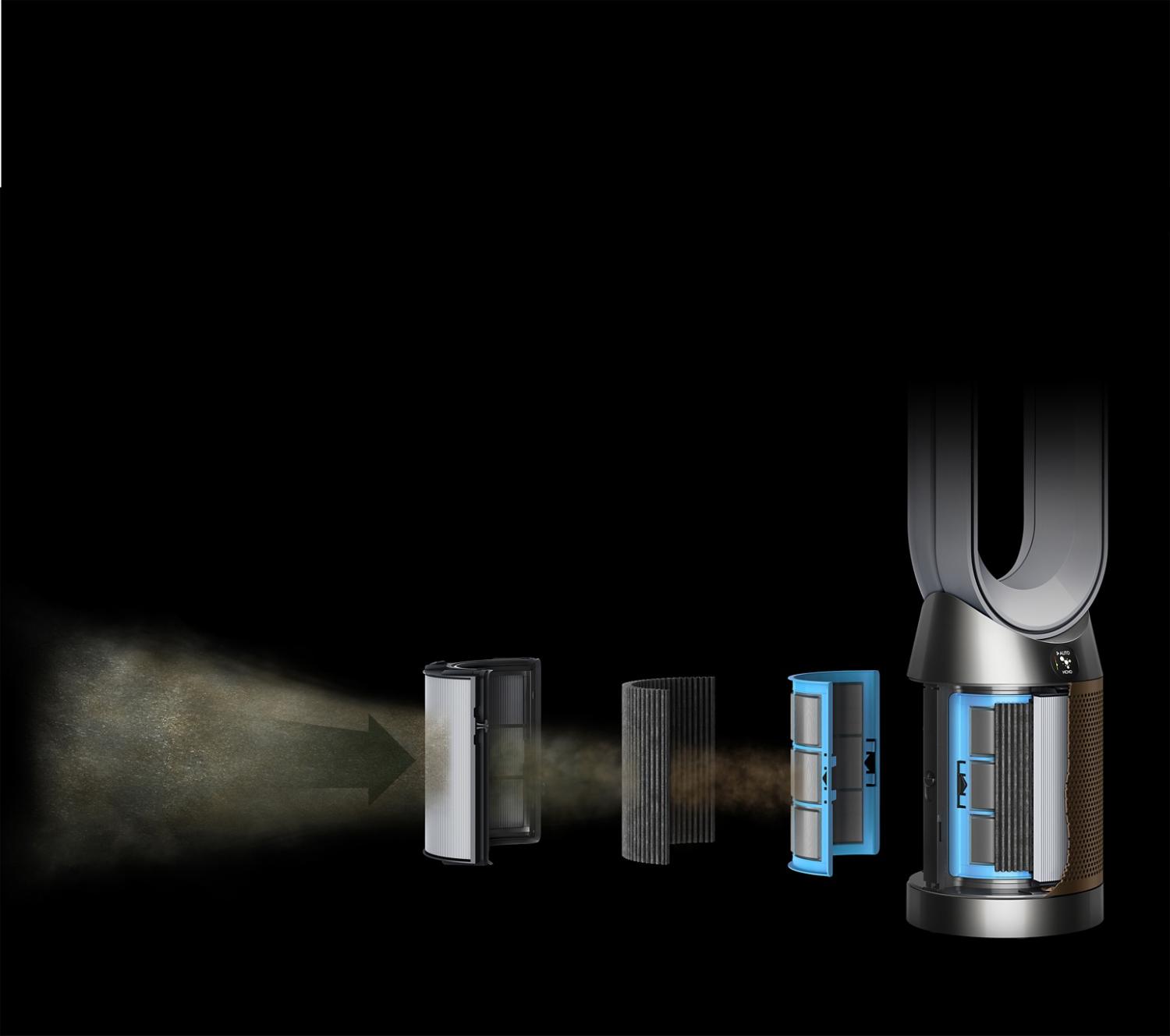 Captures and destroys with an advanced HEPA filtration system
It's not just the filter that's sealed to HEPA H13 standard, it's the whole purifier.⁴ Dyson's advanced 360° HEPA H13 filter captures 99.97% of particles as small as 0.3 microns from the air - keeping them sealed in. And the unique catalytic filter continuously destroys formaldehyde.³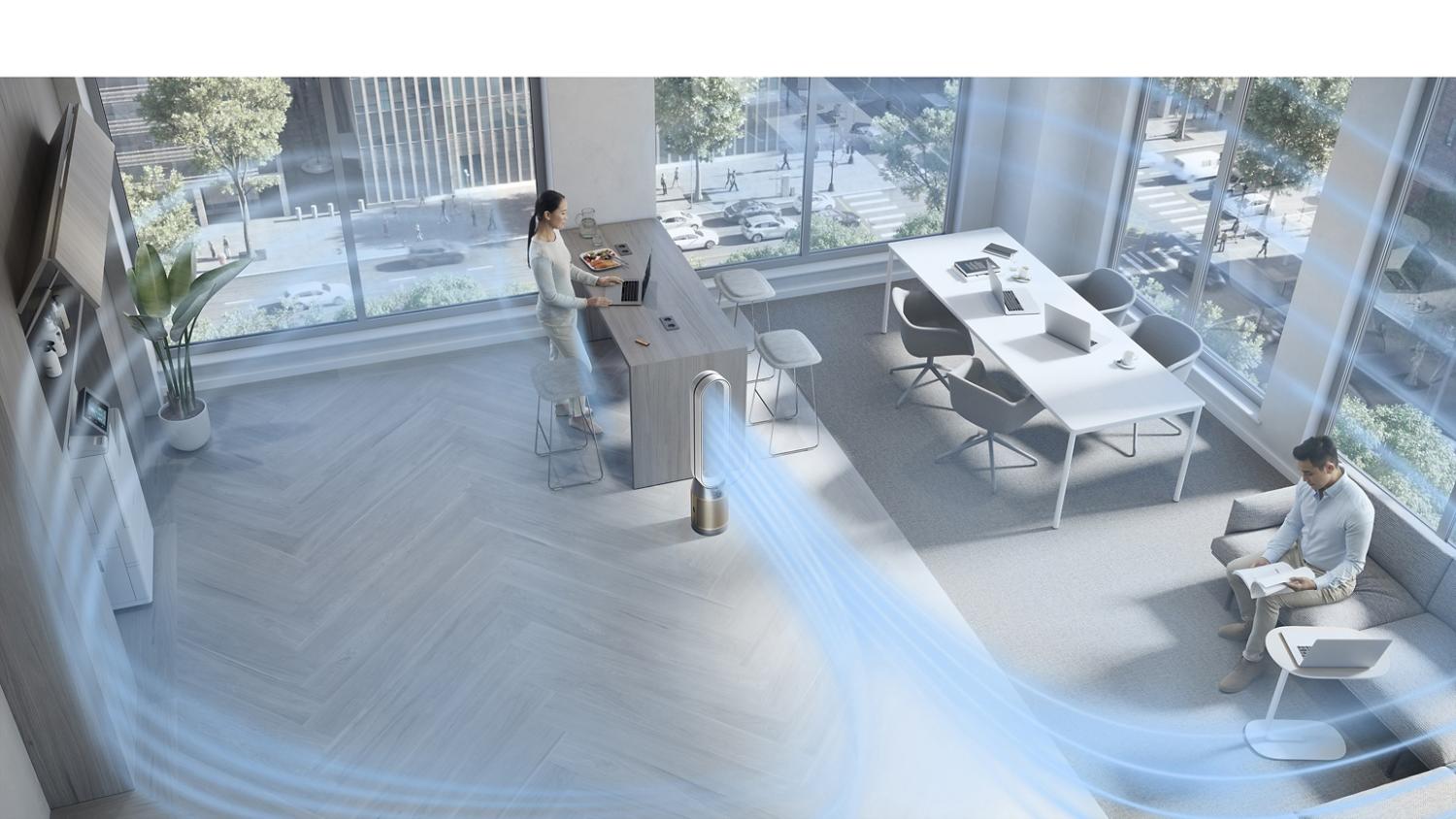 Dyson purifiers don't compromise airflow for purification
Dyson purifies a whole room – not just the air around the purifier. To purify large spaces properly, you need a combination of HEPA purification and strong room mixing. These two separate components are crucial to evaluate a purifier's performance. Therefore, we've designed our products with an air multiplier on top of the core filtration technology.
Air Multiplier™ technology generates the circulation power to draw distant pollutants into the machine, projecting over 77 gallons a second of purified air throughout meeting rooms, hotel rooms and classrooms.⁵ Powerful circulation to purify an 2860ft³ space, equating to 290 sq ft.
Tested beyond the industry standard. For real working spaces.
Dyson's philosophy is that to truly purify a whole room properly, a purifier needs to sense pollutants, capture them effectively, and project clean air to every corner of the room. To measure whole room purification in real-size spaces and to represent real life conditions, Dyson engineers developed the POLAR test. Based on a large room of 81m³, it uses nine sensors to continually measure air quality throughout the room.⁵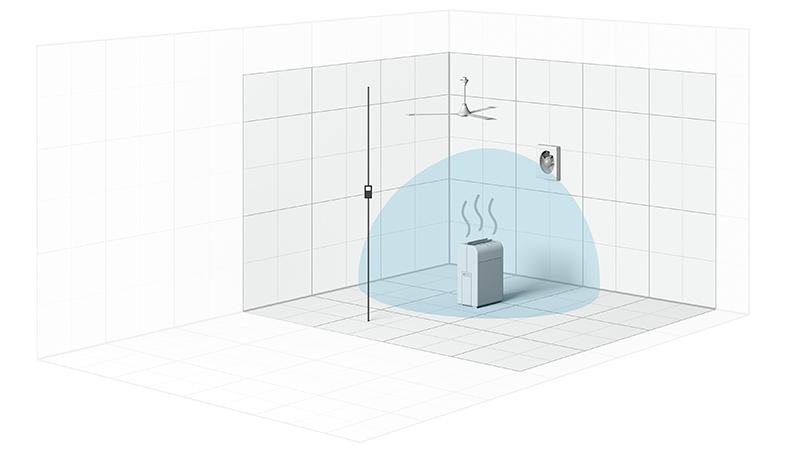 CADR is not a measure of purification performance in a real-size room 1,008 ft³
An additional fan boosts circulation. Only one sensor measures air quality.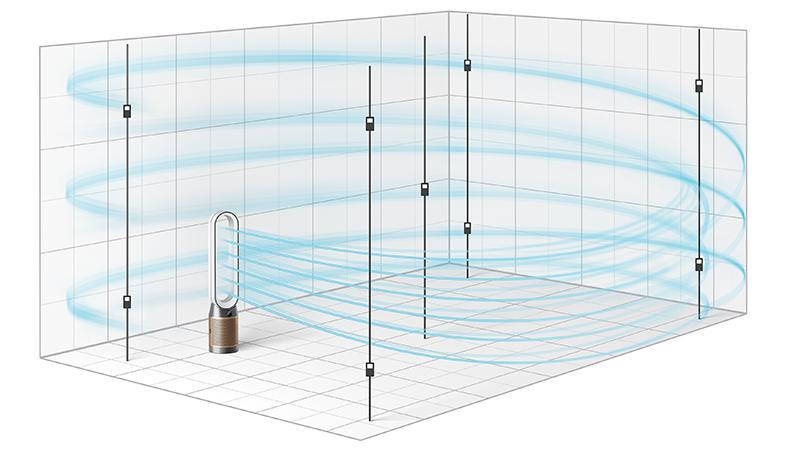 Dyson's POLAR test goes further to measure purification throughout a real-size room 2,860 ft³
No additional fans. Nine different sensors to measure even-room air quality.
Fully sealed filtration and airflow system

The air purifier is fully sealed to HEPA H13 standard.⁴ Three phases of purification sit within our fully sealed filtration and airflow system. So what goes inside, stays inside.

Destroys formaldehyde, continuously³

Formaldehyde can emit from many types of commercial furniture and flooring over time. Dyson's catalytic filter continuously converts it into water and CO₂ – and never needs replacing.

Senses and reports, automatically

Detects particles, formaldehyde and other gases, displaying real-time reports on the LCD and MyDyson app. In Auto mode, it automatically reacts – only purifying when needed.
Backwards Airflow mode

Diverts airflow through the back of the machine. To purify the room, without feeling the airflow or cooling you.

20% quieter

Acoustically engineered to reduce turbulence, so it's 20% quieter than the previous model. Perfect for peaceful working environments or hotel rooms.

50% longer cable

For ease-of-use in commercial environments.

Additional remote control

Your purifier comes with an additional remote. One can be stored neatly on the top of the machine – the other kept close to hand or stored safe for peace of mind.

Easy filter maintenance

Changing the HEPA+ Carbon filter is quick and easy, with automatic notifications for each machine on the LCD screen and MyDyson app.⁶ The catalytic filter never needs replacing.

Smart technology

The MyDyson app lets you see which particles have been captured, set schedules and more.⁶ Control hands-free, using compatible voice services such as Amazon Alexa, Google Assistant or Siri.⁶

1 year for HEPA+Carbon filter⁸

Standby power consumption:

81m³ (according to POLAR)

Frequently asked questions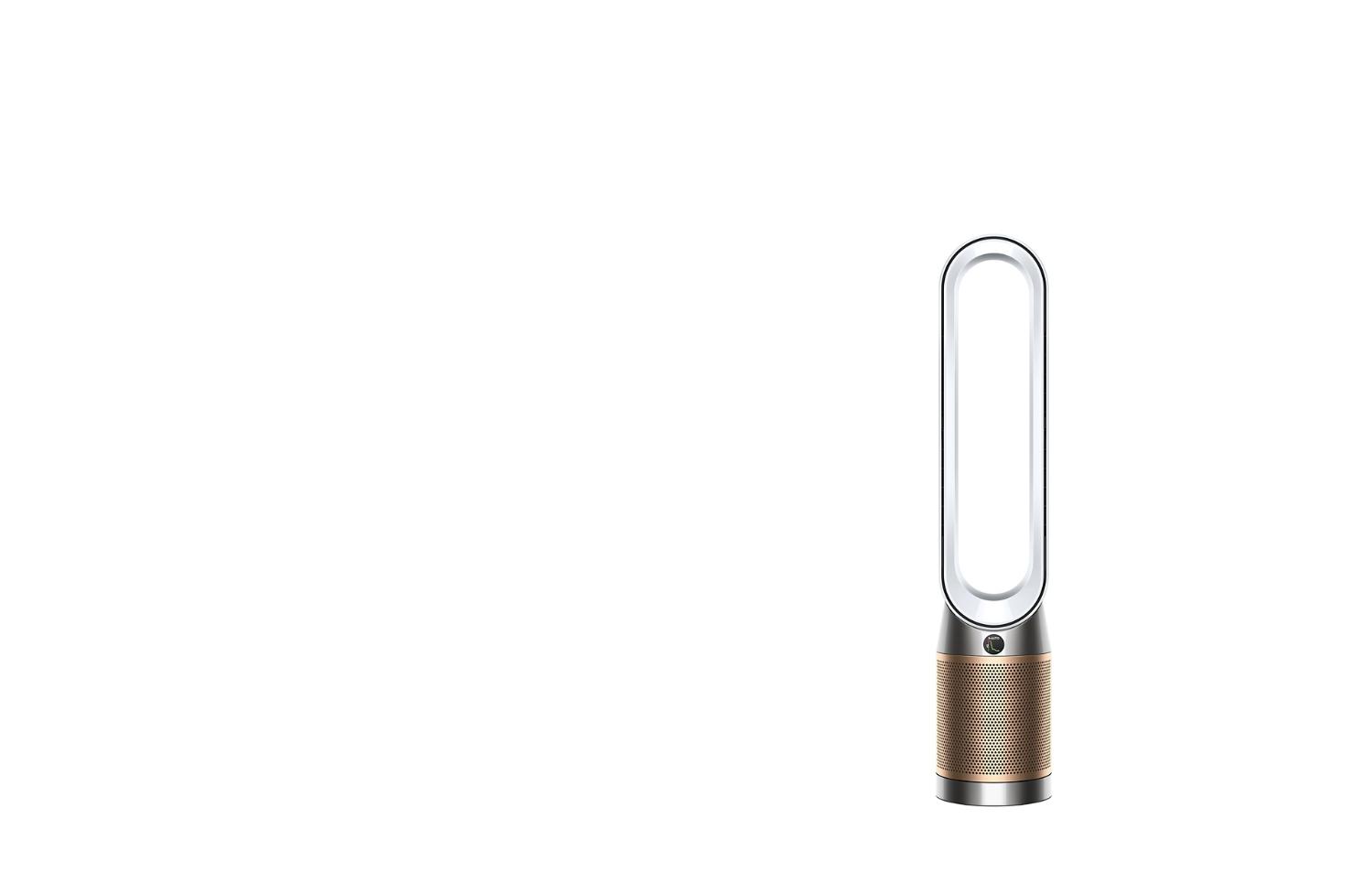 Dyson HEPA Cool Formaldehyde tower fan
Why choose Dyson for business
²We challenged our purifier with airborne Influenza A Virus (H1N1) at an independent lab. After 60 minutes in the chamber, at maximum fan speed, the airborne virus was reduced by 99%. Real-life efficacy may vary.
1

Re-engineered compared to Dyson Pure Cool purifying fan (TP01/AM11). Business SKU features longer cord and extra remote.

3

Third party full machine testing based on GB/T 18801-2015 formaldehyde cumulative clean mass testing with continuous injection until plateau of formaldehyde CADR is achieved. Results may vary in practice.

4

Particle challenge by DEHS oil specified in EN1822 within a chamber specified in ASTM F3150. Tested in Max Mode at IBR US, for whole machine efficiency above 99.95%.

5

In maximum setting. Tested for air projection (DTM801) and purification coverage in a 2860ft³ room (TM-003711). Capture rates vary.

6

Requires device to run app, Wi-Fi or mobile data, Bluetooth 4.0 support, and iOS version 10 or Android version 5 (or above). Standard data and messaging rates may apply.
* US Environment Protection Agency