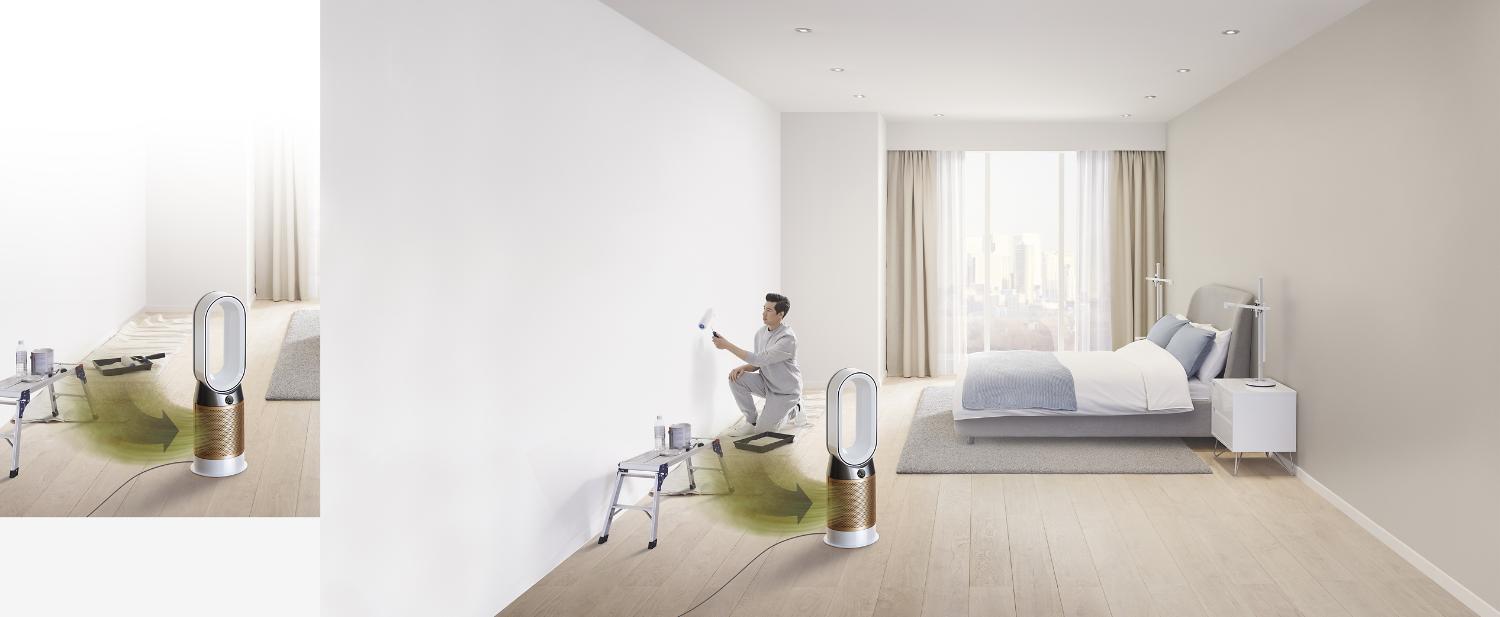 Dyson Pure Hot + Cool Cryptomic
Dyson Cryptomic™ technology captures particles and continuously destroys formaldehyde released from household items.¹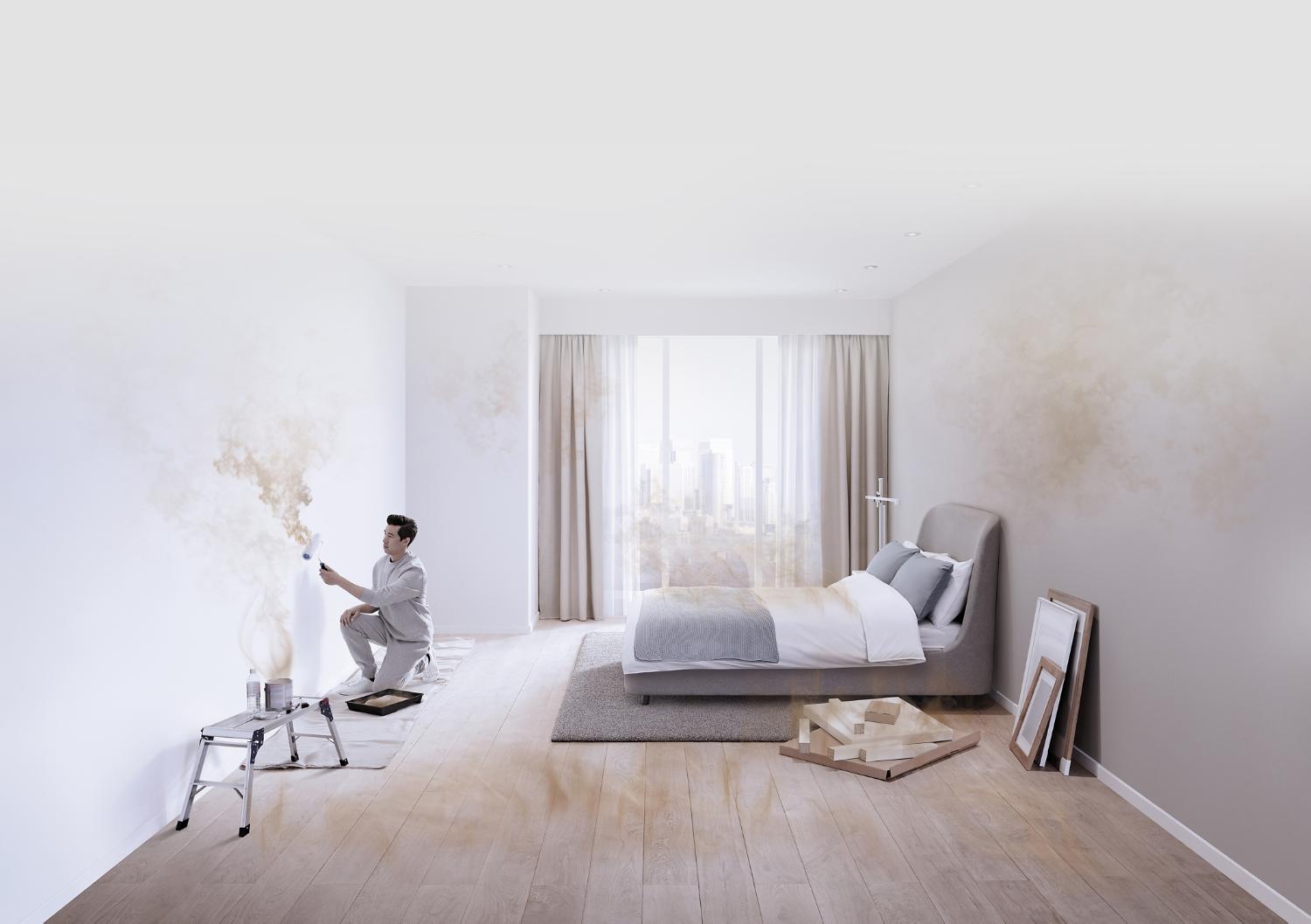 Homes can be up to 5X more polluted than the air outside²
Many household items – from decorating materials, to flooring, to plants – can release microscopic particles and gases. This includes formaldehyde, which can quickly build up and keep polluting for over a year.
Potentially harmful, particles and gases can be found throughout the home, these include…
PM 10

Pollen and allergens
from plants and flowers

PM 0.1

Ultrafine particles
and viruses

Formaldehyde

Carpets, rugs
and flooring


Odors

Household fumes
and cooking


Benzene and VOCs

Cleaning products
and scented candles


Nitrogen Dioxide

Gas stoves and
car exhausts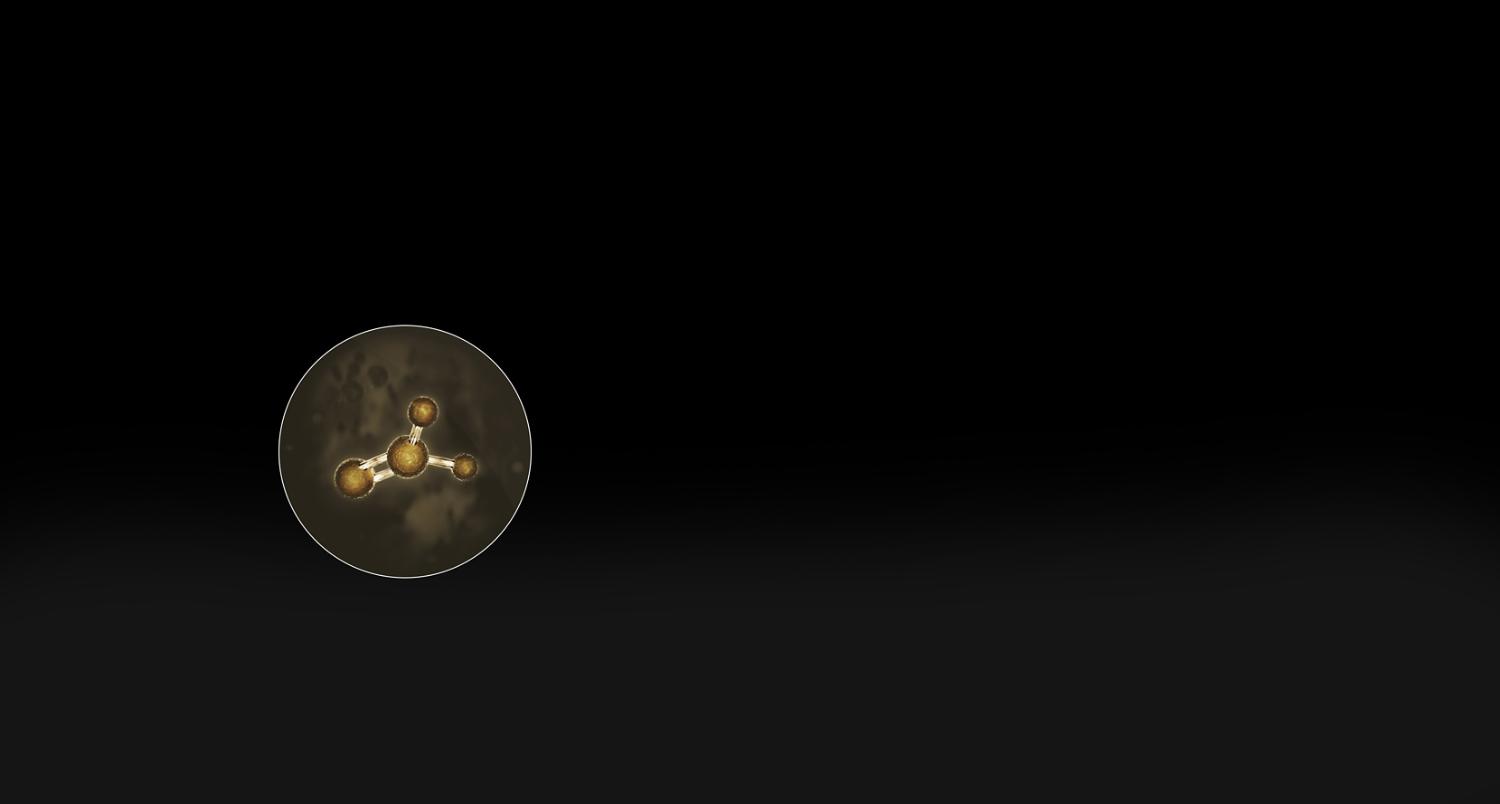 Formaldehyde is 500X smaller than PM0.1
It's a potentially harmful chemical, emitted by numerous household products. It's particularly difficult to capture, and can pollute continuously.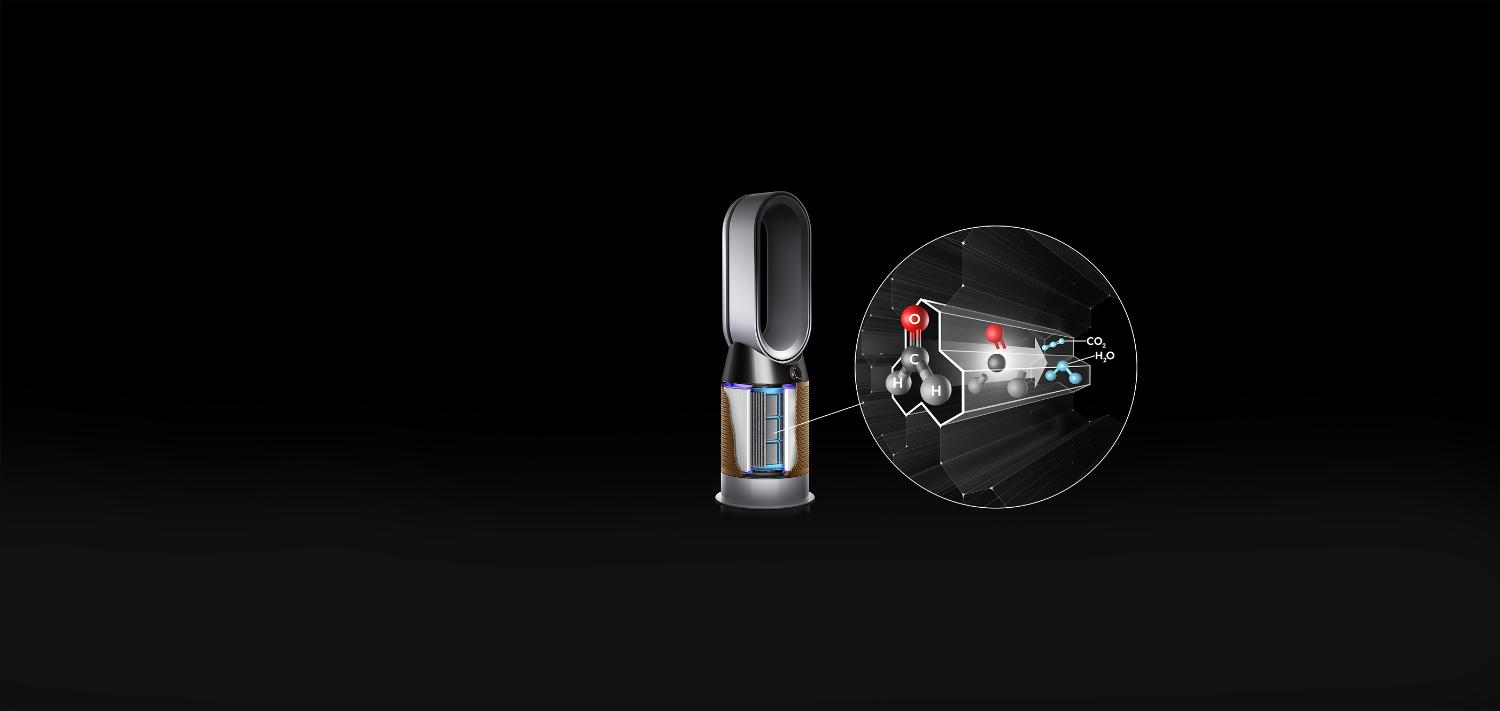 Dyson Cryptomic™ technology destroys formaldehyde at a molecular level¹
Dyson Cryptomic™ technology has a unique catalytic coating, with the same structure as the Cryptomelane mineral. Its billions of atom-sized tunnels are the optimal size and shape to trap and destroy formaldehyde, breaking it down into tiny amounts of water and CO2.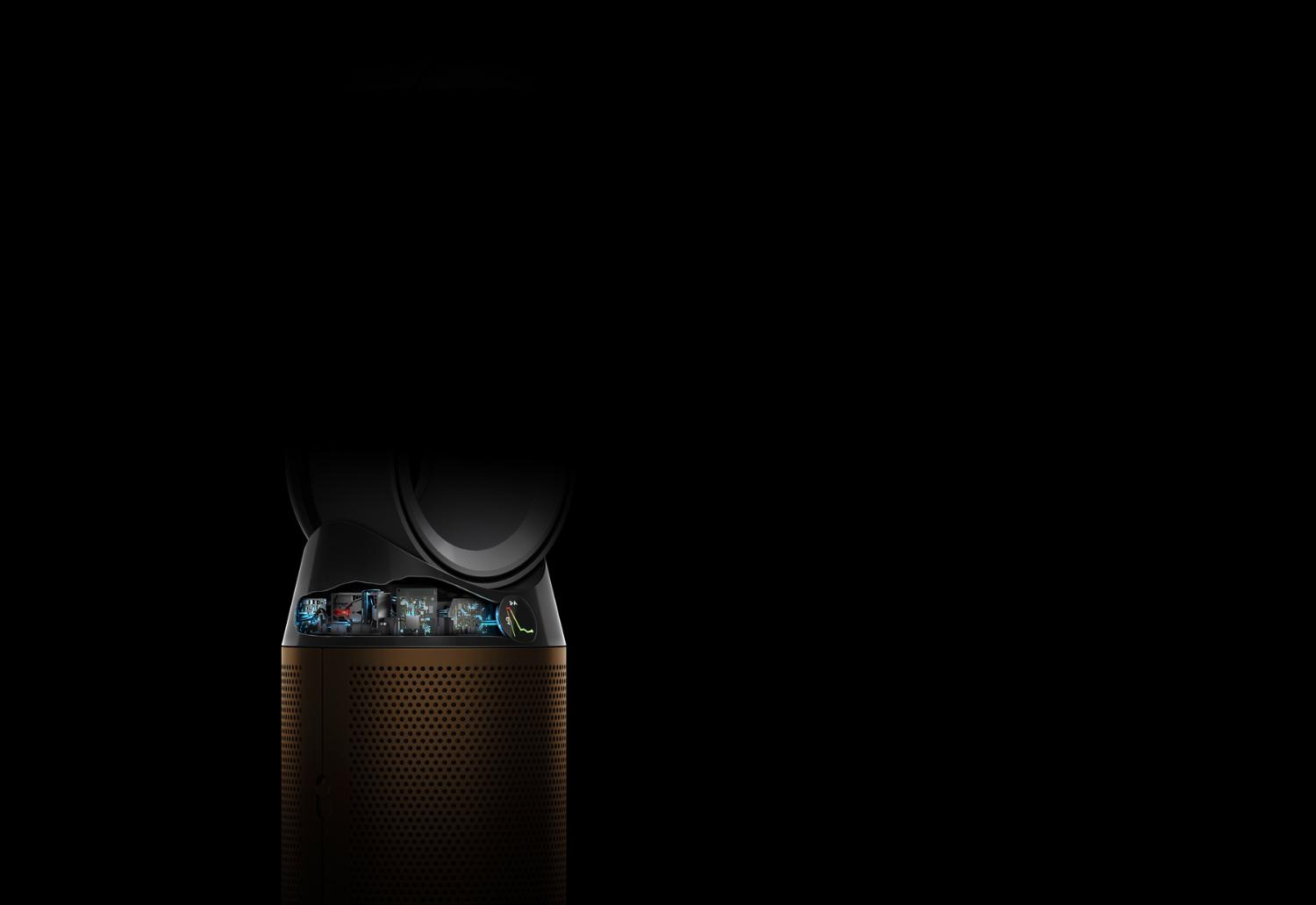 Automatically senses and reports particles and gases, in real time
With three intelligent sensors, the Dyson purifying fan heater automatically detects airborne particles and gases – including formaldehyde. The built-in LCD screen shows your room temperature, and which pollutants your machine has detected.³
Projects purified air throughout your room⁴
Heats in winter. Cools you in summer. 
With long-range purified heat projection, it's quick to heat the whole room evenly.⁴
Voice control.
All you have to do is ask. Using a compatible voice service, control your machine with simple, spoken instructions. Works with Amazon Alexa and Siri.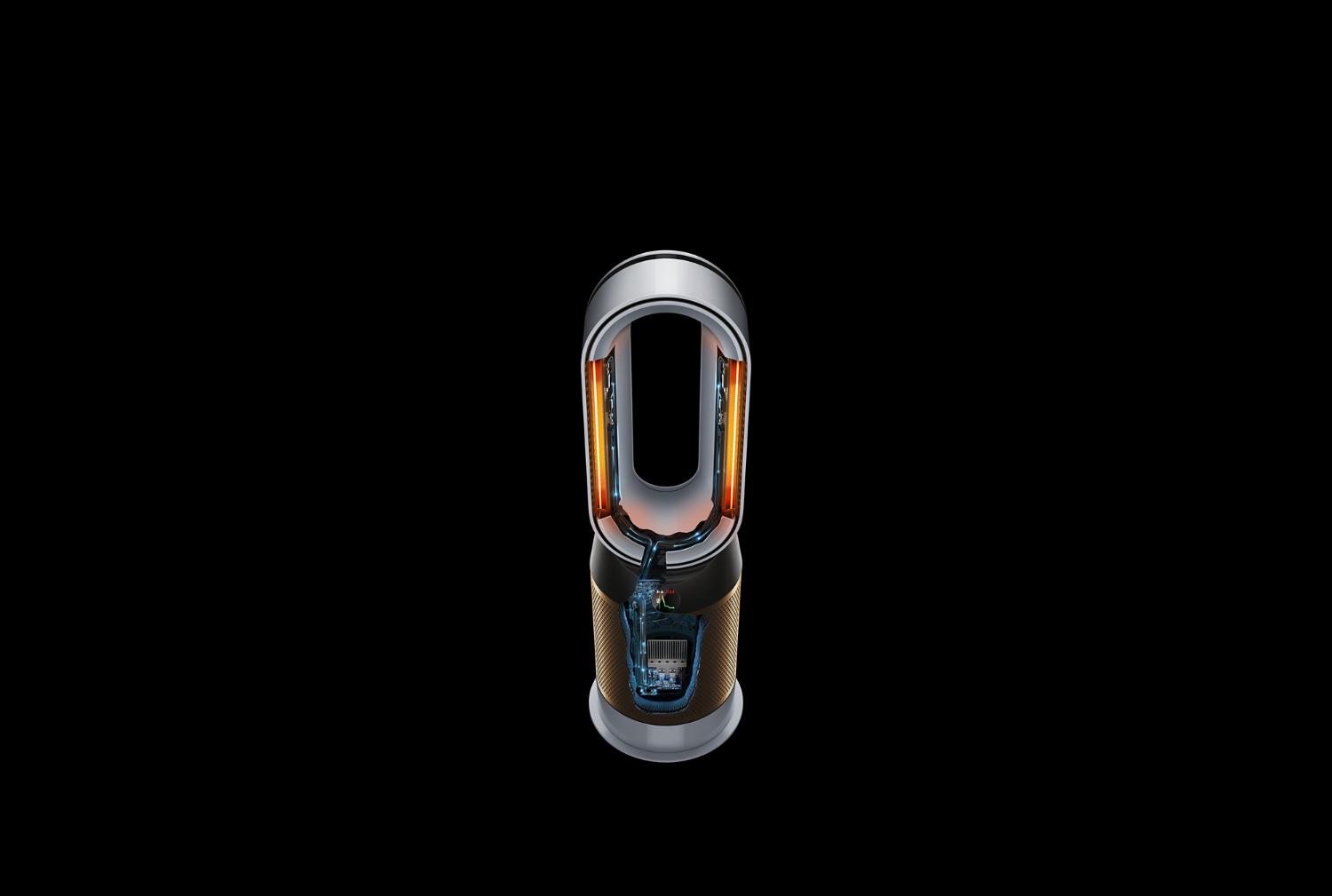 Fast, safe, efficient heating
Self-regulating ceramic plates are positioned at the front of the amp, to heat the air as it leaves the machine. As the plates heat up, they conduct less electricity to help ensure they don't overheat.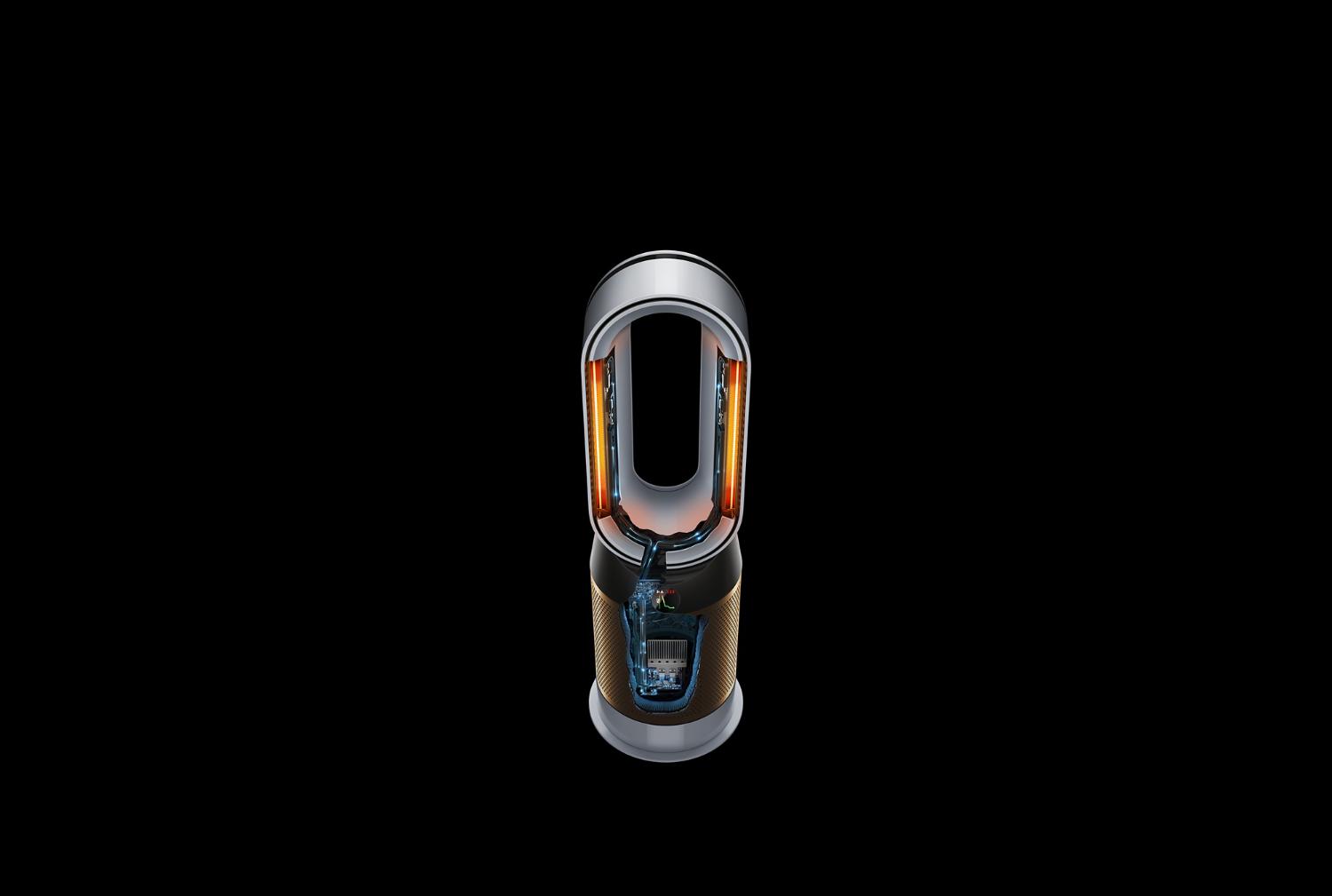 Thermostat control
Once your target temperature is reached, the machine automatically stops heating, which saves energy. If the temperature starts to drop, it reactivates to maintain it.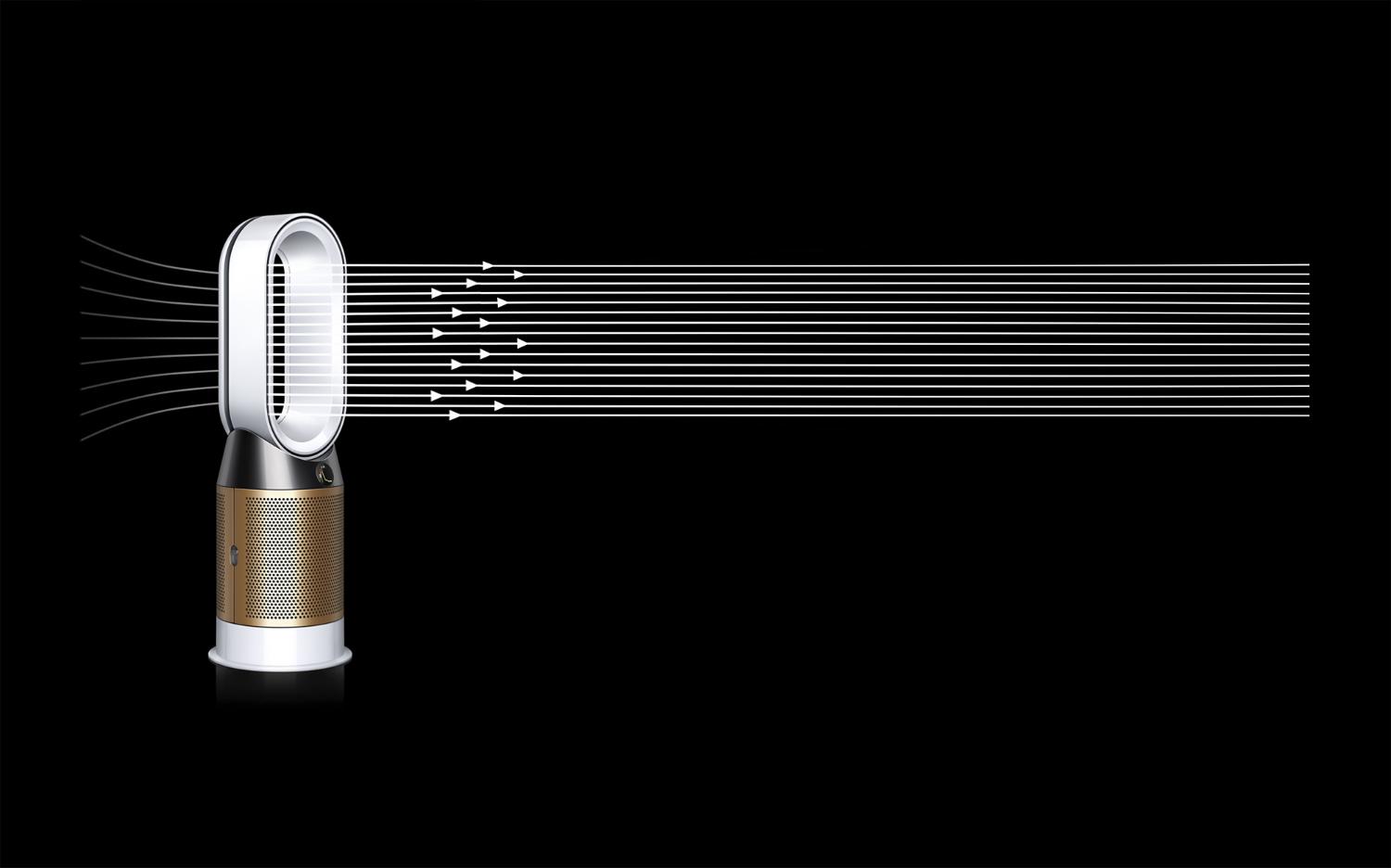 Powerful Air Multiplier™ technology
Air Multiplier™ technology delivers over 79 gallons of smooth, powerful airflow per second – circulating purified air throughout the whole room.⁴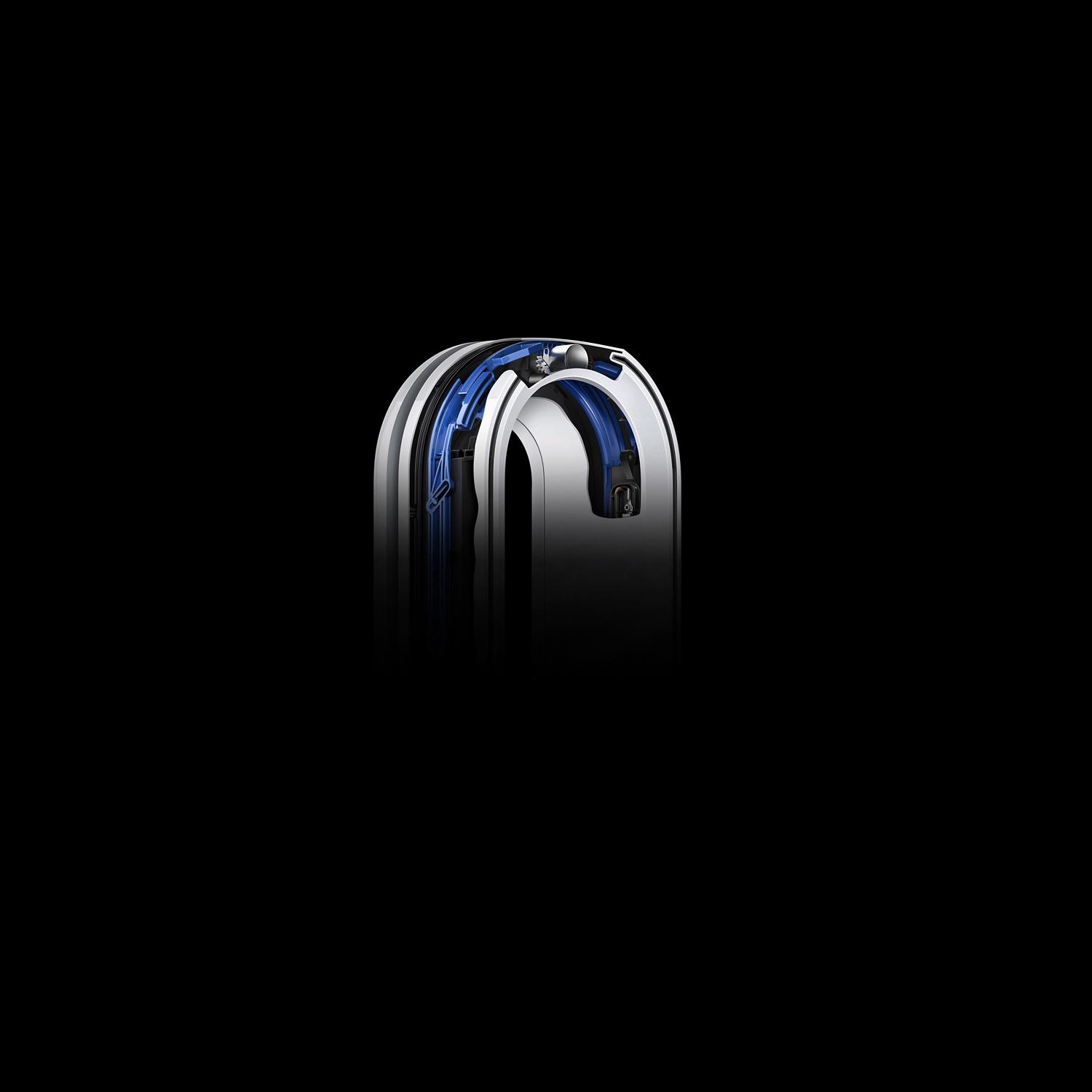 Two airflow modes
The machine has two separate apertures, to release air from either the front or back of the machine. The valve mechanism turns a rotational baffle around the arc of the amplifier, to switch the direction of the airflow.
Fan mode

Delivers a powerful stream of cooling, purified air from the front of the machine.

Backwards airflow mode

In Backwards airflow mode, the unique Dyson air valve projects air through the back of the machine. To purify without cooling you.⁶
Dyson Pure Hot+Cool Cryptomic™
Dyson Pure Hot + Cool Cryptomic (White/Gold)
Destroys formaldehyde, continuously.¹
Automatically senses and captures pollutants.
Control with remote, Dyson Link app, voice services.²
¹Tested to industry standard tests JEM 1467 (acetic acid, acetaldehyde, ammonia), GB/T 18801(formaldehyde, benzene), DTM-003282 (NO2) and a Dyson internal method for VOC capture. Tested to GB/T 18801 for formaldehyde destruction. Capture rates vary. Tested for filtration efficiency at 0.1 microns (EN1822). 

² US Environmental Protection Agency.

⁴Tested for air projection (DTM801), purification coverage in a 2860ft³ room (TM-003711), and heating performance in a 1236ft³ room (DTM961).

⁵Requires device to run app, 2.4GHz or 5GHz Wi-Fi connection or mobile data, and Bluetooth 4.0 support. For app compatibility, please search for "Dyson Link" on the iOS App Store or the Google Play Store. Standard data and messaging rates may apply.

⁶Not applicable to heating.