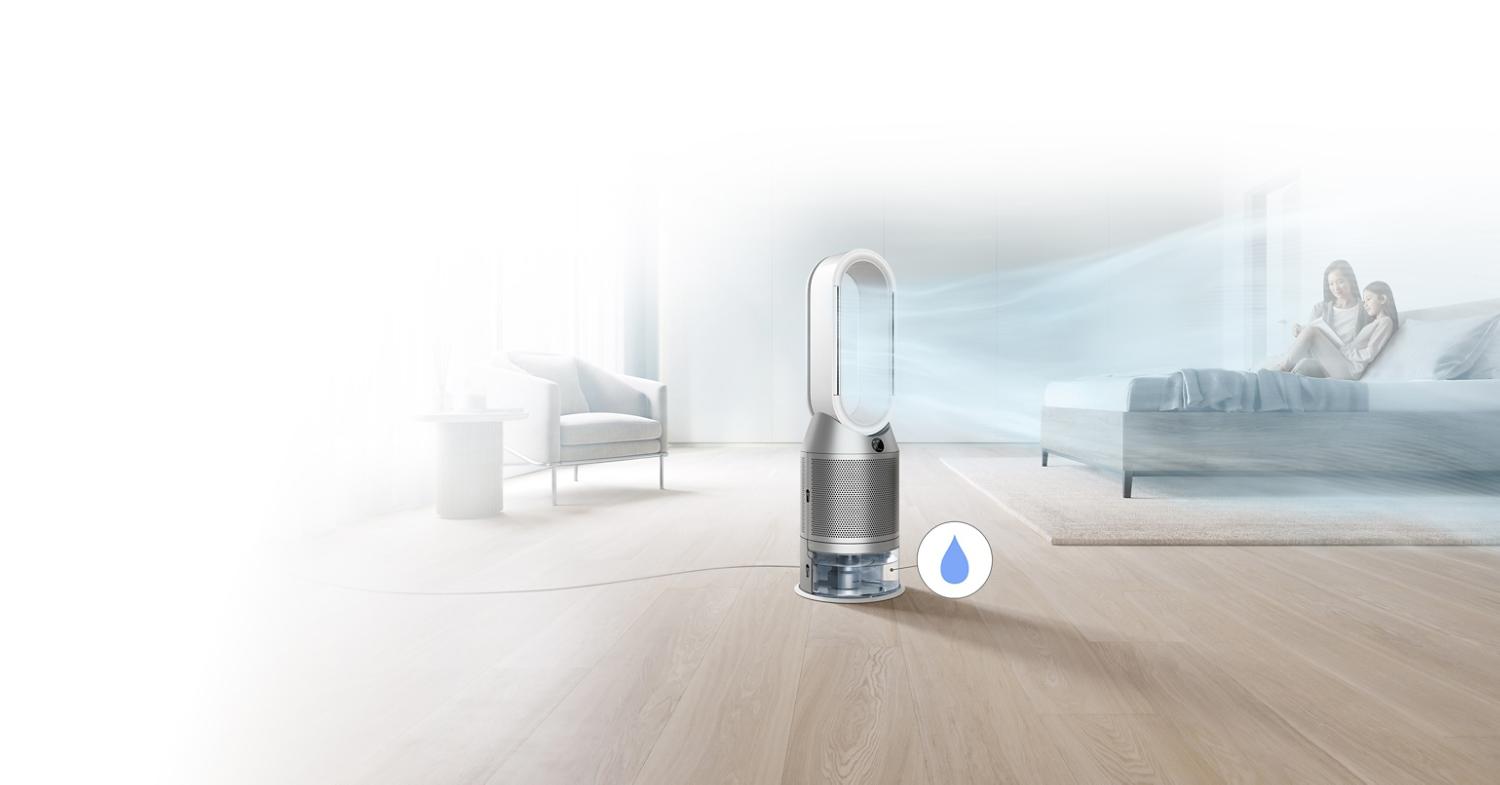 Automatically purifies and hygienically humidifies for a healthier environment.
Automatically senses, captures and traps pollutants
Fully sealed to HEPA H13 standard⁴
Projects purified humidified air throughout the room³
A hassle-free deep clean cycle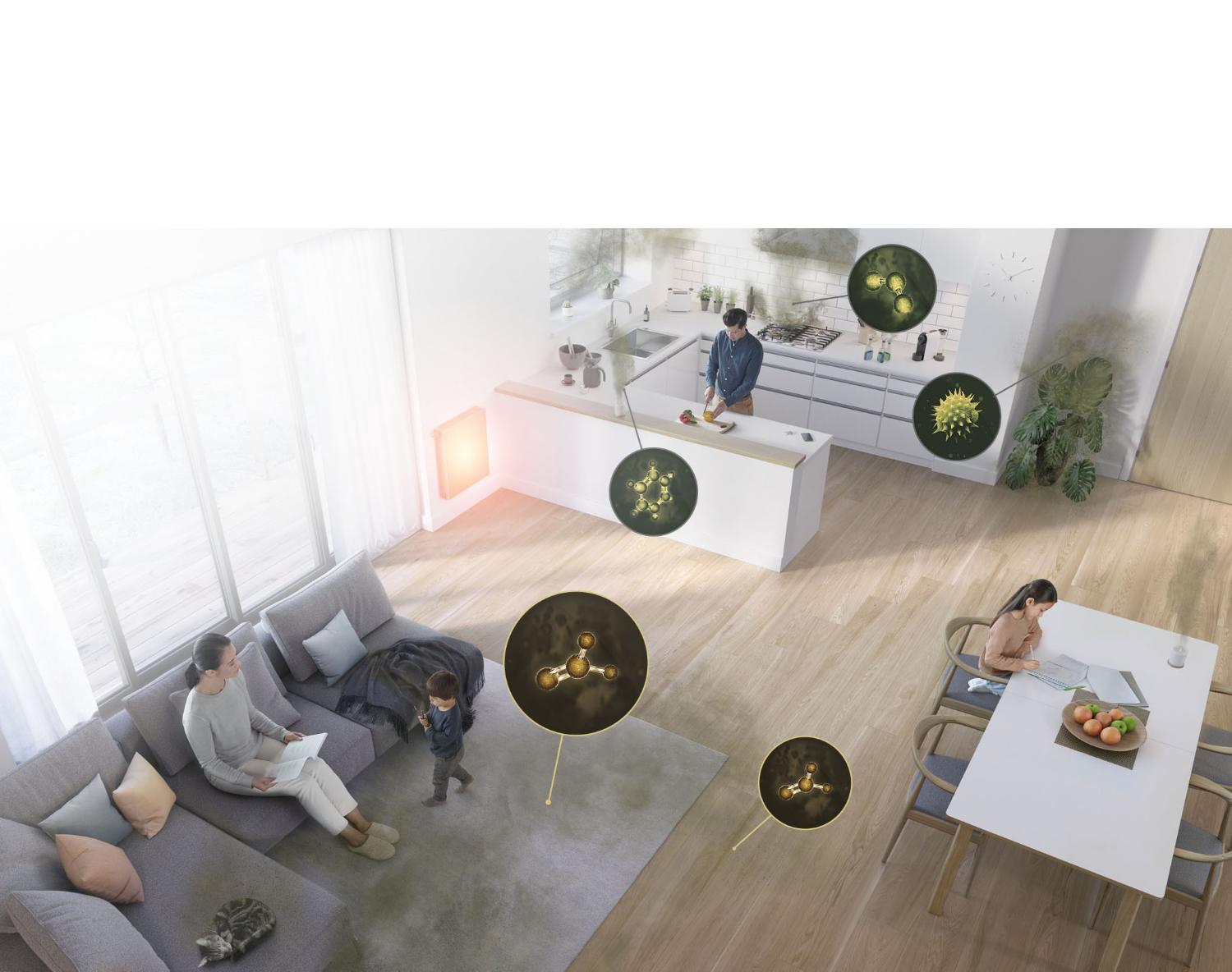 Improve the air quality inside your home
Improve the air quality inside your home The air in an average home can be up to five times more polluted than the air outside.⁷ On top of this, heating and air conditioning can dry out the air. Fortunately, we have a solution to both.
Frequently asked questions
How does a purifier humidifier work?
The Dyson purifier humidifier senses and captures pollutants and measures the current level of moisture in the air - automatically. Then, it projects purified and hygienically humidified air around the room³, cooling you when needed.
Should I use a purifier humidifier all year round?
Yes, to get the best results, a purifier humidifer should be used all year round. To help combat dry air from central heating and air conditioning, and capture pollutants such as dust, pollen, smoke, odours and pet allergens. You can also use the purifier humidifier when sleeping, on night mode.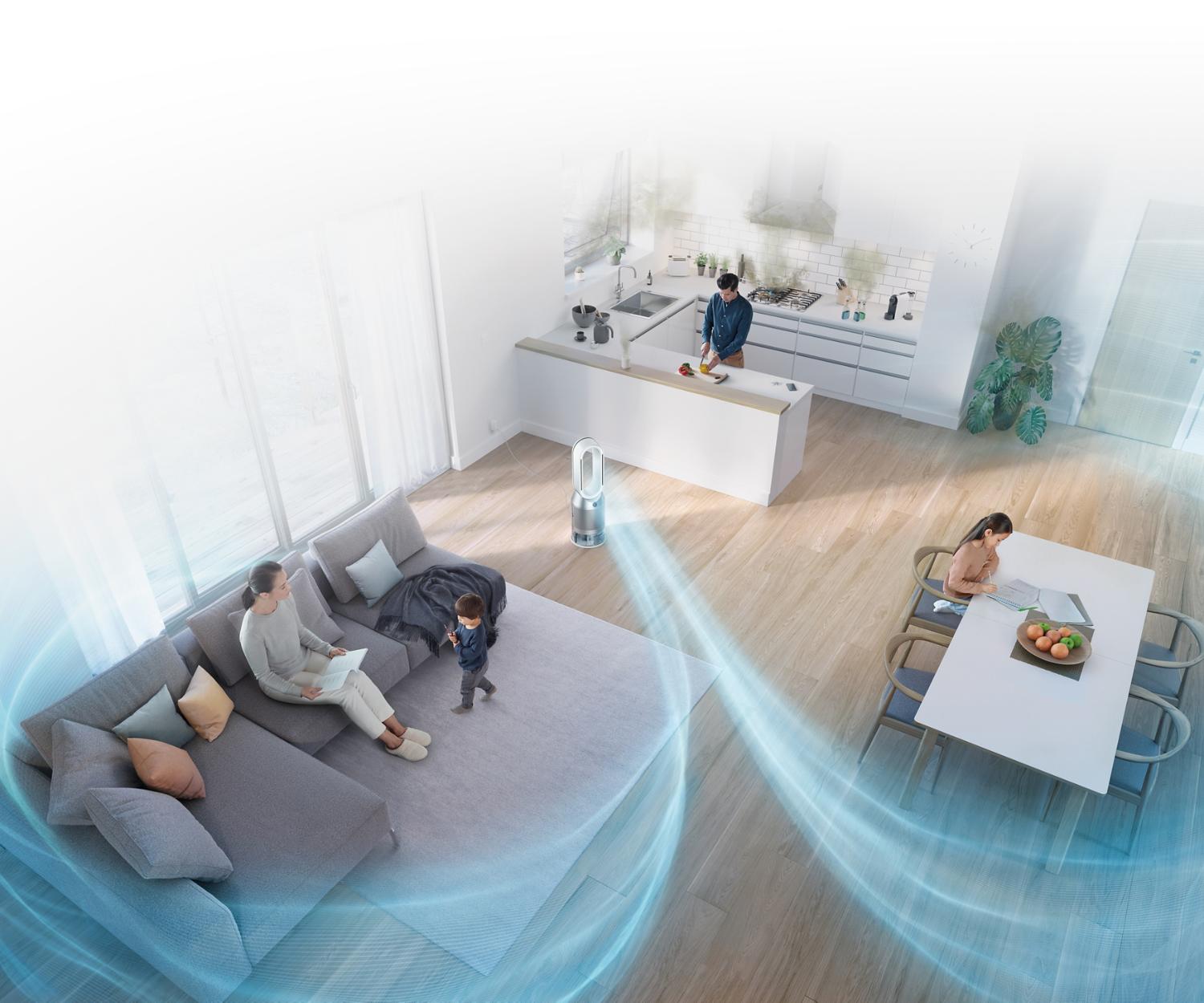 Powerful circulation to purify and humidify the whole room
Dyson purifiers draw pollutants, such as pollen, dust, allergens and smoke, from every corner of the room and Air Multiplier™ technology projects purified, humidified air throughout the room.³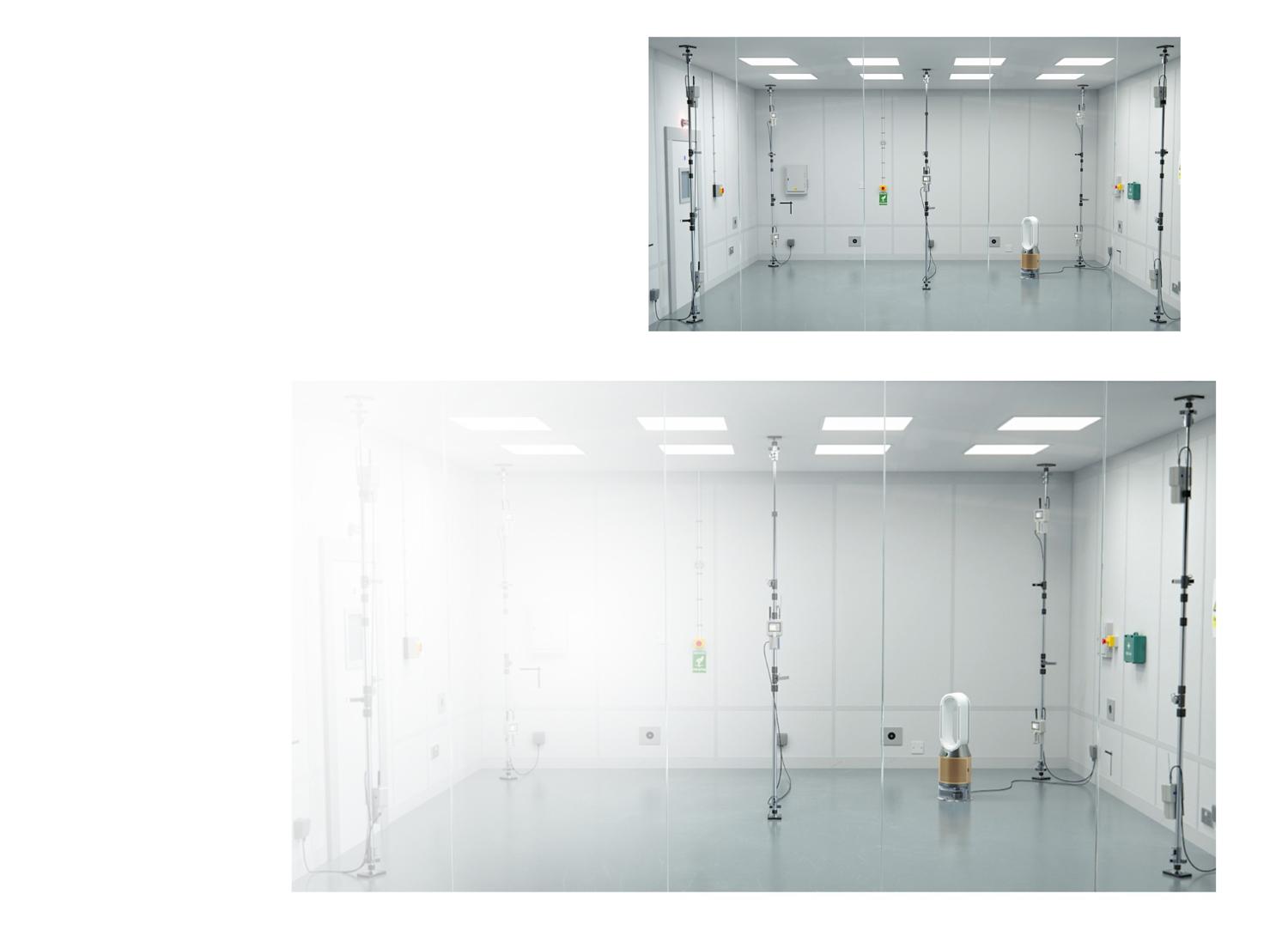 Dyson purifiers are tested beyond the industry standard. For real living spaces.
We test our purifier humidifiers in a room size of 81m³, with nine sensors that continuously measure air quality. Some other manufacturers use a small 28.5m³ chamber, with only one sensor and a fan to boost circulation.
Industry-standard test chamber – only 28.5m³

Dyson POLAR test chamber - 81m³
Common household pollutants
Household fumes and cooking

Cleaning products and candles

Gas stoves and car exhausts

Common allergens - pet dander, pollen, and dust

Carpets, rugs and flooring

Industrial emissions and smoke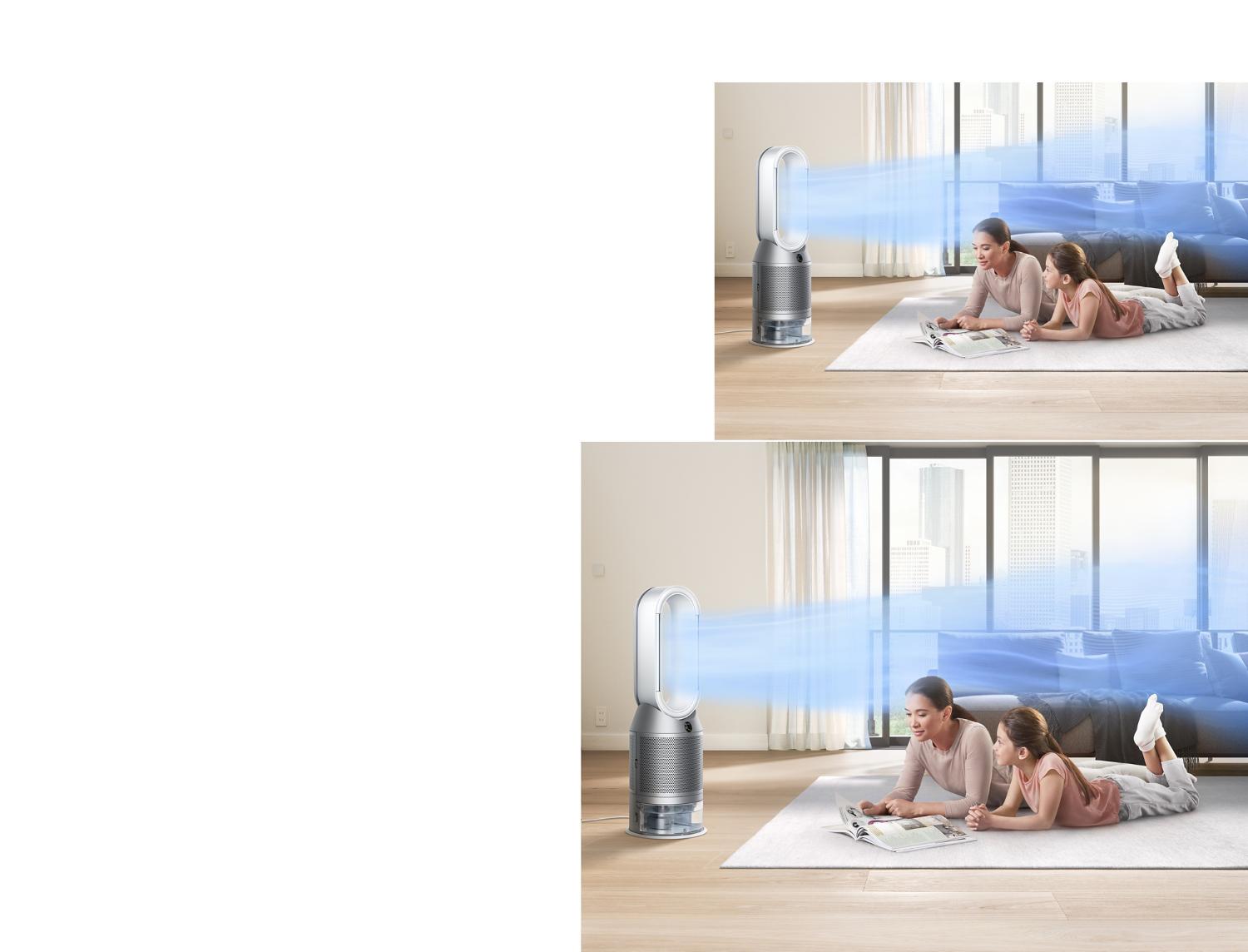 Fully sealed to HEPA H13 standard
To prevent pollutants leaking back into the air, it's not just the filter that's sealed to HEPA H13 standard, it's the whole purifier humidifier.⁴ So what goes inside, stays inside.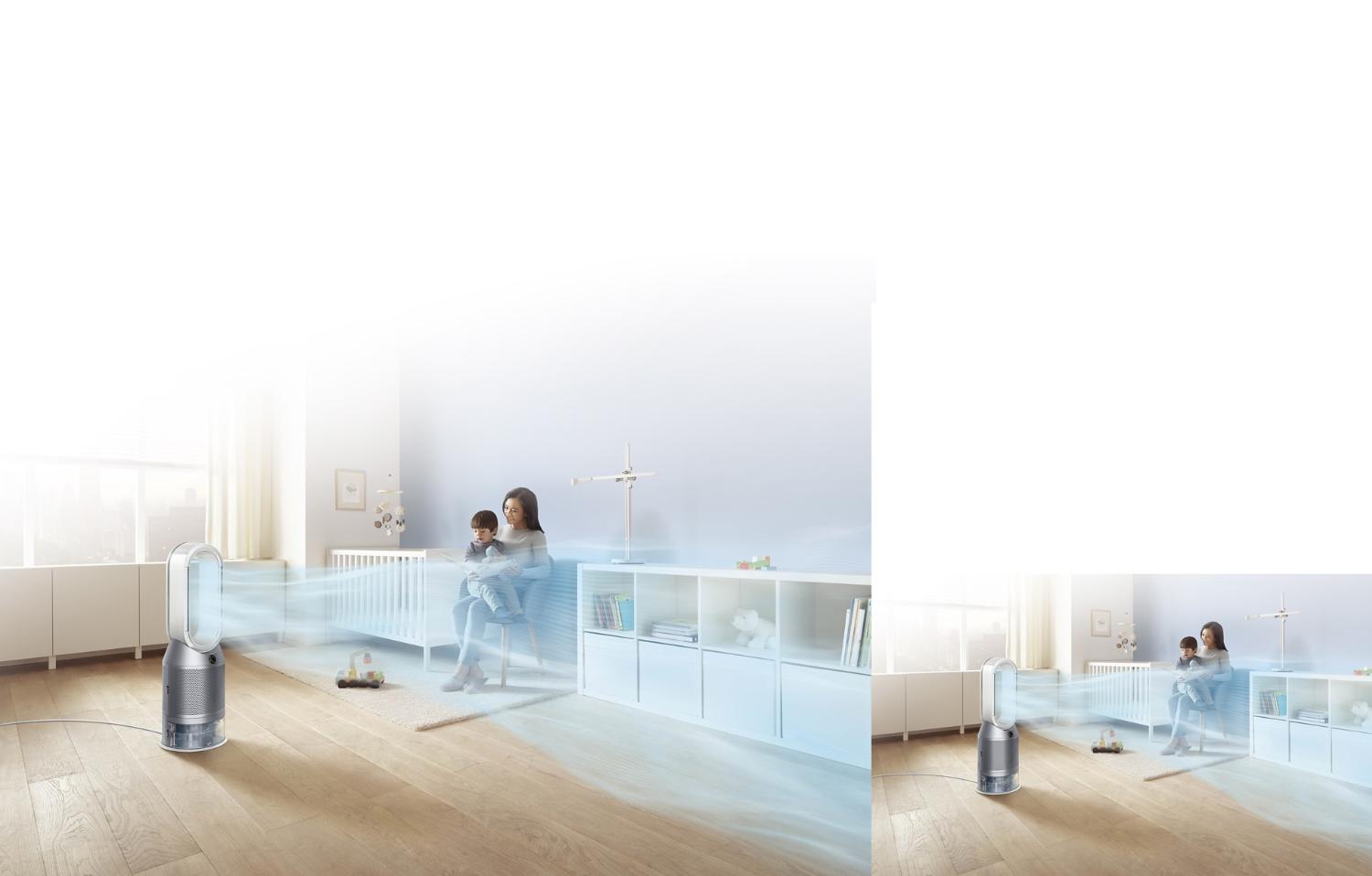 To humidify your environment, hygienically
Central heating and air conditioning units can contribute to dry air developing in the home, which can cause dehydration. The Dyson purifying humidifying fan automatically maintains the target level of moisture in your air with an invisible stream of evaporated water, and no mist – for a more comfortable environment.
Hassle-free Deep clean cycle
The Dyson hassle-free Deep clean cycle thoroughly eliminates mineral build-up throughout your machine's water system. At the touch of a button, the cycle activates and guides you through a simple step-by-step process – helping to control odours that develop through poor maintenance.
Frequently asked questions
Where should I place the purifier humidifier in my room?
Your Dyson Pure Humidify+Cool™ is engineered to purify and humidify single rooms, so you should use it where you spend the majority of your time at home. When placing the machine, make sure there's at least a few feet of clearance on all sides, so that the air can circulate effectively. Close doors and windows and place away from air vents. 
How often should I run a Deep clean cycle?
This depends on the water hardness where you live. The machine prompts you to run the cycle once a month in hard water areas. It prompts you less often in softer water areas. You can select your water hardness with the Dyson Link app. Running a Deep clean cycle helps to eliminate odours that occur through poor maintenance.
¹ Third party full machine testing based on GB/T 18801-2015. Results may vary in practice.
²Tested to DTM-004533.

³Tested for purification coverage in an 81m³ chamber. Tested for humidification coverage in a 41m³ chamber.
⁴Tested with particle challenge per EN1822 in a chamber per ASTMF3150. Tested at maximum fan speed.
⁵Requires device to run app, 2.4GHz or 5GHz Wi-Fi connection or mobile data, and Bluetooth® 4.0 support. For app compatibility, please search for 'Dyson Link' on the iOS App Store or the Google Play Store. Standard data and messaging rates may apply. Voice control requires a compatible voice service.
⁶Based on fan speed 1.
⁷US Environmental Protection Agency, The Total Exposure Assessment Methodology Study, 1987.
⁸PH03 is a humidifier and fan, not an air conditioning unit.
Apple and the Apple logo are trademarks of Apple Inc., registered in the U.S. and other countries.
App Store is a service mark of Apple Inc., registered in the U.S. and other countries.
Google Play and the Google Play logo are trademarks of Google Inc.