Articulating hard floor tool.
Swivelling brush head with an ultra-slim profile to reach difficult spaces. With soft nylon bristles to remove dust and allergens.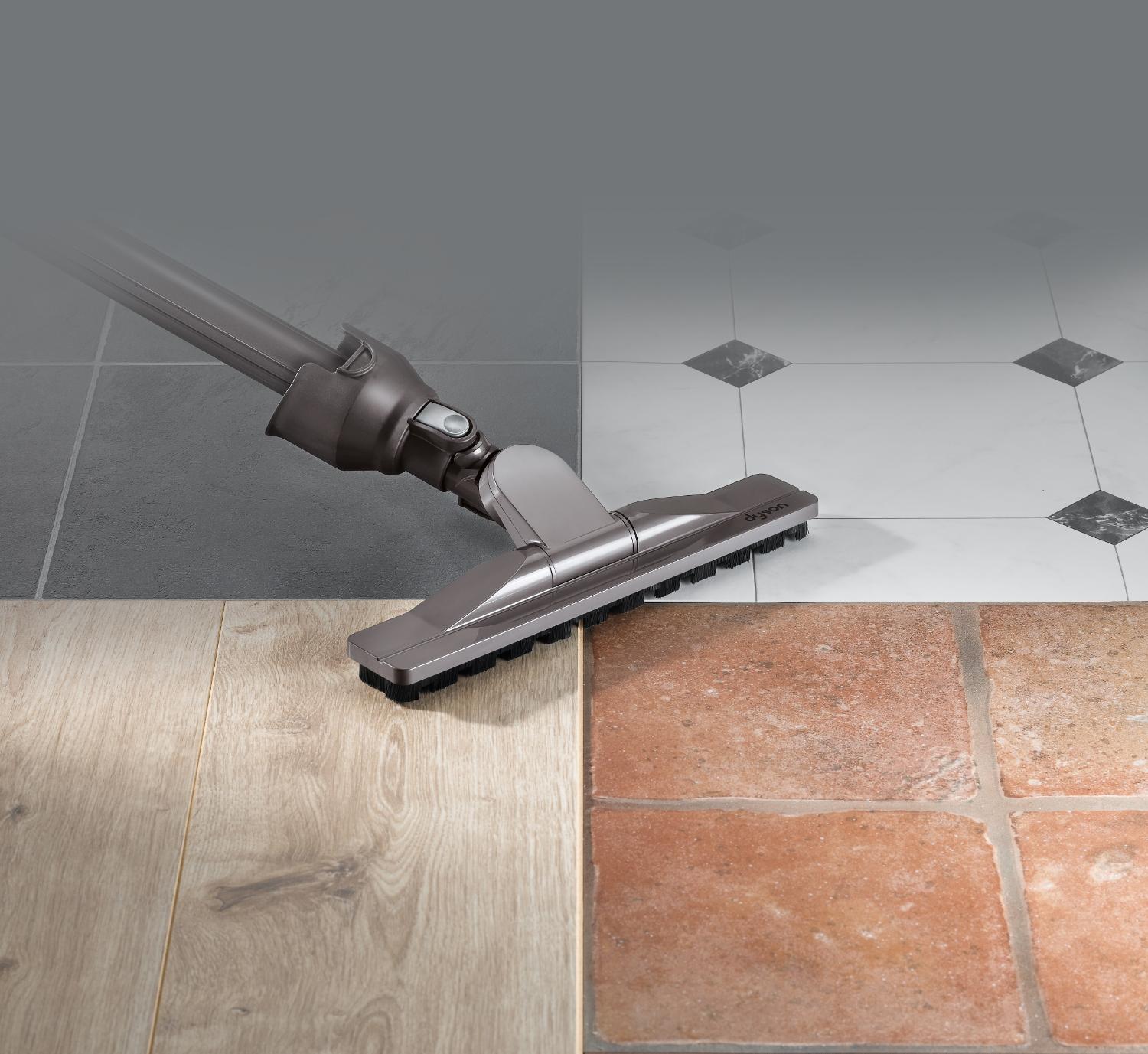 Gentle on surfaces.
Pliable nylon bristles flex to protect wood, vinyl and delicate floor coverings.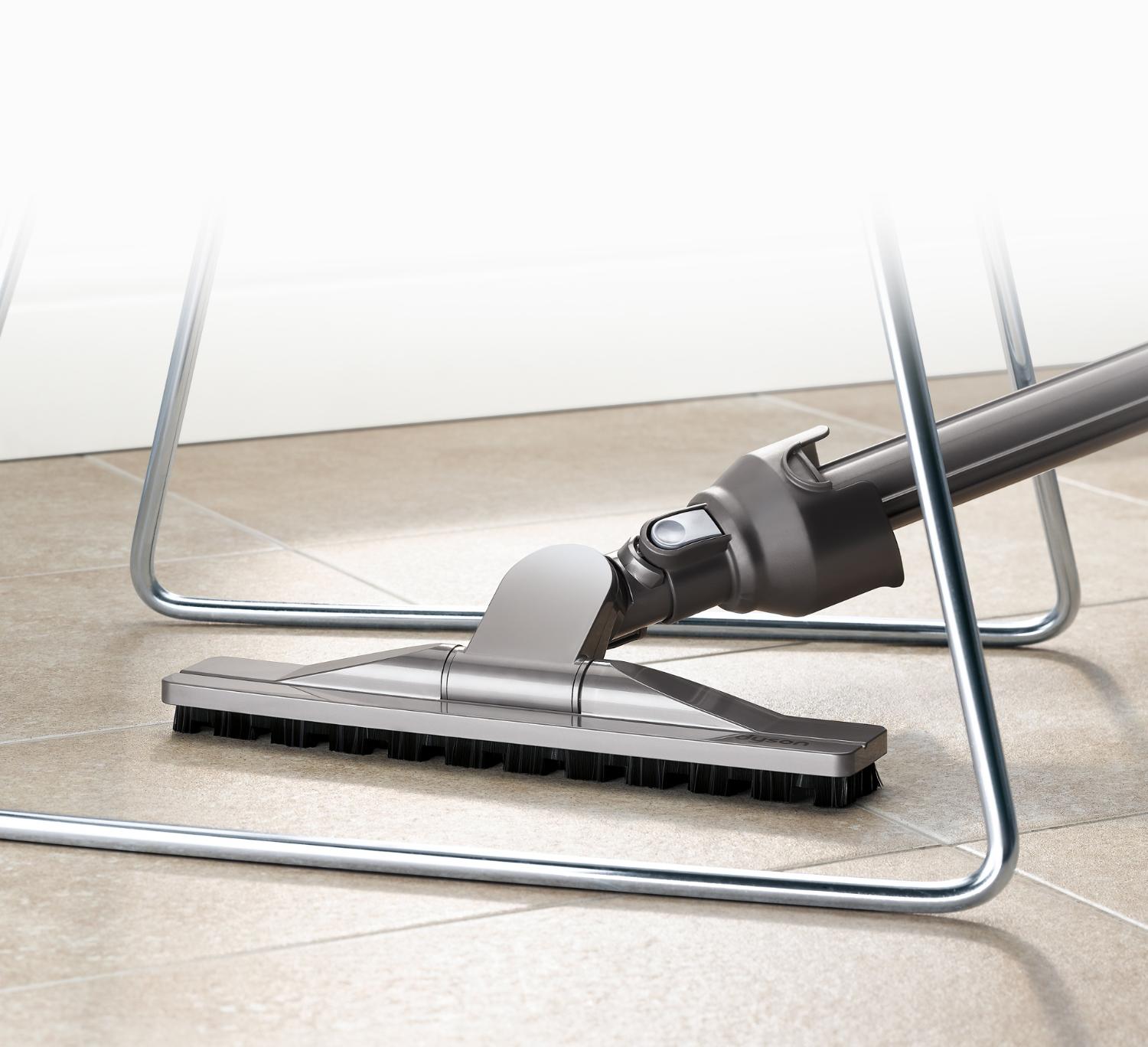 Reaches awkward spots.
The ultra-slim profile head pivots 180° to reach into difficult gaps.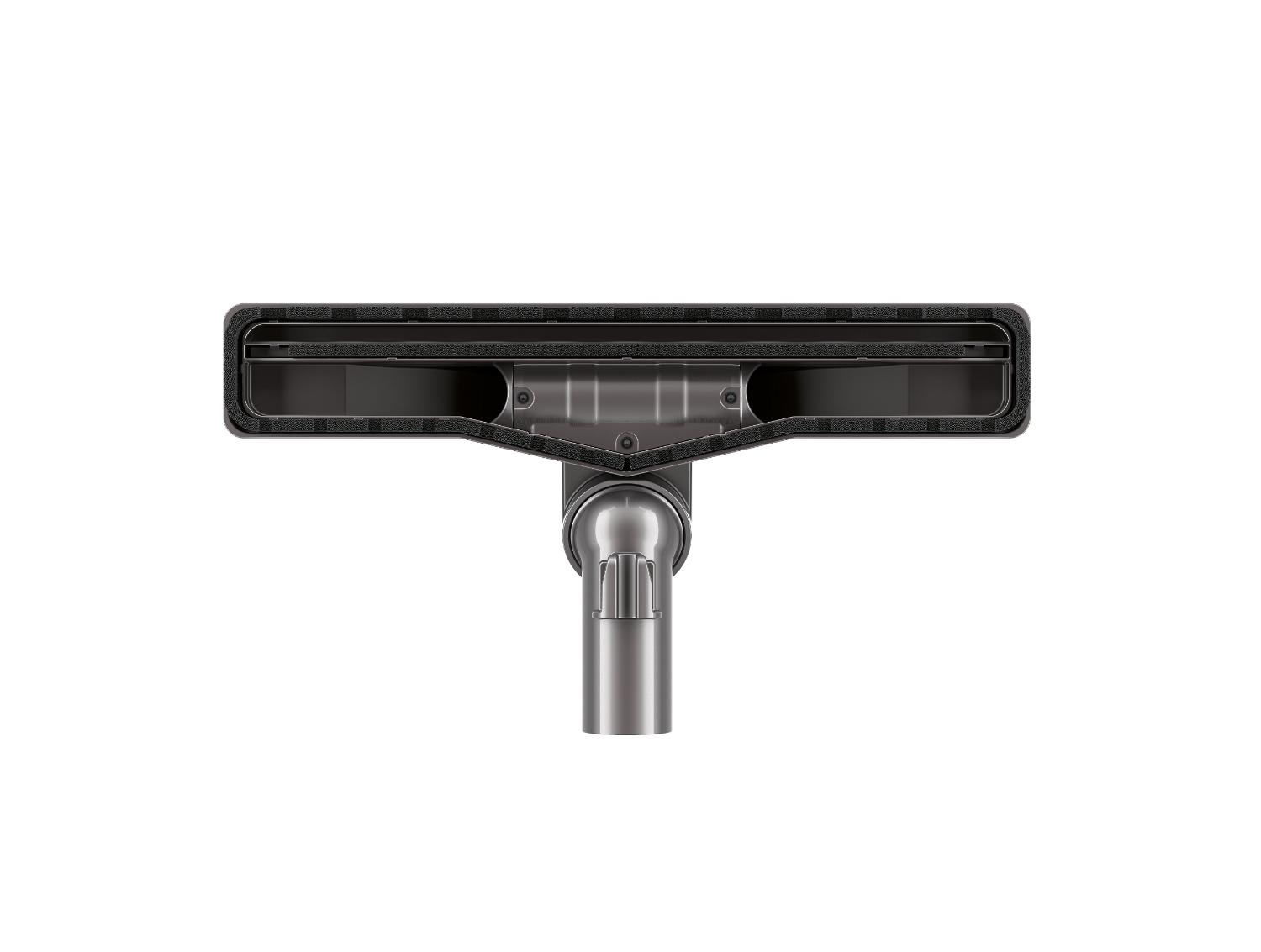 Seals in suction.
Two curtains of nylon bristles - one to remove large debris, and another to prevent suction leaks.
Also fits these machines
Some machines are excluded from the ranges shown
Dyson DC07 All Floors vacuum
Dyson DC07 Animal vacuum
Dyson DC07 Club Exclusive vacuum
Dyson DC07 Exclusive vacuum
Dyson DC07 HSN Exclusive vacuum
Dyson DC07 Independent Exclusive vacuum
Dyson DC07 Low Reach vacuum
Dyson DC07 Original for Walmart vacuum
Dyson DC07 Target Exclusive vacuum
Dyson DC07 Target Exclusive vacuum
Dyson DC07 Target Exclusive vacuum
Dyson DC07 Walmart Exclusive vacuum
Dyson DC11 All Floors vacuum
Dyson DC11 Full Gear vacuum
Dyson DC14 All Floors Exclusive vacuum
Dyson DC14 All Floors vacuum
Dyson DC14 Animal vacuum
Dyson DC14 Complete vacuum
Dyson DC14 Complete vacuum
Dyson DC14 Complete vacuum
Dyson DC14 Drive vacuum
Dyson DC14 Full Access vacuum
Dyson DC14 Full Gear vacuum
Dyson DC14 Full Kit vacuum
Dyson DC14 HSN Exclusive vacuum
Dyson DC14 HSN Exclusive vacuum
Dyson DC14 HSN Exclusive vacuum
Dyson DC14 Low Reach vacuum
Dyson DC14 Online Retailers Exclusive vacuum
Dyson DC14 Total Clean vacuum
Dyson DC15 All Floors vacuum
Dyson DC15 Animal vacuum
Dyson DC15 Full Kit vacuum
Dyson DC15 HSN Exclusive vacuum
Dyson DC15 Total Clean vacuum
Dyson DC18 All Floors vacuum
Dyson DC18 All Floors vacuum
Dyson DC18 All Floors vacuum
Dyson DC18 All Floors vacuum
Dyson DC18 Total Access vacuum
Dyson DC21 Motorhead vacuum
Dyson DC22 Motorhead vacuum
Dyson DC22 Turbine vacuum
DC23 Turbinehead
Dyson DC23 Animal Exclusive vacuum
Dyson DC23 Animal vacuum
Dyson DC23 Motorhead vacuum
Dyson DC23 Motorhead vacuum
Dyson DC23 Plus vacuum
Dyson DC23 Turbine vacuum
Dyson DC23 Turbinehead Exclusive vacuum
Dyson DC24 All Floors Plus vacuum
Dyson DC24 Animal vacuum
Dyson DC24 Animal vacuum
Dyson DC24 Blueprint vacuum
Dyson DC24 Exclusive vacuum
Dyson DC24 Exclusive vacuum
Dyson DC24 Exclusive vacuum
Dyson DC24 Multi Floor vacuum
Dyson DC24 Multi Floor vacuum
Dyson DC25 All Floors vacuum
Dyson DC25 All Floors vacuum
Dyson DC25 Animal Plus vacuum
Dyson DC25 Animal Total Clean vacuum
Dyson DC25 Animal vacuum
Dyson DC25 Animal vacuum
Dyson DC25 Animal vacuum
Dyson DC25 Animal vacuum
Dyson DC25 Animal vacuum
Dyson DC25 Blueprint vacuum
Dyson DC25 Exclusive vacuum
Dyson DC25 Exclusive vacuum
Dyson DC25 Exclusive vacuum
Dyson DC25 Exclusive vacuum
Dyson DC25 Exclusive vacuum
Dyson DC25 Exclusive vacuum
Dyson DC25 Exclusive vacuum
Dyson DC25 Multi Floor Exclusive vacuum
Dyson DC25 Multi Floor vacuum
Dyson DC25 Multi Floor vacuum
Dyson DC25 Multi Floor vacuum
Dyson DC25 Multi Floor vacuum
Dyson DC26 Multi Floor Exclusive vacuum
Dyson DC26 Multi Floor Exclusive vacuum
Dyson DC26 Multi Floor vacuum
Dyson DC27 Exclusive vacuum
Dyson DC27 Total Clean vacuum
Dyson DC33 Exclusive vacuum
Dyson DC33 Multi Floor Exclusive vacuum
Dyson DC33 Multi Floor Exclusive vacuum
Dyson DC33 Multi Floor Exclusive vacuum
Dyson DC33 Multi Floor Exclusive vacuum
Dyson DC33 Multi Floor Plus vacuum
Dyson DC33 Multi Floor vacuum
Dyson DC33 Multi Floor vacuum
Dyson DC33 Multi Floor vacuum
Dyson DC33 Multi Floor vacuum
Dyson DC33 Total Clean vacuum
Dyson DC41 Animal Complete Exclusive vacuum
Dyson DC41 Animal Complete vacuum
Dyson DC41 Animal Exclusive vacuum
Dyson DC41 Animal Exclusive vacuum
Dyson DC41 Animal Exclusive vacuum
Dyson DC41 Animal Total Clean vacuum
Dyson DC41 Animal vacuum
Dyson DC41 Animal vacuum
Dyson DC41 Animal vacuum
Dyson DC41 AnimalPlus vacuum
Dyson DC41 Exclusive vacuum
Dyson DC41 Multi Floor Exclusive vacuum
Dyson DC41 Multi Floor Exclusive vacuum
Dyson DC41 Multi Floor Exclusive vacuum
Dyson DC41 Multi Floor Exclusive vacuum
Dyson DC41 Multi Floor vacuum
Dyson Ball Compact Animal Exclusive vacuum
Dyson Ball Compact Animal vacuum
Dyson Ball Compact Multi Floor Exclusive vacuum
Dyson DC50 Allergy vacuum
Dyson DC50 Animal Exclusive vacuum
Dyson DC50 Animal Exclusive vacuum
Dyson DC50 Animal Exclusive vacuum
Dyson DC50 Animal vacuum
Dyson DC50 Ball Compact vacuum
Dyson DC50 Exclusive vacuum
Dyson DC50 Exclusive vacuum
Dyson DC50 Multi Floor Exclusive vacuum
Dyson DC50 Multi Floor Plus vacuum
Dyson DC50 Multi Floor vacuum
Dyson DC59 Animal Exclusive vacuum
Dyson DC59 Animal Exclusive vacuum
Dyson DC59 Animal Exclusive vacuum
Dyson DC59 Animal Exclusive vacuum
Dyson DC59 Animal vacuum
Dyson DC59 Motorhead Exclusive vacuum
Dyson DC59 Motorhead Exclusive vacuum
Dyson DC59 Motorhead Plus vacuum
Dyson DC59 Motorhead vacuum
Dyson Ball Animal Exclusive vacuum
Dyson Ball Animal Exclusive vacuum
Dyson Ball Animal Exclusive vacuum
Dyson Ball Animal Plus vacuum
Dyson Ball Animal vacuum
Dyson Ball Animal vacuum
Dyson Ball Animal vacuum
Dyson Ball Multi Floor Exclusive vacuum
Dyson Ball Multi Floor Exclusive vacuum
Dyson Ball Multi Floor Exclusive vacuum
Dyson Ball Multi Floor Exclusive vacuum
Dyson Ball Multi Floor Exclusive vacuum
Dyson Ball Multi Floor Pro vacuum
Dyson Ball Multi Floor vacuum
Dyson Ball Origin vacuum
Dyson Ball Total Clean vacuum
Dyson DC39 Origin Exclusive vacuum
Dyson Ball Allergy Exclusive
Dyson Ball Allergy Exclusive
Dyson Ball Allergy Exclusive
Dyson Ball Allergy Exclusive
Dyson Ball Allergy Exclusive
Dyson Ball Allergy Extra
Dyson Ball Allergy vacuum
Dyson Ball Animal Exclusive
Dyson Ball Animal Exclusive vacuum
Dyson Ball Animal Exclusive vacuum
Dyson Ball Animal Pro+
Dyson Ball Animal vacuum
Dyson Ball Animal vacuum
Dyson Ball Complete vacuum
Dyson Ball Multi Floor Exclusive vacuum
Dyson Ball Multi Floor Origin vacuum
Dyson Ball Multi Floor vacuum
Dyson Ball Multi Floor vacuum
Dyson Ball Total Clean Origin
Dyson Ball Total Clean vacuum
UP13 Multifloor + Excl US Ir/SSv
Dyson Ball Animal 2
Dyson Ball Animal 2 Total Clean
Dyson Ball Animal 2 Total Clean vacuum
Dyson Ball Animal 2 vacuum
Dyson Ball Multi Floor 2
Dyson Ball Multi Floor 2 vacuum
Dyson Big Ball Multi Floor vacuum
Dyson Big Ball Musclehead vacuum
Dyson Cinetic Big Ball Animal vacuum
Dyson Cinetic Big Ball Animal Exclusive vacuum
Dyson Cinetic Big Ball Animal Exclusive vacuum
Dyson Cinetic Big Ball Animal vacuum
Dyson Cinetic Big Ball Animal vacuum
Dyson Cinetic Big Ball
Dyson Cinetic Big Ball Animal Allergy vacuum
Dyson Cinetic Big Ball Animal Exclusive
Dyson Cinetic Big Ball Animal Exclusive
Dyson Cinetic Big Ball Animal Plus
Dyson Cinetic Big Ball Animal vacuum
Dyson Cinetic Big Ball Multi Floor Exclusive
Dyson Cinetic Big Ball Multi Floor Exclusive
Dyson Cinetic Big Ball Multi Floor Exclusive
Dyson Cinetic Big Ball Multi Floor Exclusive
Dyson Cinetic Big Ball Multi Floor vacuum
Dyson Cinetic Big Ball Total Clean vacuum
Dyson Light Ball Animal Exclusive
Dyson Slim Ball Animal vacuum
Dyson Slim Ball Multi Floor vacuum
Dyson Slim Ball Multi Floor vacuum
UP16 Multifloor Excl US Ir/MYe
Dyson Small Ball Multi Floor vacuum
Dyson Small Ball Pro Exclusive vacuum
Dyson V6 Animal Exclusive vacuum
Dyson V6 Animal Exclusive vacuum
Dyson V6 Animal Exclusive vacuum
Dyson V6 Animal Exclusive vacuum
Dyson V6 Animal Extra vacuum
Dyson V6 Animal Pro vacuum
Dyson V6 Animal Pro vacuum
Dyson V6 Animal Pro vacuum
Dyson V6 Animal vacuum
Dyson V6 Animal vacuum
Dyson V6 Fluffy (Blue)
Dyson V6 Fluffy Exclusive vacuum
Dyson V6 Fluffy vacuum
Dyson V6 Motorhead Exclusive vacuum
Dyson V6 Motorhead Exclusive vacuum
Dyson V6 Motorhead Extra vacuum
Dyson V6 Motorhead Pro Exclusive vacuum
Dyson V6 Motorhead Pro Exclusive vacuum
Dyson V6 Motorhead Pro Exclusive vacuum
Dyson V6 Motorhead vacuum