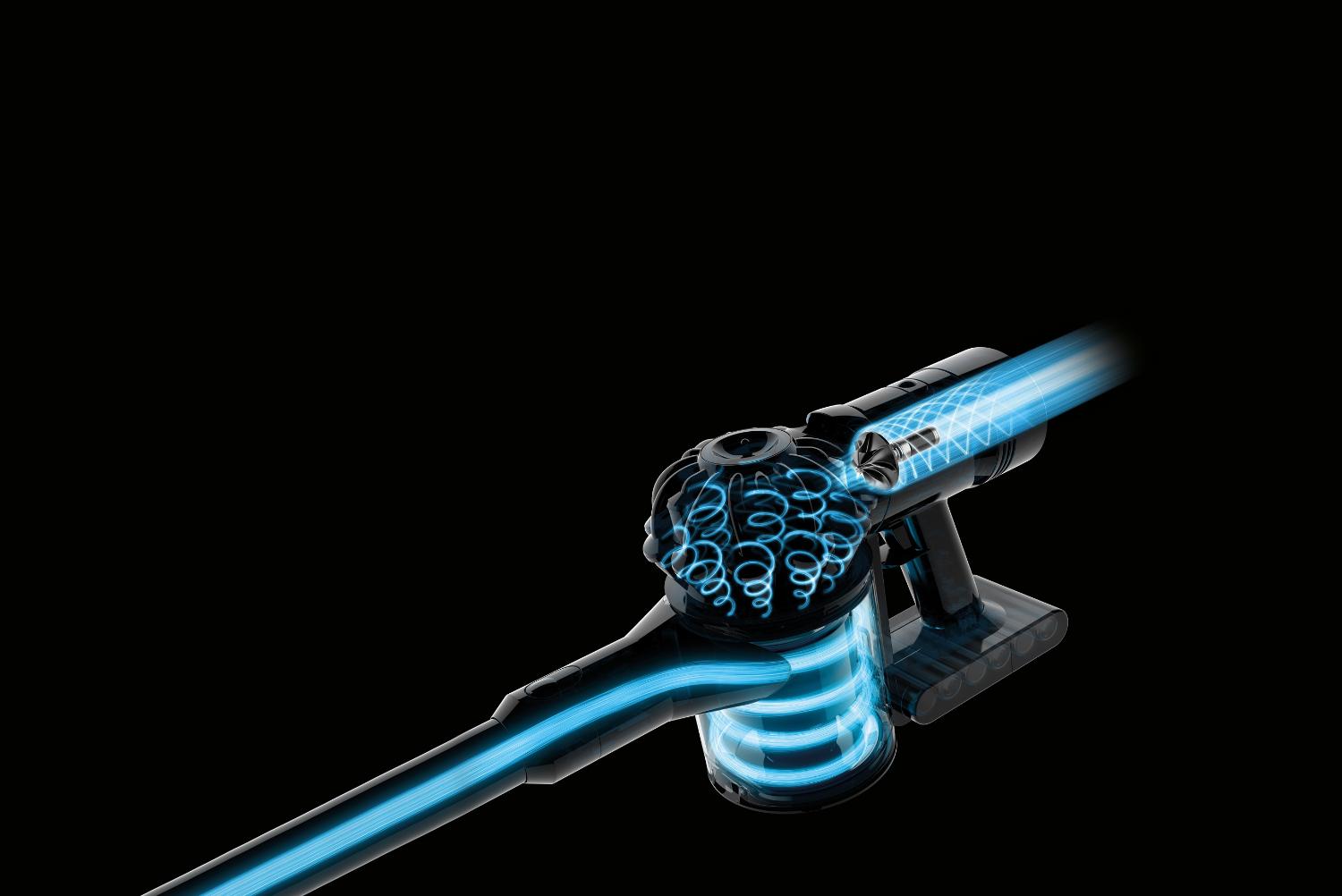 Technology
Power up. Noise down.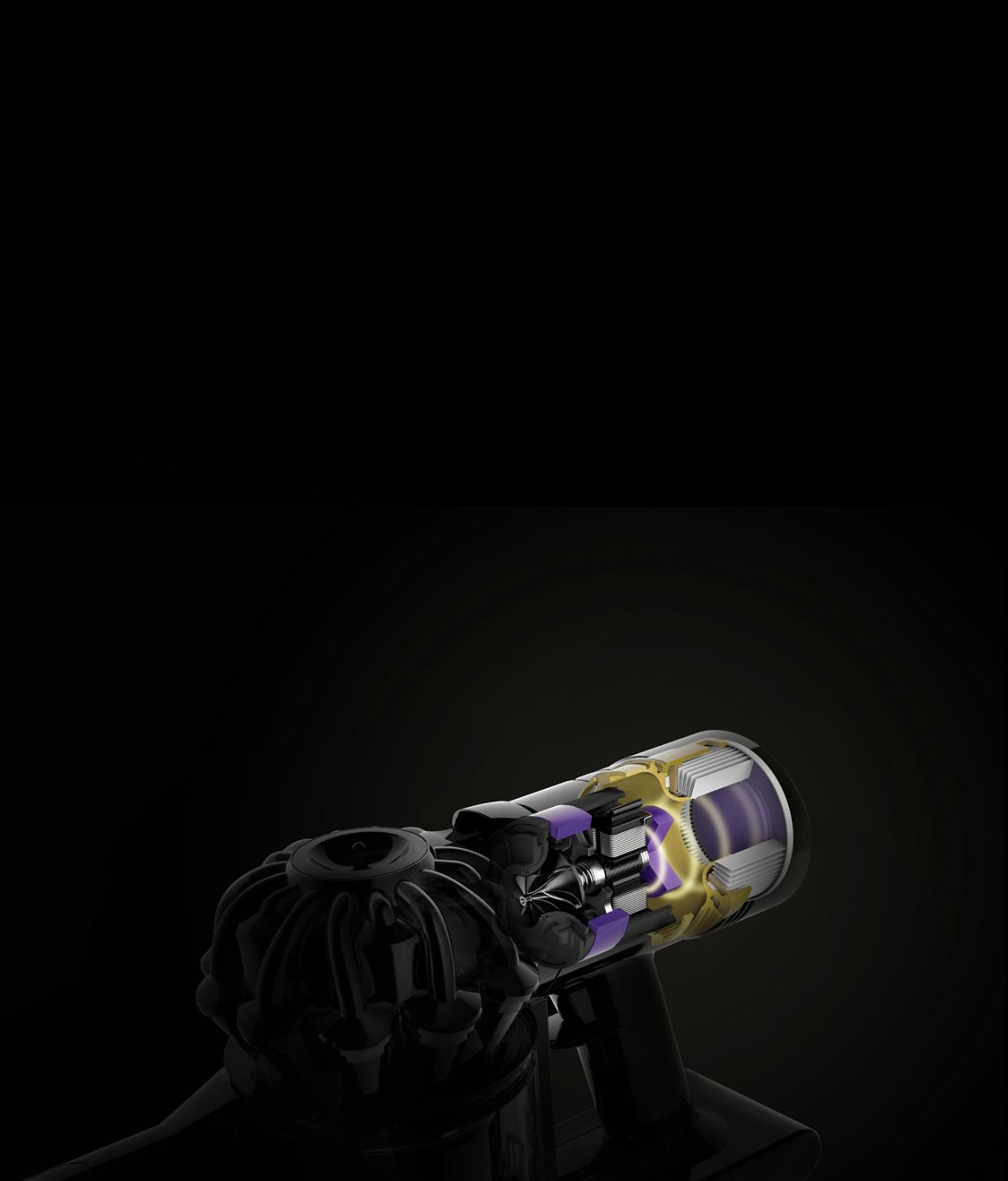 Acoustic control.
Streamlined airways and open-cell foam direct airflow around the motor to reduce noisy turbulence. A converging fluted funnel on the back of the motor reduces noise further, along with an acoustic baffle that blocks the line of sight to the sound source, and acoustic felt and closed-cell foam that absorbs vibrations. So it's 50% quieter than the Dyson V6™ vacuum.
"The accumulative benefit of getting lots of little things right means you get an idea that's a step change when you bring them all together."
---
James White
Dyson Engineer
---
Watts of power generated by the Dyson digital motor V8
---
Pounds total weight for easy, whole-home cleaning
---
Percent quieter than the Dyson V6™ vacuum through acoustic engineering


All Dyson V8™ vacuum cleaners have:
• Up to 40 minutes' run time (in Powerful suction mode with non-motorized tool).
• Powerful suction from the Dyson digital motor V8.
• Fully-sealed filtration system to trap 99.97% of particles as small as 0.3 microns.
• Hygienic bin emptying – no need to touch the dirt.
Dyson V8 Absolute (Iron)

Engineered for cleaning anywhere around the home

7 tools and accessories included

See all

Click to learn more

Soft roller cleaner head

Engineered with soft woven nylon and anti-static carbon fiber, for hard floors

Direct drive cleaner head

Powerful direct-drive cleaner head removes ground-in dirt from carpets

Mini Motorized tool

Motorized brush bar tackles hair and ground-in dirt, in tight spaces.

Mini soft dusting brush

With soft nylon bristles to clean delicate surfaces and fabrics

Combination tool

Two tools in one - brush and wide nozzle. For simple switching between tasks

Crevice tool

Designed for precise cleaning around edges and narrow gaps

Docking station

Wall-mounted dock to recharge your vacuum and tidily store tools

Dyson V8 Absolute (Yellow)

Engineered for cleaning anywhere around the home

7 tools and accessories included

See all

Click to learn more

Soft roller cleaner head

Engineered with soft woven nylon and anti-static carbon fiber, for hard floors

Direct drive cleaner head

Powerful direct-drive cleaner head removes ground-in dirt from carpets

Mini Motorized tool

Motorized brush bar tackles hair and ground-in dirt, in tight spaces.

Mini soft dusting brush

With soft nylon bristles to clean delicate surfaces and fabrics

Combination tool

Two tools in one - brush and wide nozzle. For simple switching between tasks

Crevice tool

Designed for precise cleaning around edges and narrow gaps

Docking station

Wall-mounted dock to recharge your vacuum and tidily store tools